Henry Chatelain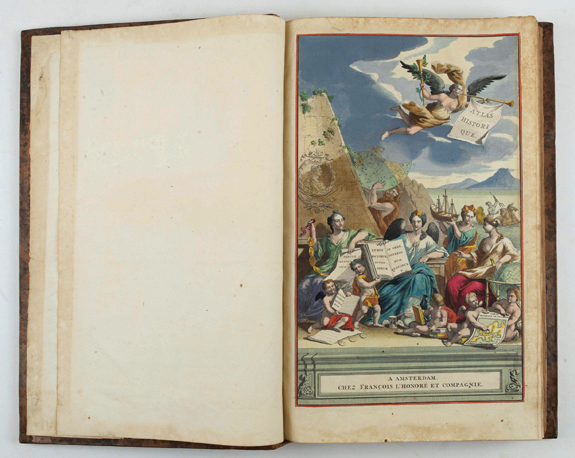 Henri Chatelain (1684-1743), was a skilled artist and knew a combined wealth of historical and geographical information with delicate engraving and an uncomplicated composition. Henri was a Huguenot pastor of Parisian origins. He lived consecutively in Paris, St. Martins, London (c. 1710), the Hague (c. 1721), and Amsterdam (c. 1728). The publishing firm of Chatelain, Chatelain Frères and Chatelain & Fils is recorded in Amsterdam, from around 1700-1770, with Zacharias living "op den Dam" in 1730.

Henri Abraham Chatelain his father Zacharie Chatelain (d.1723), and Zacharie Junior (1690-1754), worked in a partnership publishing the "Atlas Historique, Ou Nouvelle Introduction à L'Histoire" under several different Chatelain imprints, depending on the Chatelain family partnerships at the time of publication.
Groundbreaking for its time, this work included studies of geography, history, ethnology, heraldry, and cosmography. His maps with his elegant engraving are a superb example from the golden age of French mapmaking.
The atlas was published in seven volumes between 1705 and 1720, with a second edition appearing in 1732. The volumes I-IV with a Third edition and volume I with a final edition in 1739.
The maps were accompanied by information pertaining to cosmography, geography, history, chronology, genealogy, topography, heraldry, and costumes of the world. The maps in the Atlas Historique were mainly based on those of the French cartographer, Guillaume De L'Isle, but were presented by the Chatelains in an encyclopedic form.

The accompanying text is in French and often is printed in two columns on the page with maps and other illustrations interspersed. Each map and table is numbered consecutively within its volume and all maps bear the privileges of the States of Holland and West-Friesland.
The encyclopedic nature of the work as a whole is reflected in these six frontispieces.