Guillaume De L'Isle and his address imprints.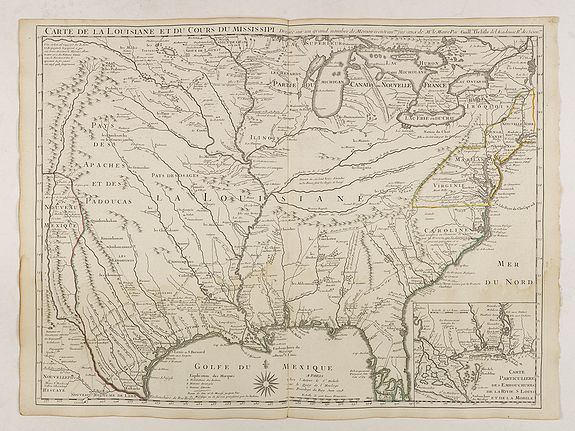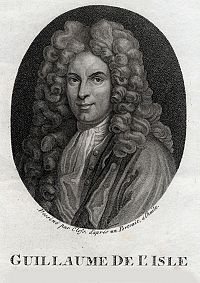 Guillaume De L'Isle (Paris, 1675 -1726 ) was one of the most important cartographers of the early 18th century in France and removed the celestial errors that were copied from Ptolemy and created a new and accurate celestial globe.

De L'Isle was the son of Marie Malaine and Claude De L'Isle (1644-1720), who later remarried Charlotte Millet de la Croyère after his first wife died following childbirth. It is possible that the couple had as many as 12 children, but many of them died at a young age.
Although Claude De L'Isle had studied law, he also studied geography and history under Nicolas Sanson. He taught history and geography and had such a good reputation in Paris' intellectual circles that he educated lords; among them was Duke Philippe d'Orléans, who later became regent for the crown of France.
Guillaume and his two of half-brothers, Joseph Nicolas and Louis, ended up pursuing similar careers in science.

While Claude certainly has to be credited for Guillaume's education, the latter showed early signs of exceptional talent. He would soon contribute to the family workshop by drawing maps for his father's historical works.
To perfect his skills, Guillaume De L'Isle became the student of the astronomer Jean-Dominique Cassini, who was the director of the Paris Observatory.
Early on he produced high-quality maps, the first being a manuscript map "Carte de la Nouvelle-France et des Pays Voisins" in 1696.
As Guillaume was only twenty-one years old in 1696, it is likely that his father, Claude, also a cartographer, influenced this map.

In the year 1700, when he was but twenty-five years of age, there appeared under his name a world map and likewise maps of the several continents and he issued the first edition of his globes, those having a diameter of about 32,5 cm. and those having a diameter of 15 cm.
These works appear to have established his reputation. In the year 1702 he became a member of the Académie des Sciences, not as a geographer -this department was not established until the year 1730- but as an astronomer under Jean-Dominique Cassini. In fact, he had received a joint training: one type with his father Claude, the historian/geographer for whom he prepared maps and globes, and another with Jean-Dominique Cassini, who taught him astronomy.
It was necessarily the latter who persuaded him to use the figures of latitude and longitude set out by the Académie des Sciences, to compile documents that would renew French cartography.
When he became a member of the Académie Royale des Sciences, he signed his maps with the title of "Géographe de l'Académie". Five years later, he moved to the Quai de l'Horloge in Paris, a true publishing hub where his business prospered. De L'Isle's ascension through the ranks culminated in 1718 when he received the title of "Premier Géographe du Roi".
His new office consisted in teaching geography to the Dauphin, King Louis XIV's son, a task for which he received a salary.
Quai de l'Horloge
France was leading at the turn of the seventeenth century in the field of geographical and astronomical science, partly due to the generous subsidy allowed by royalty.
Many of the agents of cartography, including those involved in the creation, production and distribution of maps in Paris lived in the same section of the capital city. Booksellers congregated along rue St-Jacques along the left bank of the Seine, while engravers and cartographers lived along the Quai de l'Horloge on the Île de la Cité.
Regulations enacted by the communautés informed the location of the libraries. These regulations included that each bookseller-printer was to have one shop, which had to be located in the University quarter or on the quai de l'Horloge. These restrictions provided by easier inspection by the authorities to enforce other regulations such as: printer need to register the number of presses they owned and any books that were printed had to be registered and approved by the royal court before it could be sold.

His different addresses.

Guillaume De L'Isle's first printing shop was established on the "Rue des Canettes pres de St. Sulpice" in Paris. This address appears only on editions of maps dated 1700-1707.
-- Most examples of his work were issued from the address where De L'Isle moved in 1707, the "Quai de L'Horloge".
-- A map of Piedmont dated 1707 informs us that by that date De L'Isle had moved to the "Quai de l'Horloge à la Couronne de Diamans".
The latest date on a map found bearing this address is January 1708. However, this atlas contains several maps predating 1707.
-- It is accepted that in early 1708 De L'Isle changed the sign over the shop to "à l'Aigle d'Or", the golden eagle.
However the below atlas contains a map Le Cours du Rhin au dessus de Strassbourg, with "A Paris chez l'Auteur sur le Quai de l'Horloge a l'Aigle d'Or, avec privilege, 1704.
-- It is accepted that De L'Isle in 1718 added his newly received title "Premier Geographe du Roy" to his address. However the recently a discovered map Carte particuliere de la Hongrie ... Sclavonie. carries the date 1717.

Apud Auctorem Via vulgo dicta des Canettes prope Sancti Sulpitii fanum. Cum Privilegio Regis ad vicennium 1700. 
1700
Chez l'Auteur sur le Quai de l'Horloge a la Couronne de Diamans.
1700
Chez l'Auteur sur le Quai de l'Horloge. Avec Privilege du Roy pour 20 ans, 1700.
1700
Chez l'Auteur sur le Quai de l'Horloge a la Couro. e de Diamans avec Privilege du Roy pour 20 ans, 1700.
1700
(Burden's third state of the North America and unseen by Tooley when he first published his study of De L'Isle maps of America and (3 and 4 states) exceeding rare !
Chez l'Auteur, Rue des Canettes prez St. Sulpice. Avec Privilège, 1701.
1701
Chez l'Auteur sur le Quai de l'Horloge  avec Privilège pour vingt ans, 1701.
1701
(address erased after Horloge)
Chez l'Auteur sur le Quai de l'Horloge a la C. ne de Diamãs. Avec Privilege du Roy pour 20 ans, 1702.
1702
Chez l'Auteur sur le Quai de l'Horloge a la Couronne de Diamans, 1702. Se trouve à Amsterdam chez L. Renard Libraire près de la Bourse.
1702
Chez l'Auteur sur le Quai de l'Horloge a la Couronne de Diamans, 1702. Se trouve à Amsterdam chez L. Renard Libraire près de la Bourse.
1702
Chez l'Auteur sur le Quai de l'Horloge a la Cour.r  de Diamãs, 1703.
1703
Chez l'Auteur sur le Quai de l'Horloge a la Courone  de Diamãs avec Privilege du Roy pour 20 ans, 1703. Se trouve à Amsterdã chez L. Renar Libraire prez de la Bourse.
1703
(Tooley, R.V. (Mapping of America, p.26, #70). "There is probably an imprint "Chez l'Auteur sur le Quai de l'Horloge a la Courone  de Diamns », with Renard's imprint, though I have been unable to locate a copy .
Chez l'Auteur sur le Quai de l'Horloge avec Privilège, 1704
1704
Chez l'Auteur sur le Quai de l'Horloge a l'Aigle d'Or, avec privilege, 1704.
1704
(In early 1708 Delisle changed the sign over the shop to a l'Aigle d'Or, the golden eagle ).
Chez l'Auteur sur le Quai de l'Horloge . Avec privilege pour vingt ans, 1704.
1704
(address erased after Horloge)
Chez l'Auteur sur le Quai de l'Horloge. Avec Privilège du Roy pour 20 ans, 1704.
1704
Chez l'Auteur, Rue des Canettes prez de St. Sulpice. Avec Privilège pour 20 ans, 1705.
1705
Chez l'Auteur sur le Quai de l'Horloge. Avec privilege du Roy. 1705.
1705
 (address erased after Horloge)
Chez l'Auteur sur le Quai de l'Horloge  Avec privilege du Roi, 1706.
1706
 (address erased after Horloge)
Chez l'Auteur, Rue des Canétes prés St. Sulpice. Avec Privilège du Roi, 1706.
1706
Chez l'Auteur sur le Quai de l'Horloge 
1706
(address erased after Horloge)
Chez l'Auteur sur le Quai de l'Horloge, avec Privilege Avril 1707. Se trouve à Amsterdam chez L. Renard Libraire prez de la Bourse.
1707
Chez l'Auteur sur le Quai de l'Horloge a l'Aigle d'Or avec Privilege Aout 1707. 
1707
(Renard's imprint is erased. )
Chez l'Auteur sur le Quai de l'Horloge a l'Aigle d'Or, avec Privil. Pr . 20 ans Mai 1708.
1708
(In early 1708 Delisle changed the sign over the shop to a l'Aigle d'Or, the golden eagle . This address appears on a few of his maps but not on the North America).
Chez l'Auteur sur le Quai de l'Horloge avec Privilège du 28 Aout 1709.
1709
Chez l'Auteur sur le Quai de l'Orloge, 1710.
1710
Chez l'Auteur sur le Quai de l'Horloge avec Pr., Juin 1710.
1710
Chez l'Auteur sur le Quai de l'Horloge avec Privilège, Avril 1711.
1711
Chez l'Auteur sur le Quai de l'Horloge avec Pr. Juill. 1711.
1711
Chez l'Auteur sur le Quai de l'Horloge avec Privilège, 11 Juillet 1712.
1712
Chez l'Auteur sur le Quai de l'Horloge avec Privilège, 1712 . 1. Aout.
1712
Chez l'Auteur sur le Quai de l'Horloge du Palais, avec Privilège du Roy 15 Mars 1713.
1713
Chez l'Auteur sur le Quai de l'Horloge avec Privilège de sa Majesté Aoust 1713.
1713
Sur le Quai de l'Horloge, Juillet 1714
1714
Chez l'Auteur sur le Quai de l'Horloge, 1714
1714
Le quay de l'Horloge,  M.D.CC XIV.
1714
Chez l'Auteur sur le Quai de l'Horloge Avec Privilège Aout 1715.
1715
Parisiis… le quay de l'Horloge cum Privilegio Regis M.D.CCXV. Aug. 26. (1715). (Premier Geographe)
1715
 
Chez  l'Auteur sur le Quai de l'Or.loge avec Pr.r Juin 1716.
1716
Chez l'Auteur sur le Quai de l'Horloge avec Privilège du Roy, Decembre  MDCCXVI
1716
Par Guillaume Delisle de l'Academie R. le des Sciences et Premier Geographe du Roy. Chez l'Auteur sur le Quay de l'Horloge avec Privilége du Roy Juillet 1717.
1717
(Premier Geographe du Roy, a title created for Delisle in 1718).
Chez l'Auteur sur le Quai de l'Horloge avec Privilège de sa Majesté 6. Mars 1718.
1718
Chez l'Auteur le Sr. Delisle sur le Quay de l'Horloge avec Privilege du Roy Juin 1718.
1718
Chez l'Auteur sur le Quai de l'Horloge avec Privilège 25 Mai 1719.
1719
Chez l'Auteur sur le Quay de l'Horloge avec Priv.  Ce 27 May 1720.
1720
Par Guillaume Delisle Premier Geograp. he du Roy.  A Paris Chez le Sieur Delisle sur le Quay de l'Horloge, 15 Aout 1723. 
1723
Chez l'Auteur G. Delisle Premier Geographe de Sa Majesté de l'Academie R. le de Sciences, Sur le Quay de l'Horloge Av. Pr. 1723
1723