Vincenzo Coronelli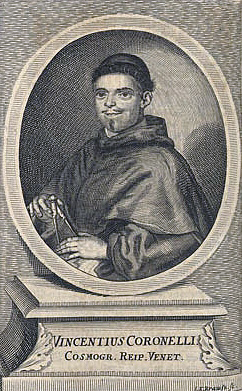 Vincenzo Coronelli (August 16th, 1650 - December 9th, 1718) was a Franciscan monk, a Venetian cosmographer, cartographer, publisher, and encyclopedist known in particular for his atlases and globes, and who spent most of his life in Venice.

Vincenzo Coronelli was born, probably in Venice, on August 15th, 1650, the fifth child of a Venetian tailor named Maffio Coronelli.
At ten, young Vincenzo was sent to the city of Ravenna and was apprenticed to a xylographer.

In 1663 he was accepted into the Conventual Franciscans, becoming a novice in 1665. At age sixteen he published the first of his one hundred and forty separate works. In 1671 he entered the Convent of Saint Maria Gloriosa dei Frari in Venice, and in 1672 Coronelli was sent by the order to the College of Saint Bonaventura and Saints Apostoli in Rome where he earned his doctor's degree in theology in 1674.
He excelled in the study of both astronomy and Euclid. A little before 1678, Coronelli began working as a geographer and was commissioned to make a set of terrestrial and celestial globes for Ranuccio II Farnese, Duke of Parma. Each finely crafted globe was five feet in diameter (c.175cm) and so impressed the Duke, that he made Coronelli his theologian.
Coronelli's renown as a theologian grew, and in 1699 he was appointed Father General of the Franciscan order.
Due to his renown, he worked in various European countries in the following years, permanently returning to Venice in 1705. In Venice, he started his own cosmographical project and published the volumes of 'Atlante Veneto'. In his home city, he founded the very first geographical society, the Accademia Cosmografica degli Argonauti.

He also held the position of Cosmographer of the Republic of Venice. Later six volumes of the Biblioteca Universale Sacro-Profana were published by Coronelli. This was a kind of encyclopedia, its compiled entries were ordered alphabetically.
Coronelli died at the age of 68 in Venice, having created hundreds of maps in his lifetime.
Some of his works :

Isolario, descrittione di tutte l'isole.
Isolario, descrittione di tutte l'isole. Coll'osservationi degli scogli sirti, scaghi, e secche del globo terracqueo.
Tomo II dell' Atlante Veneto [Atlante Veneto part II]. Venice: the author, 1696-97. 2 volumes, large 2°. Letterpress dedications to Leopold I and Ferdinand Charles Duke of Mantua.
Engraved titles in red and black, decoratively engraved half-titles, allegorical frontispieces, engraved arms of William III, Prince of Orange, preceding section on Great Britain in 2nd volume, 91 engraved maps, gores and plates (comprising 63 maps, 59 double-page, 12 gores, 16 plates, portraits, plans and views, 4 double-page, and including a folding bird's-eye view of Venice), 157 smaller engraved maps, views and portraits in the text.
The second part of the Atlante Veneto, in two volumes; the first volume covers the Mediterranean, Italy and the Adriatic; the second, Britain and Europe, Africa, Japan and Asia, and the West Indies. The Atlante Veneto is considered one of Coronelli's most ambitious undertakings, the title found in the first part proclaiming the author's intention as nothing short of 'la discrittione geografica, storica, sacra, profana, e politica, degl'imperii, regni, provincie, e stati dell'universo.'
Ref. Phillips I, 521.; Cremonini 47, part I; Armao p. 96 and no 49. (2)
Repubblica di Venezia in terra firma. [Venice: 1708]. 2 volumes, oblong 4°, 5 leaves of letterpress indices, 1 leaf text. Two etched half-titles, two engraved titles, one divisional title, one engraved table of births and deaths in Venice, 155 ENGRAVED PLATES, PLANS AND MAPS (11 folding). (The folding plan of Padua with margins repaired and slight loss, some other small neat marginal repairs.) Provenance: E.G. (early, unidentified, initials in both volumes). The series on the Venetian republic ran to five parts, the first two, as here, deal with Venice and her immediate environs; the subsequent three published separately cover Dalmatia, Albania, and Morea. The engravings include 55 of the arms of the leading families of Venice, under the title Blasone Veneto; the remainders are views and maps of Venice, Padua, Vicenza, Verona and Bergamo. The table of births and deaths covers the period 1678-1689. Armao 78 and 79, calling respectively for 82 and 39 plates only.
Lombardia, ch'abbraccia gli stati de' duchi di Savoja, Mantova, Parma e Modona, e del Milanese.
Turin: 1706. Oblong 4° 1 letterpress index leaf, 7 leaves of text. Etched title, half-title, 8 divisional titles, 2 plates of coats of arms and 89 etched maps, plans and views. Coronelli included towns that, by this time, were no longer considered within the limits of Lombardy. There are 17 plates of Piedmont, 11 of Savoy, 4 of Nice, 35 of Milan, 6 of Mantua, 5 of Monferrato, 6 of Singolarità di Venezia, e del serenissimo suo dominio. Venice: [circa 1709]. 2 parts in 4 volumes, large oblong 2° (307 x 402mm). Engraved throughout. 4 titles, 44 divisional titles, 6 emblematic plates, four dedication plates, a portrait of the 111th Doge, Giovanni Corner II, 6 plates concerning the election of the Doge, two portraits of Coronelli, 4 folding maps and 416 PLATES ON 402 LEAVES.
This work has been described as of 'massimo interesse per la topografica veneziana dell'epoca e per l'architectura esterna e interna di chiese, palazzi e monumenti' (Armao p. 175). These views show churches and palaces in Venice, others depict the election of Corner as Doge in 1709.
Reference : Berlin Kat 2680; Cicognara 3993; Armao 88 and 89. (4)