What is New in 2022
Paulus Swaen
began selling old maps and prints in 1978.
We started with our fully online auctions in 1998. We were the only auction house specializing in this format selling old maps and prints.
2022 - A lot has changed on the web in the last 25 years since we started our first online auction. With the arrival of the metaverse and web3, we think we are at a crossroads with new opportunities to connect and sell maps with collectors and map lovers.

Buy or Bid sales

We organize monthly "
Buy or Bid
" sales where 1500 - 2000 items will be listed for seven days, where you can purchase an item at the Buy price at any time, and the sale for this item has closed.
If you do not wish to pay the Buy price, you may also bid/offer lower on any item.
Items that do not sell at their buy price will be made available at the highest accepted bid after the close of the sale.
So from now on, you have maximum options to buy for the amount you want to buy an item and never pay more than the buy price. Read more about Buy or Bid sales [+]

---
Meta Map gallery

What was born as an idea from science fiction has long since become reality! The metaverse is more than just virtual reality, augmented reality, extended reality, or cyberspace - it's all those things at once. What is the metaverse [read more]
Welcome to the Paulus Swaen MetaMap.gallery at www.meta4maps.com
As far as we know, it the first metaverse gallery that is devoted to antique maps. A visit to the meta gallery is free and you can walk around anonymously or by using a nickname, your name, or by creating an avatar.  You can interact and speak with other visitors (and you can access it through a browser, so no headset is required).
Note: You are asked to set up an account so you can create an avatar, but you may ignore these options and visit the gallery anonymously. When visiting on a mobile phone, you are asked to install the spatial.io app. (iPhone and Android).
Below are some meta map galleries we have created.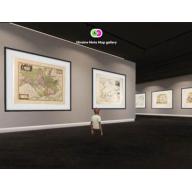 Showing antique maps of Ukraine. The mapping of Ukrainian lands (whose greater part entered the structure of the Polish-Lithuanian Commonwealth) in the 17th century was essentially influenced by creating a four-sheet map of the Grand Duchy of Lithuania by Nikolai-Krzysztof Radzivill in 1613.
See the borders of the Ukraine territory for over 400 years.
---
Meta4Maps
Connect your map collection
Enjoy and share your maps with your friends and other map collectors!
On the
meta4maps.com
site, collectors can make their collection available in a metaverse gallery. A visit to the meta gallery is free, and adding your maps is fun and easy to do. Visitors can speak with each other (and you can access it through a browser, so no headset is required).
If you are an existing client of Paulus Swaen and want us to do so, then we are happy to install your gallery free of charge, add some of your historical purchases and add your gallery to the Meta4Maps gallery list.
We will create your gallery using your existing Paulus Swaen Username and send your a password and a direct link to your meta map collection gallery. After that, you can add and delete items to your liking. You will have and keep full control of your gallery.
---
Map Bar


Take a break and pop in at
The Map Bar
. A metaverse bar where you meet other collectors, with plenty of maps on the wall.
Agenda: Each Tuesday map meeting at 1 PM (Eastern Time) or Amsterdam 7 PM. A one-hour chat meeting with another map enthusiast to discuss the latest discovered maps, rumors, and questions you might have.
---
Join the mailing list if you want to get our latest updates about our
- Buy Now or Bid Sales
- newly added MetaMap galleries
- Meta4Maps project
- or of course, new arrivals of our antique maps, prints, atlases and medieval manuscripts.