Johann Ludwig Gottfried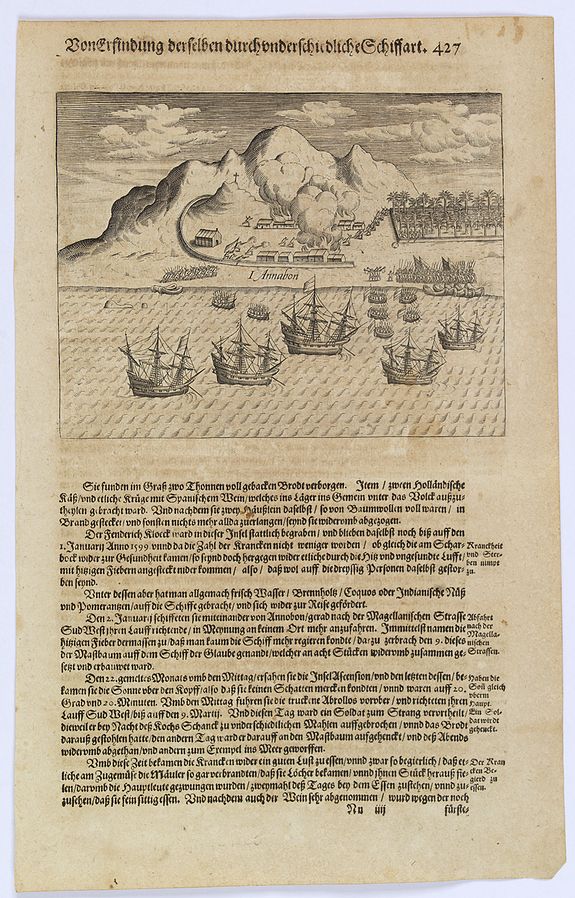 Little is known about the German publisher Johann Ludwig Gottfried (around 1584-1633), who inherited the Theodor De Bry's (1528-1598) publishing firm.

Gottfried studied theology in Heidelberg. As of 1603, he was active as a deacon, afterward as a reformed priest in villages in the Electoral Palatinate's left side of the Rhine. Between 1625 and 1633 he was active in Offenbach. Owed to his talent for languages and his education in general, he became a highly esteemed assistant of Frankfurt publishers like Johann Theodor de Bry, de Bry's nephew Lucas Jennis and de Bry's son-in-law Matthäus Merian the Elder as of 1619. He made translations, epigrams, paraphrases and compilations for many distinguished publications.

Between 1590 and 1634, de Bry and his sons issued thirteen volumes containing illustrated accounts of the expeditions of Magellan, Columbus, Vespucci, Cortes, Balboa, Raleigh, Drake, Smith, and many others. In most cases, theirs were the first images ever made of the Americas by Europeans.

In 1631 Gottfried, who had worked on the volumes and inherited the de Bry family publishing firm, issued together with Matthaeus Merian (publisher, artist & engraver) a one-volume condensation "Newe Welt Vnd Americanische Historien/ Jnhaltende Warhafftige vnd volkommene Beschreibungen Aller West-Jndianischen Landschafften..." that used many of the original copper plates and supplemented them with new ones of more recent voyages. The book was published by Matthaeus Merian. The work was reprinted in 1655 / 1657

Michiel van Groesen, "America Abridged: Matthaeus Merian, Johann Ludwig Gottfried, and the Apotheosis of the De Bry Collection of Voyages" in Journal of Medieval and Early Modern Studies 41 (2011), pp. 67-92 [abstract]:
In 1631, Matthaeus Merian and Johann Ludwig Gottfried published a one-volume abridgment of the monumental America series issued by Theodor De Bry and his two sons.
Historia Antipodum can be considered the apotheosis of the collection of voyages to the New World. This article argues that the abridgment, rather than the independent publication it is sometimes taken to be, was constructed with the same editorial strategy in mind as earlier De Bry volumes.
Heathen beliefs in the western hemisphere were further emphasized, European superiority was visualized more clearly, and the predilection for spectacular images was stronger than ever. In many ways, the modifications Merian and Gottfried made to both texts and illustrations surpassed the changes made for the original volumes of America.
In bringing together these representations in a single, affordable volume, Merian and Gottfried prolonged the influence of the De Bry collection and its carefully manipulated representations until well into the eighteenth century.

For a long time, Gottfried's name was seen as a pseudonym of Johann Philipp Abelins and his existence was negated. It is known today that Abelin completed Gottfried's works after his death.