Kuijper gemeente atlas van Noord-Brabant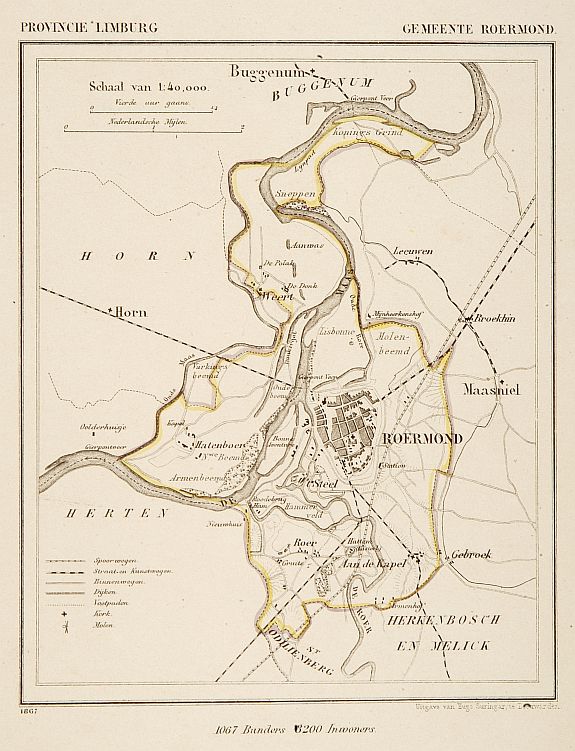 J. Kuyper was one of the most important Dutch atlas editors of the second half of the 19th century. He is particularly known for the "Gemeente Atlas", with 1210 plans of all the towns and villages in the Netherlands.
Very detailed plans are indicating railways, streets, churches, houses, and mills. Also its size in "bunders" and the number of population.
Koeman: Atlantes Neerlandici, Vol.Iip.223.
The below town plans are from the ´Gemeente Atlas van Nederland´ by J. Kuyper. Published from 1865-1870 with Hugo Suringar in Leeuwarden. They are quite popular, because for many towns these are some of the oldest plans available, offering a detailed topographic account of a particular town in the Netherlands.

Condition: Excellent; On wove paper; Images of Kuyper maps are typically 185x150 mm on a full atlas sheet of 250x185mm.
Below is a list of the individual places included in the atlas of Noord-Brabant, when a price is indicated, we have an original piece of the map in stock and it is available for the price listed plus euros 15,00 shipping and insurance.
Aalburg zie Wijk
Aalst
Aarle Rixtel € 100
St. Agatha zie Cuyk
Alem € 50 Maren en Kessel
Almkerk € 50 en Uitwijk
Alphen en Riel
Andel € 50
St. Anhonis zie Oploo
Asten
Baardwijk € 50
Baarle Nassau
Babilonienbroek zie Meeuwen
Bakel en Milheeze € 100
Bavel zie Ginneken
Beek en Donk
Beers € 50
Beers zie Oostelbeers
Berchem
Bergen op Zoom
Bergeyk € 100
Berkel € 200 Enschot en Heukelum
Berlicum en Middelrode
Bern € 100 zie Herpt
Besoijen € 50
Best
Beugen en Rijkevoort
Blaarthem zie Gestel
Bladel en Netersel
Boekel
Bokhoven
Borkel € 100 en Schaft
Boxmeer
Boxtel
Breda € 125 Gemeente
Breda Stad € 125
Breugel zie Son
Budel € 150
Capelle
Casteren € 175 zie Hoogeloon
Chaam
Cromvoirt
Cuyk en St. Agatha
Demen € 50 zie Dieden
Dennenburg € 50 zie Deursen
Deurne en Liessel
Deursen € 50 en Dennenburg
Dieden € 50 Demen en Langel
Diessen € 100
Dinteloord en Prinseland
Dinther
Doeveren € 50 zie Drongelen
Dommelen
Dongen
Donk zie Beek
Drimmelen zie Made
Drongelen € 50 Hagoort, Gansoijen, Doeveren
Drunen € 150
Duizel € 150 en Steensel
den Dungen
Dussen Munster en Muilkerk
Eethen zie Heesbeen
Eckart zie Woensel

Eersel
Eindhoven
Emmikhoven en Waardhuizen
Empel € 75 en Meerwijk
Engelen
Enschot € 200 zie Berkel
Erp
Esch
Escharen € 100
Etten en Leur
Fijnaart en Heijningen
Gansoyen € 50 zie Drongelen
Gassel € 75
Geertruidenberg € 100
Geffen
Geldrop € 225
Gemert
Genderen zie Heesbeen
Gerwen zie Nunen
Gestel en Blaarthem € 225
Giessen € 100
Gilze en Rijen
Ginneken en Bavel
Goirle € 175
Grave
's Gravemoer € 75
Haaren
Hagoort € 50 zie Drongelen
Halsteren
Hapert € 175 zie Hoogeloon
Haps
Haren € 100 zie Megen
Hedikhuizen
Heesbeen Eethen en Genderen
Heesch
Heeswijk
Heeze
Helmond
Helvoirt
Herpen
Herpt € 100 en Bern
's-Hertogenbosch Gemeente
's-Hertogenbosch € 150 Stad
Heukelum € 200 zie Berkel
Heusden
Heyningen zie Fijnaart
Hill zie Meeuwen
Hilvarenbeek
Hoeven en St. Maartenspolder
Hoogeloon € 175 Hapert en Casteren
Hooge-Mierde € 100 en Lage Mierde
Hooge-Zwaluwe Lage-Zwaluwe
St. Hubert zie Mill
Huibergen
Huisseling € 75 en Neerloon
Kessel zie Alem
Klundert
Knegsel zie Vessem
Kruisland zie Steenbergen
Lage-Mierde € 100 zie Hooge-Mierde
Lage-Zwaluwe zie Hooge-Zwaluwe
Langel € 50 zie Dieden
Ledeacker zie Oploo


Leende € 150
Leur zie Etten
Liempde
Lierop
Lieshout
Liessel zie Deurne
Linden € 75
Lith
Lithoijen € 75
Loon op Zand € 200
Luikgestel € 100
Maarheeze € 125
St. Maartenspolder zie Hoeven
Maashees en Overloon
Macharen zie Megen
Made en Drimmelen
Maren € 50 zie Alem
Meerwijk € 75 zie Empel
Meeuwen Hill en Babilonienbroek
Megen € 100 Haren en Macharen
Meerveldhoven zie Veldhoven
St. Michielsgestel
Middel-Beers zie Oostel-beers
Middelrode zie Berlicum
Mierlo
Milheeze zie Bakel
Mill en St. Hubert
Moergestel
Muilkerk zie Dussen
Munster zie Dussen
Nederwetten zie Nunen
Neerloon € 75 zie Huisseling
Netersel zie Bladel
Nieuw-Gastel zie Oud-Gastel
Nieuwkuik en Onzenoord
Nieuw-Vosmeer
Nistelrode
Nispen zie Rosendaal
Nuland € 100
Nuenen Gerwen en Nederwetten
St. Oedenrode € 200
Oeffelt
Oerle € 100
Oijen en Teeffelen
Oirschot
Oisterwijk
Onzenoord zie Nieuwkuik
Oostel-Beers Mid.West.Beers
Oosterhout
Oploo St. Anthonis en Ledeacker
Oss
Ossendrecht
Oud-Gastel en Nieuw-Gastel
Oudenbosch
Oudendijk zie Woudrichem
Oud-Heusden
Overloon zie Maashees
Princenhage
Prinseland zie Dinteloord
Putte
Raamsdonk
Ravestein
Reek


Reusel € 120
Riel zie Alphen
Riethoven € 100
Rixtel zie Aarle-Rixtel
Ro(o)sendaal en Nispen
Rosmalen
Rucphen
Rijkevoort zie Beugen
Rijsbergen
Rijswijk € 75
Sambeek
Schaft zie Borkel € 100
Schaijk € 75
Schijndel
Sleeuwijk zie de Werken
Soerendonk en Sterksel € 125
Someren
Son en Breugel
Sprang
Standardbuiten
Steenbergen en Kruisland
Steensel € 150 zie Duizel
Sterksel zie soerendonk
Stiphout
Stratum € 200
Strijp € 200
Teefflen Zie Oijen
Terheyden
Teteringen
Tilburg
Tongelre € 200
Uden
Udenhout
Uitwijk € 50 zie Almkerk
Valkenswaard
Veen
Veghel € 175
Veldhoven € 175 en Mereveldhoven
Velp
Vessem Wintelre en Knegsel
Vierlingsbeek
Vlierden € 100
Vlijmen
Vrijhoeven-Capelle € 40
Vught
Waalre
Waalwijk
Waardhuizen zie Emmikhoven
Wanroy € 100
Waspik
de Werken en Sleeuwijk
Werkendam
Wernhout zie Zundert
Westel-Beers zie Oostel-Beers
Westerhoven € 100
Wijk en Aalburg
Willemstad
Wintelre zie Vessem
Woensdrecht
Woensel en Eckart
Woudrichem en Oudendijk
Wouw
Zeeland
Zeelst
Zes-Gehuchten
Zevenbergen
Zundert en Wernhout
Zwaluwe zie Hooge-Zwaluwe