Anna Beek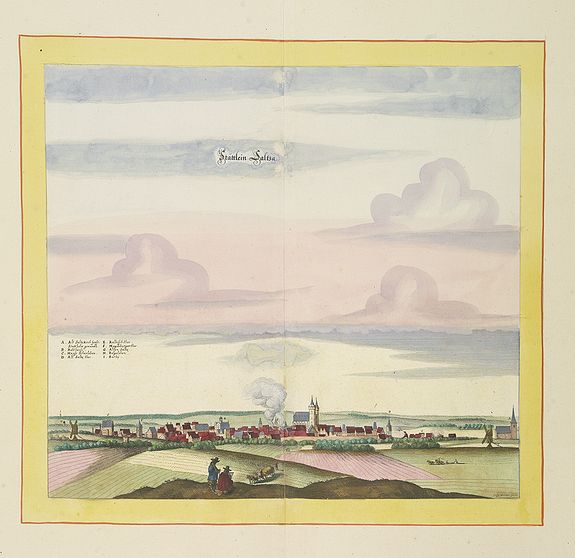 Text by Truusje Goedings, Amsterdam 1998
Anna Westerstee, also known as Anna Beek (born The Hague 25 November 1657 - died the Hague after October 1717), was a publisher of prints.
Daughter of Frederick of Westerstee and Anna van Alphen. Anna Westerstee was married on the first day of May 1678 in The Hague to Barent Beek (1654 - August 1713), who was an art dealer and publisher. From this marriage were born three daughters and four sons.

On the background of Anna Westerstee is not much known, apart from the fact that her parents were married on 10 January 1652 in The Hague. After her marriage to Barent Beek, Anna became active as a publisher. The couple published engraved topographical maps, plans, and views of The Hague and they also colored prints.
Anna signed her prints "Anna van Beek excudit" (issued by Anna van Beek).

Anna Beek was not the single woman active in print and map publishing during the 17th and 18th centuries. Publishing houses were often founded by a male and it was not uncommon for a widow to take charge of a publishing operation or inherit the guild rights upon the death of a husband. 

Several requests for patents by Anna Beek are known :
On 4 October 1697.
She requested a patent in the name of Anna Westerstee, wife of Barent Beek. Apparently, her husband was still alive, but she already managed the business at this time:
Request van Anna van Westerstee, huysvrouw van Barent Beek, Const en Kaartverkoopster in 's Hage.
Geeft enz. dat zij met groote kosten in 't kooper heeft laten snijden en etsen de Slach van Yrland bij Drogeda ode de Rivier Boine, ende het huys Sorgvliet; daar sij nu weederom heeft late afteyckene en in verscheijde plaaten laaten etsen en suijden het Koninkl. Efuys tot Reyswyk, genaamd Nieuwburgh, mitsgader alle de Appartementen en Camers van hetzelve huys, bysonder soodanigh als alle dezelve tot de Vreedehandelingh gebruykt wierden, enz verzoekt daarvoor Octrooi.
Dit wordt voor 15 jaren verleend 4 October 1697.

22 Augustus 1713.
After the death of her husband, she continued the business, as an application for a patent to The states of Holland on 22 August 1713 is known.
This patent was infringed by the Amsterdam bookseller Abraham Allard and in 1713 he was fined three hundred guilders for selling images of flags and standards, etc. against the patent to Anna Beek.
Request van Anna van Westkrstee, Wed. van Barent Beeck, Kaart en Prentverkoopster in den Hage. Geeft enz. dat zij d'eere heeft gehadt van geduyrende de meeste tijdt van den laatstleden oorlogh wegens U. E. Gr. Mo. 't ontfangen d'afteekeningen van de meeste veroverde Steeden en Batailles, die zij dan oock in 't koper heeft doen snijden en in prent gebragt, gelijck sij oock alsnu onderhanden heeft een prent ofafbeeldinge van alle de vaandels, standaards en keteltrommels door de troepen van desen Staat en de llooge geallieerden glorieuselyck van de vijanden verovert, en op de Groote Saai van 't Hof alhier opgehangen, alsoock van het Theater en Vuurwerk by ü. E. Gr. Mo. op 14 Juny 11. over de Vreede in de Vijver aangesteecken .... ver- zoekt om Octrooi hiervoor voor 15 jaren.

22 October 1717.
Anna Beek asked patent for publication of more than one hundred views and plans of The Hague, loose or bound in a book :
Octrooi voor het Huys in 't Bosch met desselfs gesighten, den Haagh met desselfs gesighten in platte gront en pcrspecktief tot over de hondert gesighten bequaem om tot een Gaart gemaeckt of in een boeck gebonden te worden en de plaats, genaamt Westkamp, gelegen op de Loosduynsche wegh met desselfs gesighten.

Literature:
Fr. D.O. Obreen, Archief voor Nederlandsche kunstgeschiedenis, deel 7 (Rotterdam 1890) 158, f: 162.
I.H. van Eeghen, De Amsterdamse boekhandel, 1680-1725, deel 5, 1 (Amsterdam 1978) 232.

Source: Margreet van der Hut, Westerstee, Anna van, in: Digitaal Vrouwenlexicon van Nederland. URL: www.historici.nl/Onderzoek/Projecten/DVN/lemmata/data/Westerstee [15/04/2012]

Collections
Anna Beek is mentioned in various reference books as an engraver. Published prints are held in the collection "Atlas van Stolk" and the Municipal Archive of The Hague, the engraver of these prints is usually Jan van Vianen.
The Library of Congress holds a volume with a collection of Plans of Fortifications and Battles, 1709 and is known as the "Anna Beek Collection", because many are published by Anna Beek and most likely she colored these prints.

Anna Beek was commissioned by Willem III of Orange, between 1690 and 1700 and produced for him a collection of 10 volumes of plates. The 10 volumes are bound in richly gilded bindings and have all the Dutch Royal coat-of-arms of arms.
Mrs. Anna Beek, enlarged each of the prints and mounted them on larger paper: she colored them in pastel colors, adding extensive clouds and brilliant yellow borders. This way of enlarging prints is also known from the famous Van der Hem/Prinz Eugen Atlas and those in the former Royal print collection kept in Jemniste in Czechoslovakia.
These volumes came on the market in the 1960s and were split up and sold in the European trade in the 1960s.
The volumes with Dutch views eventually were acquired by the Rijks Museum in Amsterdam from the Amsterdam antiquarian map and book dealer Nico Israel.
The other volumes were sold to German, French and Spanish dealers.
We are offering a selection of these plates of German and East European interest from this series previously in the collection of Hanno Schreyer.

King William III and Queen Mary II, both Protestants, became joint rulers of the Netherlands in 1689.
William was appointed Stadtholder (chief magistrate) and captain-general of the Dutch forces in 1672 to resist the French invasion of the Netherlands. He forced Louis XIV to make peace in 1678 and then concentrated on building up a European alliance against France.
In 1677 he married his cousin Mary, eldest daughter of James, Duke of York, the future James II. The marriage was intended to repair relations between England and The Netherlands following the Anglo-Dutch wars.

William III was a well-known collector of paintings. The collection of Stadholder-King William III went under the hammer in Amsterdam on 26 July 1713. Organized by the renowned art collector and agent Jan van Beuningen with the assistance of Jan Pietersz. Zomer, the foremost Amsterdam art broker, the auction was a virtual society event attended by a host of Dutch regents, agents and diplomats as well as European noblemen and princes, including the Elector Palatine Johann Wilhelm, the Elector of Mainz Lothar Franz von Schönborn, Anton Ulrich Duke of Braunschweig and James Brydges Duke of Chandos. They were all interested in the pictures from the gallery at Het Loo Palace, William III's summer residence. This book sheds new light on the actual auction and its organization, placing it within the context of the international trade in art. It explores the links between culture agents, art brokers, bankers, diplomats, and collectors.