Martin Waldseemüller
Martin Waldseemüller
.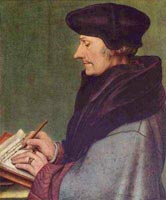 Waldseemüller was born some time in the 1470's in Radolfzell, Württemberg, in Germany. He began his education at the University of Freiburg in 1490. In 1507, he moved to Saint-Dié in Lorraine, France. Here, according to Hébert, Waldseemüller became a member of a small intellectual circle called Gymnasium Vosagense. He died in France in 1522.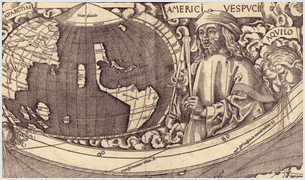 He was the author of the wall map of 1507, which named America for the first time. In that same year, it is believed he completed the maps for an edition of Ptolemy's 'Geography'. It was not until 1513 though that it was published.
Martin Waldseemüller, a highly accomplished scholar of geography, merged the science of mapmaking and the art of printing in this 1513 atlas, one of the most groundbreaking documents in the history of cartography.
He intended this atlas as a new edition of Ptolemy's Geographia. In the group of Ptolemaic atlases, this one is very important because it incorporates 20 modern maps which were not based upon the tradition of Ptolemy. Waldseemüller's use of a quadratic plane projection, was also a noteworthy advance.
Johannes Schott was the printer, and the drawings were done by Martin Waldseemülller. The editors of the text were Jacobus Aeschler and Goeorge Uebel.
The text itself was a revision by Mathias Ringmann based on d'Angelo's translation from ancient Greek conflated with another text by Picus della Mirandola.
Rene Duke of Lorraine, an art and science patron of the Renaissance period, made it possible for Waldseemüller to draw new maps in addition to copying those of Ptolemy. Waldseemüller abandoned Ptolemy's projection in favor of one based on rectilinear meridians and parallels.
Although these newly drawn maps were completed in 1507, Waldseemüller's patron died in 1508, and it was not until 1512 the work could be printed.
In addition to the twenty-six classical Ptolemaic maps, this atlas was accompanied by a supplement of twenty new maps that were published as a separate volume.
In a forward written by Äschler and Übel, we are told that the map of the New World was drawn according to the newest and most reliable information, the source of which is identified as "The Admiral".
Researchers today believe that "The Admiral" is Columbus and for that reason call this atlas the "Admiral Atlas".
This atlas was printed using the same woodcut maps but with a few minor text corrections on the Schott press in Augsburg with Übel acting as editor.
Most maps have a watermark of a triple-pointed crown.
Laurent Fries.
The maps by Waltseemüller became more popular with editions by Laurens Fries in 1520. Fries published in that year a map of the World, bearing his monogram. The map was a reduction of Waldseemüller's wall-map of the World, published in 1507. The major project that Fries and Grüninger worked on was a new edition of the Geographia of Ptolemy, which was first published in 1522. Fries evidently edited the maps, in most cases simply producing a reduction of the equivalent map from the 1513 edition of the Geographie Opus Novissima. 
Read more about Laurent Fries