Frans Hogenberg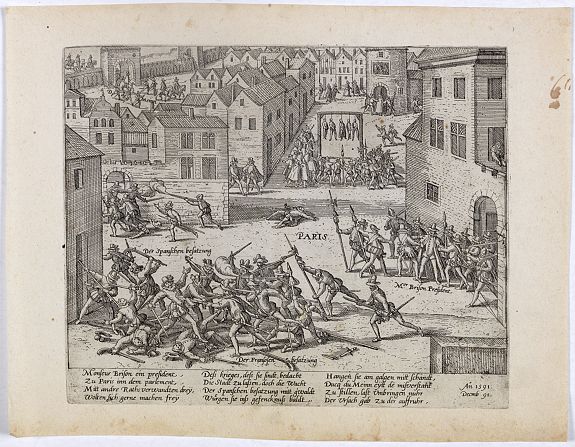 Frans Hogenberg was born in Mechelen as the son of Nicolaas Hogenberg. Frans drew maps and made drawings for publishers in the Netherlands, Germany and England. Besides illustrator, painter and engraver, he was himself a publisher.
Like his brother Remigius he was probably taught by his stepfather, the mapmaker Hendrik Terbruggen. In Antwerp Hogenberg engraved for Abraham Ortelius world atlas "Theatrum Orbis Terrarum" dating from around 1565. The atlas was published in 1570 by Aegidius Coppens van Diest Antwerp.
In 1568 he was banned from Antwerp by the Duke of Alva and traveled to London, where he stayed a few years before emigrating to Cologne. In Cologne he opened a studio where many engravers have had their education. He also founded a cartographic publishing company.
Together with Georg Braun, canon of the Cathedral of Cologne and his son Abraham Hogenberg, Frans published in 1572 the town book "Civitates Orbis Terrarum". This book was an immediate hit in Germany and became widely known. It would grow into a work of 6 volumes, and the last volume was published in 1618.
Frans also published a series of historical prints representing contemporary events, including many battles, sieges, executions, assassinations, parades, court scenes, etc. of the Eighty Years War in the Netherlands, but also in France and other parts of Europe. The works is known as "Die Geschichtsblätter".
The engravings were produced shortly after a historic event occurred and were primarily of events that were of interest to the European populations. The format is a large engraving that also contains, at the bottom, a descriptive text in German (and sometimes French as well).

They are "Views as news" and represent the earliest form of pictorial journalism, the precursor of the illustrated newspaper.
Ultimate reading : K.Kinds - Kroniek van de opstand in de Lage Landen.