"Les Petit Voyages" by Theodore De Bry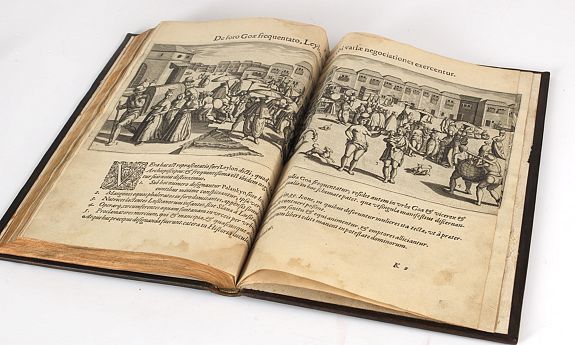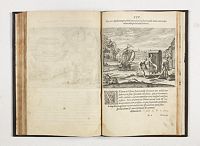 This work comprises probably the greatest single collection of material on early voyages to the East Indies, and is unique in its extraordinary wealth of cartographical and visual material on Africa, India, the Spice Islands, and South Asia.
A German edition of the "Petit Voyages" was published in 1599 in Frankfurt am Main. A second German edition came out in 1616.
Latin editions were published in 1609 and 1629.

Part I, VERA DESCRIPTIO REGNI AFRICANI, 1598. Illustrated with fourteen plates and two maps. Fillipo Pigafetta's description of the Congo, describing Odoardo Lopez' voyage there in 1578 to central Africa.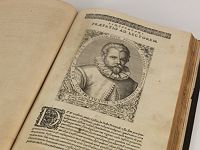 Part II, PARS INDIAE ORIENTALIS, IN QU JOHAN. HUGONIS LINTSCOTANI NAVIGATIO IN ORIENTEM, 1599. Illustrated with thirty-nine plates, three maps, and a portrait of Linschoten at the head of the preface. Linschoten's famous voyages to the East of 1583-1592 were published by De Bry the year after they first appeared as a separate book (Itinerario, Voyage ofte Schipvaert ....)
We offer a bound collection of plates from a Latin edition of part II in this auction.
Part III, TERTIA PARS INDIAE ORIENTALIS., 1601. Illustrated with sixty plates and three maps. The large folding map, "Descriptio Hydrographica," shows the eastern hemisphere and the routes to the east around Africa. This is a highly important piece of cartography. Included are the rest of Linschoten, Cornelius de Houtman's pioneering voyage to the East Indies of 1595-1597 (instrumental in opening the spice trade to the Dutch), and Gerit de Veer's voyage in search of a northeast passage in 1594-1596. The plates show scenes in the East, as well as Veer's stay at Spitzbergen, where his expedition was attacked by polar bears.
Part IV, PARS QUARTA INDIAE ORIENTALIS., 1601. - Linschoten and Houtman's voyages concluded, and the voyage of Jacob von Neck and Wybrandt van Warwijck to the East Indies in 1598-1599.
Part V, QUINTA PARS INDIAE ORIENTALIS..., 1601. - More material on Von Neck, and the establishment of Dutch power in Bantam.
Part VI, INDIAE ORIENTALIS PARS VI..., 1604. - Pieter de Maree's description of Guinea in 1600, and other early voyages to Guinea by the Portuguese, Dutch, and French. Relating to the Gold and Slave coasts of Africa and the growing European trading presence there, which laid the foundation for the trans- Atlantic slave trade.
Part VII, INDIAE ORIENTALIS PARS SEPTIMA..., 1606. - Joris von Spilbergen's voyage to Ceylon in 1601-1604 and Gasparo Balbi's voyage to Pegu via Syria in 1579-1588. Mainly devoted to India and Ceylon.
Part VIII, INDIAE ORIENTALIS PARS OCTAVA..., 1607. - A collection of five Dutch voyages to the East Indies, 1600-1606, including trips to China and the Spice Islands.
Part IX, INDIAE ORIENTALIS PARS NONA..., 1612. - The voyage of Admiral Pieter Willemsz to the Spice Islands to seize them from the Portuguese.
Part X, INDIAE ORIENTALIS PARS X..., 1613. Includes one of the first published accounts of Hudson Bay, describing the explorations of Henry Hudson. The second section of Part X of De Bry describes other voyages to the North by Linschoten, while the third section relates to De Quiros and his supposed discovery of a new continent, "Terra Australis Incognita."
Parts XI and XII and the Appendix to Part I, were issued by a different publisher in 1625 and 1628. (These volumes are so rare that even Church lacked much of the text).
Les Grand Voyages.
In the late 1580's he traveled to London, where he made a series of engravings based on the watercolors of John White.
While De Bry's engravings of native North and South Americans were based either on paintings, written descriptions, or both, his images reflect his decidedly European bias. Nonetheless, these were the first images that many people were to see of North and South America and helped to encourage European interest in the "new world."
Theodore De Bry (1528-1598), was born in Liege in modern-day Belgium. Around 1570, when the Spanish invaded the Low Countries he fled to the German city of Strasbourg, where he set up as a goldsmith and engraver.
This experience gave him an anti-Spanish outlook. In 1587, de Bry traveled to London to meet with a Frenchman named Jacques le Moyne. When the first accounts of Dutch, Spanish and British explorers to Asia, South and North America began to be published in the 1580s, De Bry became interested in producing illustrated editions of these early travel reports.
Living in London in the 1580s, he met the geographer Richard Hakluyt.  But it was only after settling in Frankfurt, already in his 60's, that de Bry published his first books, Les Grands Voyages, or "The Discovery of America" as well as the similar Petits Voyages, or the "India Orientalis" series.
Theodore De Bry began his compilation of early voyages in 1590 and published six parts at the time of his death in 1598.

His widow, two sons, and another family member continued the work, which comprised a total of fifty-four parts when it was completed in 1630. The publication brought to the European public the first realistic visualization of the exotic world opened up across the Atlantic by the explorers, conquerors, and settlers" (Alexander).

Johann Theodore de Bry.
Johann Theodore de Bry (1561-1623) was born in Liège in 1561, the eldest son of the engraver and publisher Theodore de Bry. It was from his father that Johann learned his craft, producing both engravings and etchings. In 1588, the Lutheran De Bry family settled in Frankfurt am Main, a safe haven for Lutherans at this time of religious discord.

Together with his father and brother (Johann Israël de Bry), Johann published two popular emblem books. He also produced engravings from celebrated contemporary painters. De Bry died in Frankfurt in 1623.