Can I buy this item now ?
Buy-It-Now Catalog
When no auction is active our
Buy-It-Now catalog
does offer a fine selection of items that are available for immediate purchase. No buyer's commission is added to the listed price.
A flat rate of US $ 30 / € 25  for shipping, handling, including insurance will be added to your bill for shipments within Europe and North America.
For shipments to South America, Australia, New Zealand, Thailand, and Africa a $ 50 will be added.
Items that weigh more than 3 pounds will be billed accordingly.
If you want to order an item, please click on the order button on the item page. If you are a registered user an invoice is created automatically.
For items with an Inquiry button we have to double-check availability first and you will be contacted within 12 hours.

Invoices are shown in Your Invoices section. We accept US$ and euros by Visa, Mastercard, iDEAL, PayPal, US$ check, or bank wire. After payment, the item(s) will be mailed out usually within the next two business days by fully insured, registered mail..

Warranty
We warranty the authenticity and condition of each lot described in this catalog. Defects in lots offered for sale have been carefully noted.
However, any lot differing from the catalog description may be returned within one week of receipt.
Please notify us prior to returning.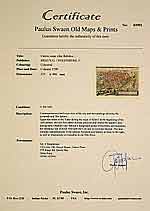 A certificate of authenticity is provided for each acquired item.
You are able to download and save the certificate (pdf format) on your computer. After this, you can print the certificate at your convenience.
We advise printing an extra copy and keep it with your insurance papers! You will find a link to generate the certificate on your online invoices.


If you do not have a printer we are happy to print the certificate for you and include it with your shipment.

Description
Color is by hand. 'Original colors' means; that the item was colored at or about the time of publication. 'Colored' means that the map is colored in this century or at the end of the last century.
Measurements are given in millimeters and inches, height is given first, excluding margins.

Please note that we are dealers in high-quality maps for more than 40 years. We do not sell reproductions.

Dispatch
Prices are net and do not include postage. All orders will be dispatched in rolled tubes or flat packages by Registered Priority Air Mail unless instructed otherwise, at the customer's expense. A flat rate of $ 30 / €25 on all shipments, including insurance, will be added to your bill. Items that weigh more than 3 pounds will be billed accordingly.
Shipping advice will be E-mailed shortly before shipping. Shipping time is usually 5-10 days.

You may choose a 3-day delivery service by DHL/UPS/FedEx for a total fee of US$ 50 - 75. In addition, you will get a tracking number so you can always trace the UPS parcel online. Your tracking number will be E-mailed shortly before shipping.

We advise DHL/UPS/FedEx shipping for very expensive items, otherwise, Registered mail works fine!

VAT / BTW / TVA / Sales Taxes.
Items are sold in the European Margin Scheme. Therefore the mentioned prices are including VAT. It is the buyer's responsibility to pay any applicable international duties, customs charges, taxes, charges, and tariffs owed to the appropriate government entity or any third-party charges necessary to facilitate shipment.

Invoices/Methods of Payment
Invoices are available online. Please check out Your Invoices

The items are shipped when your payment is received. Public institutions and libraries are granted four weeks credit. Payment can be made by bank wire, US$ check or credit card.
We accept VISA / Mastercard / Paypal / iDEAL