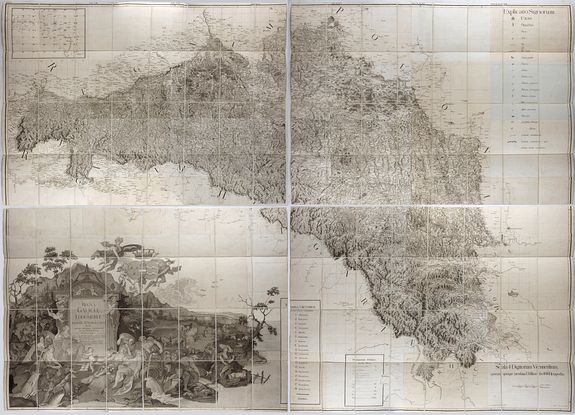 Folding Maps.


The majority of published maps were first issued in books, either in atlases, travel or history books or guide books.
Those maps, not issued in such volumes, may have been published as loose sheets, as wall maps or as folding maps.
Usually these foldng maps are dissected, laid on linen and folded within binders or a slip-case. In any of the instances above, the vulnerability of the map on paper is obvious. One of the the great inconveniences of the standard folio size atlas was obviously, its lack of portability. Over the years this problem was resolved in two ways; the development of the so-called "pocket atlas" or, the Pocket book map or folding map.

The folding map was often a single map, often dissected, mounted on linen or extra thick paper, and bound into a protective folder or loose in a slip-case. It is not uncommon to find maps taken from atlases, then mounted and folded, for practical use during a voyage.
Obviously, the more interesting maps of this genre where those specifically separately issued. These maps, frequently on much larger scale than those issued in atlases, were intended for prectical use and, accordingly, are not always in the best condition.

The nineteenth-century interest in travel - the birth of commercial tourism which we now take for granted - spawned a dramatic increase in town plans and guides of major cities or resort areas.
Pocket maps can be found relating to the New World, either for use of those who already lived there, or as guides for the great numbers of emigrants who sailed west to North America.
Folding maps have, to an extent, been overlooked by collectors in the past, since they do not conveniently fit in to a folder or drawer of flat maps, and are not usually of sufficient decorative quality to be framed and hung.
Accordingly, there is a relatively wide range of interesting maps available, and although the rarities fetch high prices, many can be found at a reasonable cost. (See Country Life Book of Antique maps, by J.Potter, Mappamundi.) .
See our section on folding maps.