Shipping
A flat shipping fee is added for shipments
$ 30 to Europe and North America. (DHL)
€ 15 to Netherlands and Belgium (PostNL)
€ 60 or $70 Australia, New Zealand, South America, and the Philippines (DHL) € 35 or $40 to most other destinations by DHL.
This covers International Priority shipping, Packing, and Insurance (up to the invoice amount).
Recently shipping has become very expensive and registered mail is not very reliable. We are therefore forced to use DHL; if you would prefer the cheaper Registered mail option let us know so we can reduce the shipping rate.

If you have won 2 or more items, we charge only a one-time shipping fee.

Shortly before shipment, we will email you a shipping notification with an internal tracking number. Check carefully the shipping address! Please update your ship to address here and Contact us immediately about your update.
Items are usually shipped by DHL a few days after payment is received. You will be notified by email about the shipping date and tracking number, which is also noted on your invoice page.

Maps are usually shipped flat between sturdy cardboard, large maps are rolled and shipped in solid tubes, if your item can be shipped in an A4 size envelope and no Insurance is requested a reduced shipping rate of €10.00 will be added to your bill.
For parcels of more than 1kg, an additional fee applies. You are billed at nominal postal fees.

If you have your own account with FedEx, UPS we can send using your account, and no shipping fee is added to your bill.
If your parcel happens to be in transit for 2 weeks you have to contact us and will place an official parcel trace request at the local post office. Such a trace may take about 2 weeks before a response is received.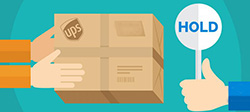 Hold Shipment option
We've added an option that allows you to put your shipping on hold. This can be incredibly convenient for people who want to buy several items at different auctions and ship them together. The service is free and you pay only once the shipment fee.