What guarantuee do I have ?
Paulus Swaen fully guarantees the authenticity and condition of each lot.
We are in the map business for 42 years and are known for selling high-quality material and we try to sell as many as possible maps in original colors or original b/w condition.
- We do not sell reproductions.
- Defects in lots have been carefully noted.
- Any lot differing from the catalog description may be returned.
- There is no time limitation to this guarantee.
Please note that if no remarks are found regarding, splits, tears, discoloration, etc; this means there are none to be found on the item!.
Our quality standards are high!.
A certificate of authenticity is provided for each acquired lot.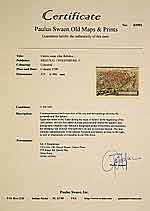 Do I get a Certificate of Authenticity?
Yes,  a certificate of authenticity is provided. Certificates are generated from the item description. Therefore for lots including multiple items we generate only one certificate.

You are able to download and save the certificate (pdf format) on your computer. After this, you can print the certificate at your convenience. We advise printing an extra copy and keeping it with your insurance papers! You will find a link to generate the certificate in your invoice section. Please visit Your Invoices and select an invoice. Next to the price, you find the download link.
Alternatively, we can provide a printed certificate and include it in your shipment.

In case you prefer us to print your certificate and included it in your shipment please follow this link and select "Yes" for the option: Include printed certificate?.
Do remember that you need to be logged in in order to get directly to this page and do not forget to submit your request by hitting the Submit Query" button.