Hold option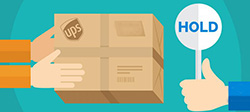 At no additional charge, Paulus Swaen allows you to put your shipping on hold. This can be incredibly convenient for people who want to buy several items at different auctions and ship them together.
The service is free, and you pay only one shipment fee.
Please note that, as a general rule, we ship items only after the closing of a Buy-or-Bid sale.

Please contact us when you want to use the Hold service.