Gallery Highlights
In this highlights section of the Buy-It Now catalog we present some personal favorites from our large stock of authentic maps, atlases, prints, globes, posters and Medieval manuscripts.
The items are immediately available and no commission is charged.

Feel free to contact us if you have a question or you are looking for a specific item.
Besides the below highlights please have a look at our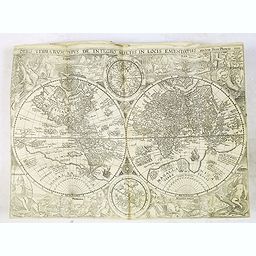 "This inestimable book, a treasure of all the learning respecting the East and West Indies and the navigations thither... [was held] in the highest esteem for nearly a century, and was given to each ship sailing to India, as a log-book [ie., sailing manual].
Hence the many editions, which is also the cause why fine copies, especially with all the plates and maps, are so very rare.
A large part of the book is occupied by translations of original Spanish and Portuguese documents on geography, ethnography, statistics, navigations, etc., and in these respects, it is of the highest importance and authority. The description of America occupies...the third part"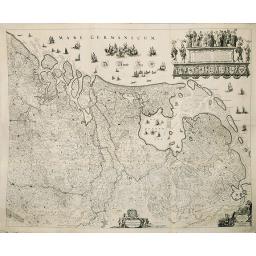 The first wall map of the Seven Provinces of 1651, re-issued as 'Stoel des Oorlogs' by Covens & Mortier. The first issue of the present wall-map is known to be included in the Klencke Atlas in the British Library; the second edition, by son Dancker Danckerts, is present in the other two giant atlases: the Mecklenburg Atlas in Rostock and the Atlas des Grossen Kurfürsten in Berlin.
BLAEU, Willem Janszoon (1571-1638)  AN EXCEPTIONAL AND VERY RARE PAIR OF CELESTIAL AND TERRESTIAL GLOBES, 9inch / 23cm, with an overall height of 38 cm, Amsterdam, dated 1602, but published after 1621. In their original stands with circular wooden horizon rings, covered with printed paper, supported by four legs and brass meridian rings supported by a single column.
The diameter of the terrestrial and celestial globe is 9 inch (23 centimeters) and each globe made up of a set of 12 engraved gores and Arctic ice caps, printed on paper and mounted on a sphere of papier maché. Each sphere is mounted in a graduated brass meridian ring with the production number stamped at the back of the ring. The hour circles are missing.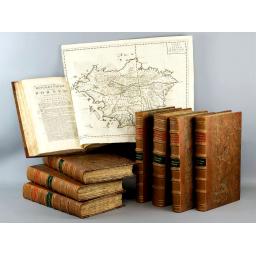 The most comprehensive work on Asia published in Europe during the early colonial period" (Landwehr). The first book to give a comprehensive account in text and illustration, of the peoples, places, and natural history of Indonesia" (Bastin & Brommer).