Town plans and views

Not until the late 15th century, as a result of the wider dissemination of books and documents made possible by movable-type printing, do we find printed topographical works containing town views in any number.
The first, a very rare volume called "Sanctarum Peregrinationum" by Bernhard von Breydenbach, printed in Mainz in 1486, covering a pilgrimage to the Holy Land, contained woodcut views of Jerusalem, Venice and other places on the route.

Still rare, but more commonly seen, is the Nüremberg Chronicle (1493), published the year that Columbus returned to Europe after discovering America. In May of 1493, there appeared in the Latin language, one of the earliest voluminous books, fully illustrated with 1,809 woodcuts printed from 645 woodblocks.
The woodblock cutters were Michael Wolgemut, the well-known teacher of Albrecht Dürer, and his stepson Wilhelm Pleydenwurff. Wohlgemut was Albrecht Dürer's tutor between 1486-90. Many views are however imaginary.


Thereafter, for most of the sixteenth century, German cartographers led the way in producing town plans in a more modern sense.






In 1544, Sebastian Münster issued in Basle his Cosmographia, containing about sixty plans and views, some in plan form, but many still using the old type of outline in elevation, and still others in a bird's-eye view.

Very soon afterward Frans Hogenberg, who engraved maps for Ortelius, together with a noted painter and draws man of the time, Georg Hoefnagel, compiled and issued in Cologne a City Atlas intended as a companion work to the "Theatrum Orbis Terrarum".
Entitled "Civitates Orbis Terrarum": The modern town book was born!

Types.
1. The panoramic town view was of great importance for the 16th-century traveler. The profile of the town was the first encounter with a new town.
2. The Plan is a scaled representation as viewed from directly above, usually produced with surveying techniques by engineers.
3. The Bird's-eye view, is a combination of both panorama and plan. This type demanded artistic skills, the pictorial detail made it enduringly popular.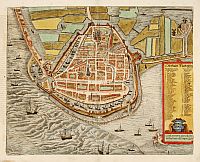 The "Civitates Orbis Terrarum" was edited and annotated by theologian and publisher Georg Braun, and largely engraved by Frans Hogenberg. Over a hundred different artists and cartographers contributed to the sumptuous artwork, which not only shows the towns but also features additional elements, such as figures in local dress, ships etc.
The majority of views in the book are, naturally, of European cities with a particular emphasis on the Low Countries and Germany, but there are also views of Middle Eastern cities, North and West African ports, Indian Ocean ports, Cusco and Mexico.
This great work, in the systematic tradition of Ortelius, is one of the great books of the Renaissance. The town views are often the earliest view of that town or city.
After the book's last edition in 1618, the copper plates remained in Cologne until about 1653 when they were acquired by Johannes Janssonius and reissued four years later with reset text. Some of the plates were subsequently reissued by Jansson's heirs in 1682, by Frederik de Wit in 1710, and by Covens and Mortier later in the century.

The success of the Civitates led to a variety of imitations - later editions of Münster's Cosmographia included copies of many of the plans. François de Belleforest incorporated copies of the Civitates originals in his own edition of Münster's work.
Francesco Valegio, produced in Venice in 1595, is a miniature version of the town book. Daniel Meissner produced in 1625 miniature town books in a noteworthy style.
The great Dutch publisher Joan Blaeu, published in 1649 his town books of the Low Countries, including about 220 town plans. Additionally, from 1663 Blaeu issued three town books of Italy. This work has been re-issued by Pierre Mortier and later Alberts.

Eighteenth Century.
Publishers in France, Germany, England and Holland produced a large output of town views for the demanding buyer.
In 1729, Pieter Van der Aa published in Leiden his 20 volume "La Galerie Agréable du Monde", containing over 3,935 fine engravings on 2,571 double-folio leaves.- primarily by using older copperplates.

From about 1630 an important German publisher, Matthaus Merian (father and son) published for a century or more an enormous output of town plans and views of all parts of the world.
Johann Baptist Homann and George Matthaus Seutter published large folio-sized town plans often bound into their atlases. Probst is famous for his large size town views.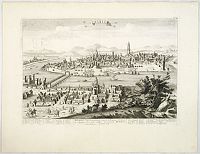 Most of the Paris publishers were all based at rue St.Jacques; Jean Boisseau, Jollain, Aveline, Chéreau, Crépy, Bellin and A.M. Mallet published town views. Copper plates also here often changed hands.
A type of town view, better known as "optical prints" or "vue d'optique", is not to be forgotten. The earliest works were made in Augsburg but quickly followed by Paris, London, and Italian-based publishers.

John Andrews published in 1771 his "Collection of Plans of the Capital Cities of Europe and some remarkable Cities in Asia, Africa and America", including 40 plans including New York, Iedo (Tokyo) and other Asian and European cities.
From 1829, a collection of maps and some plans published under the 'Superintendence of the Society for the Diffusion of Useful Knowledge', (i.e., S.D.U.K.) - detailed town plans.

Italian publishers, Francesco Ambrosi, Coronelli, and to a certain extent, Piranesi published typical Italian-style town views, but in much smaller numbers.

Folding case plans.
In addition to plans issued in atlases and books, there have been from approximately 1750, large numbers of separately issued town plans published for practical use. Loosely folded into covers or slipcases, mounted on heavy paper or cloth, or even printed on silk, these everyday accessories were especially vulnerable, hence their proportionately small survival rate.