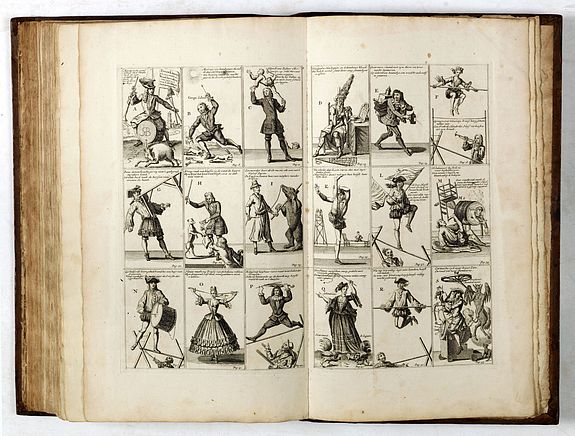 Het Groote Tafereel der Dwaasheid, vertoonende de opkomst, voortgang en ondergang der Actie, Bubbel en Windnegotie, in Vrankryk, Engeland, en de Nederlanden, gespleegt in den Jaare MDCCXX… - ANONYMOUS
Click image to

in.


Title : Het Groote Tafereel der Dwaasheid, vertoonende de opkomst, voortgang en ondergang der Actie, Bubbel en Windnegotie, in Vrankryk, Engeland, en de Nederlanden, gespleegt in den Jaare MDCCXX….
Map maker : ANONYMOUS.
Date : Amsterdam, 1720.
Size : 14.4 x 9.8 inches. / 36.5 x 25.0 cm.
Colouring : Uncoloured.

Description :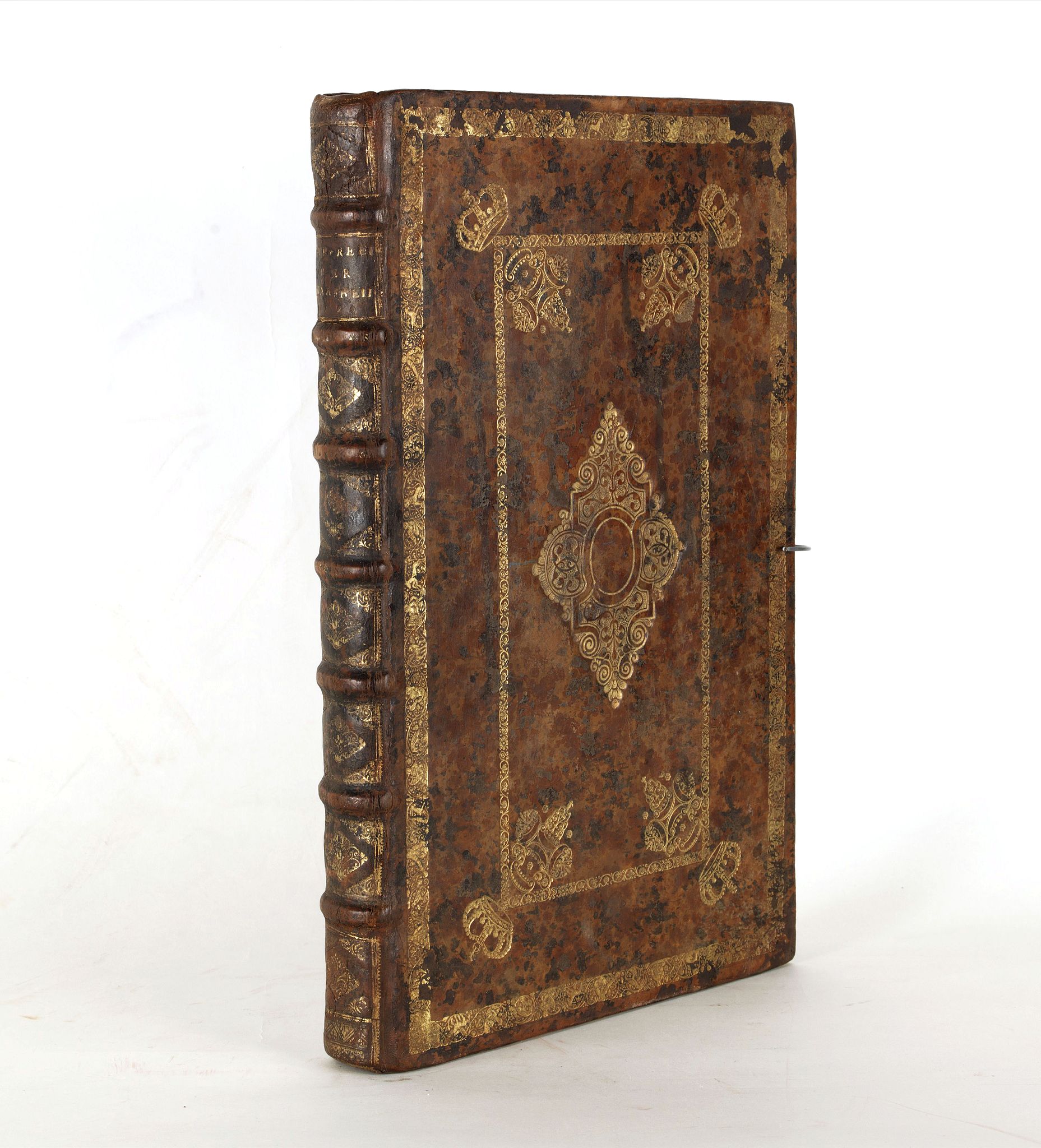 AN EARLY ISSUE of this biting and vulgar satire on the Mississippi and South Sea Bubbles and an extraordinary visual record with 78 plates of the first banking crash, showing the shocking effects of the "South Sea Bubble" in France, England and Holland, and placing John Law (1671-1729), with his Mississippi company scheme, squarely at the center of the disastrous chain of events.

Cole 2-45, 47-70, 72, 73, 3 extra plates (consisting of mounted engr. portraits (of Quinquenpoix, Madame Law and Jacques III Pretendent D'Angleterre (Cole suppl. plates 2, 3 and 4)) within the engr. border belonging to the absent first plate "Eere-Titel, of Gordyn voor het Schouburg" ("Een schoone Lofkrans (...)")) and a small extra map "Louisiana by de Rivier Mississippi" (Cole suppl. 6).

Without Cole 46 (De inventeur der windnegotie, op zyn zegekar), 71 (Koning en Koningin van de Mississippi) and 74 (second part of Toverkaart)).

Biting satirical caricatures of The Great Mirror of Folly. "In neither of these [France and England] did there appear such a stout and extravagant piece as this Dutch volume" (Cole).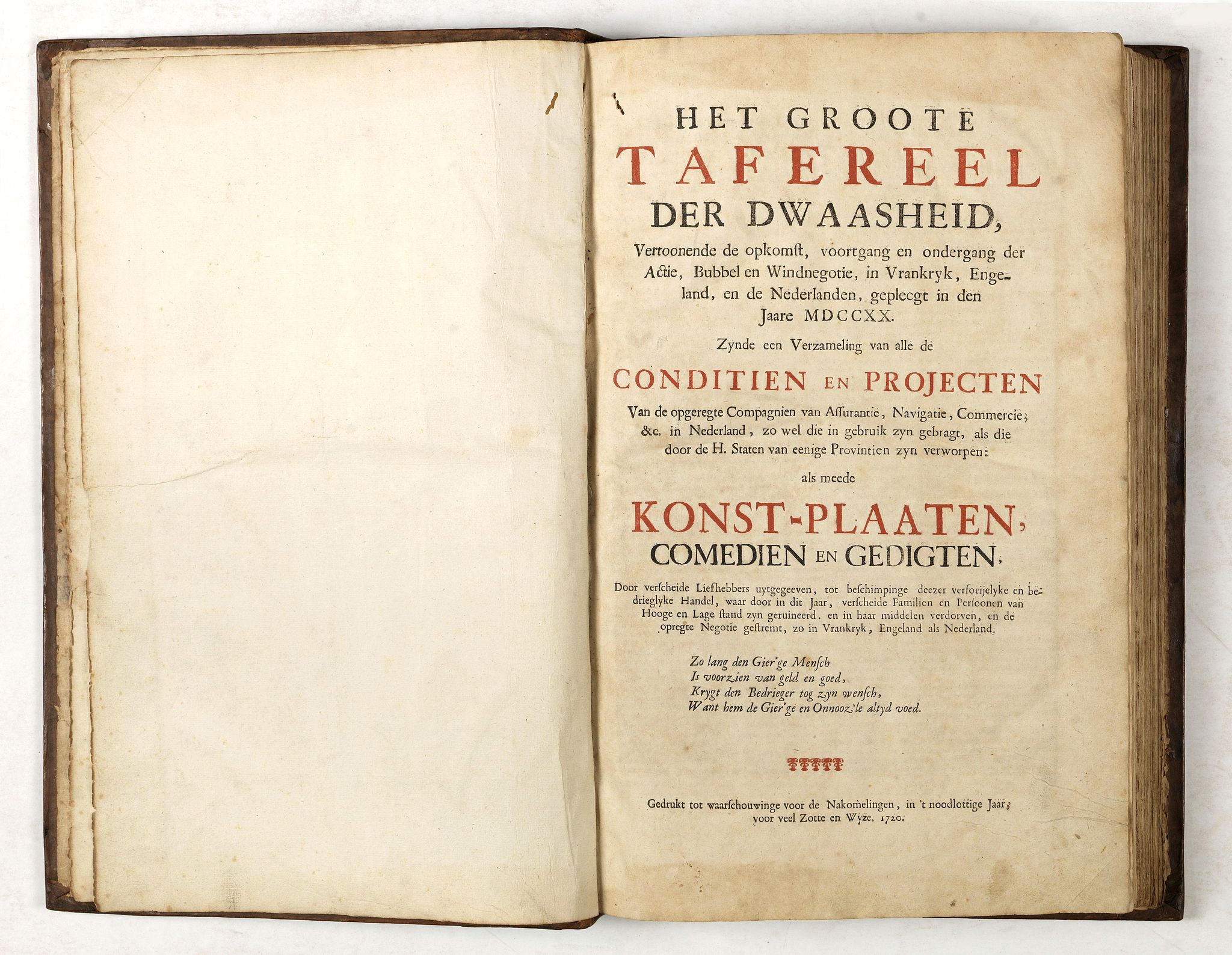 This copy has 78 copper-engraved plates and maps, most double-page and a few folding on 73 pages. The set of 8 Bombario Auctionist's printed on separate paper are mounted with 1-4, and 4-8 on two single pages.
The text provides the charters of important companies floated in various Dutch cities during the period of bubble fever, and the plates expose the principals of these companies to merciless ridicule. "The combination of such prosaic data with the numerous satirical engravings, with the reprint of comedies and satires, and with a description of bubble playing cards offers the student a unique historical document, the like of which was not thrown up by the speculative manias in either France or England" (Cole, The Great Mirror of Folly… An Economic-Bibliographical Study, p.1).
The Tafereel is perhaps an important factor in the slow development of modern corporate organization. "Against the joint-stock manner of business arrangements were thrown the fears engendered by this popular portrayal of the downfall of the 'windnegotie.' Possibly a mere book was really an economic force" (Cole, p.20).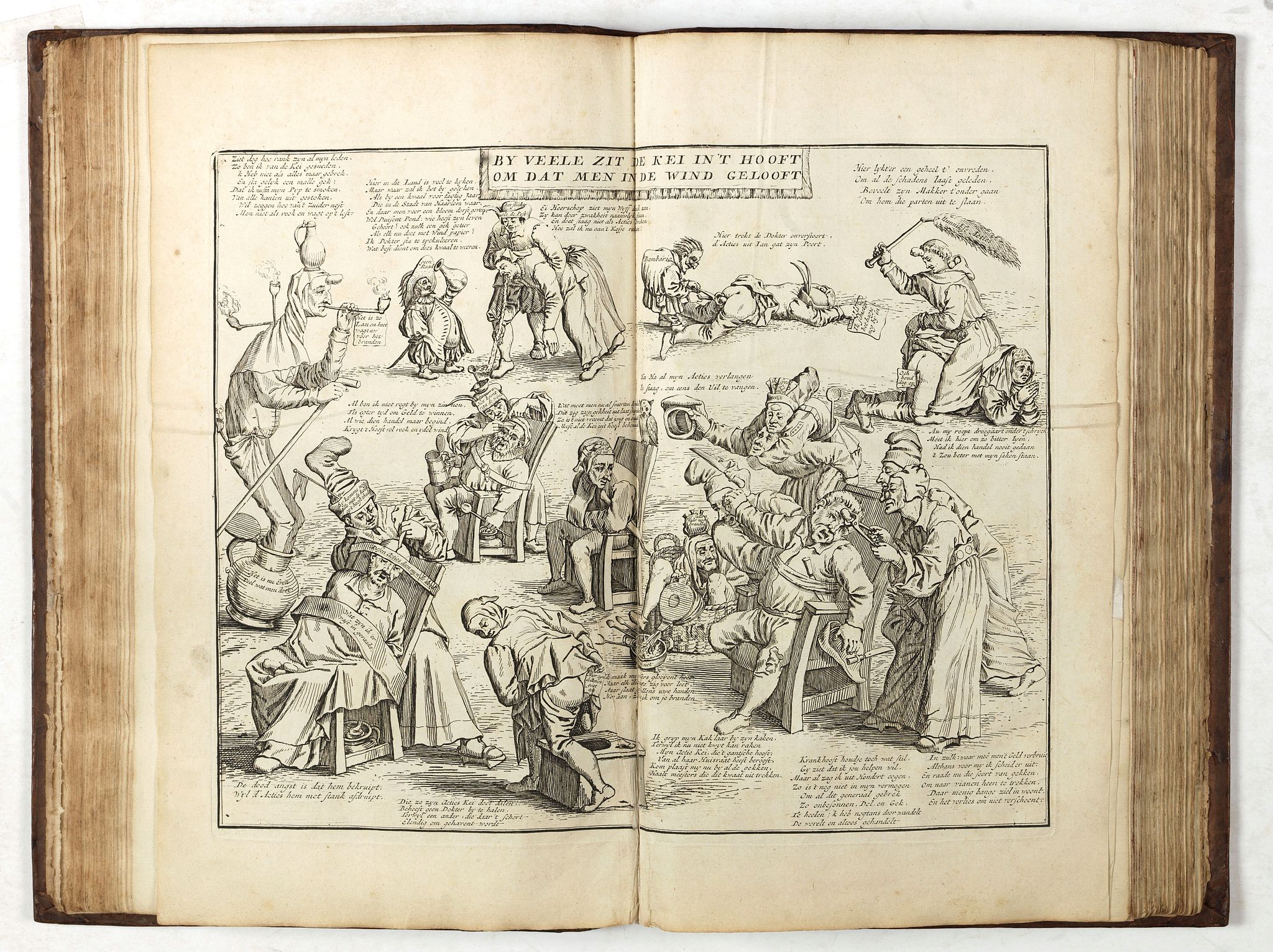 'The engravings, which illustrate the rise and fall of the great speculation, are full of humor; many of them are exceedingly ludicrous, and some very obscene… The number of plates in copies varies from 60 to 74" (Sabin).
§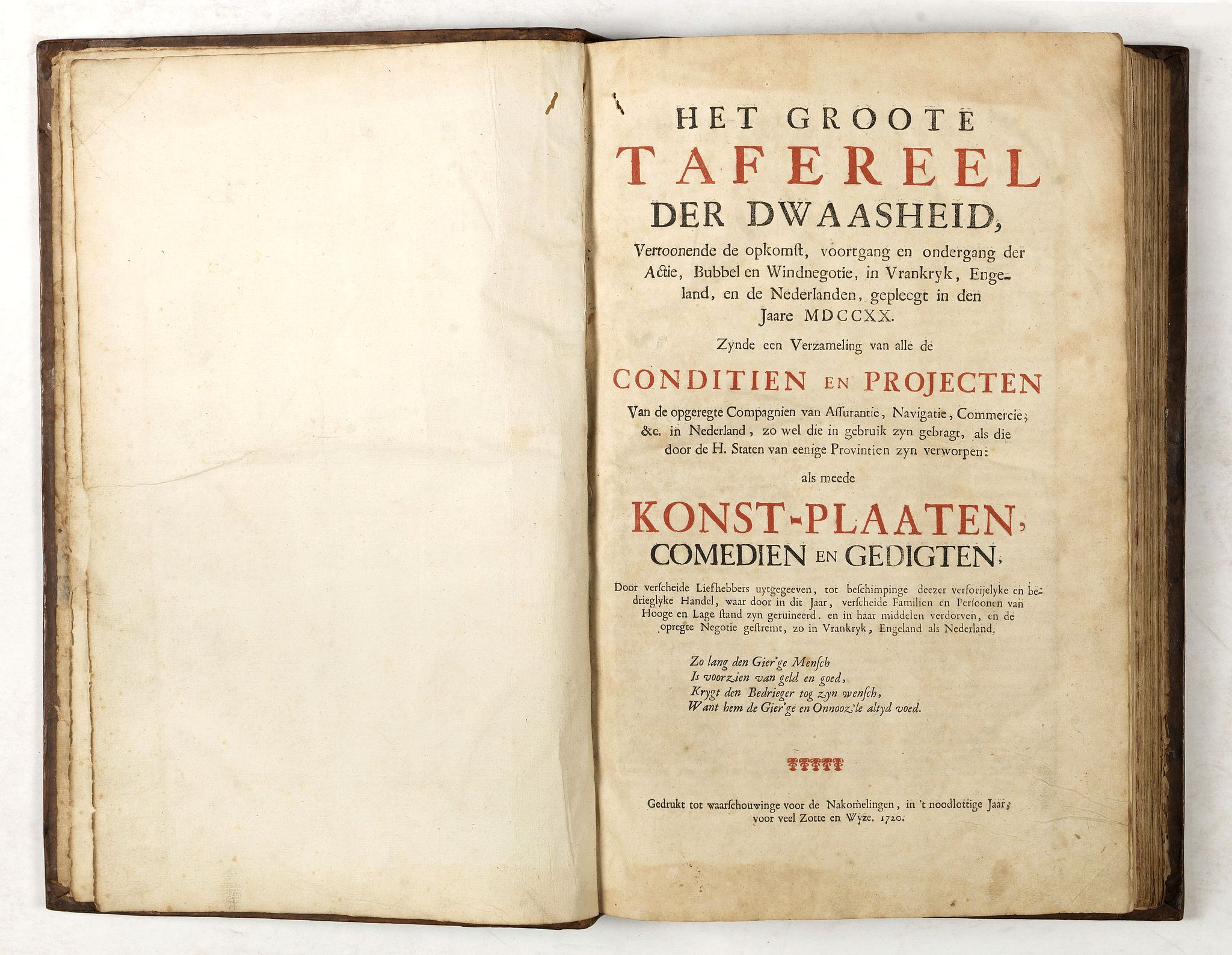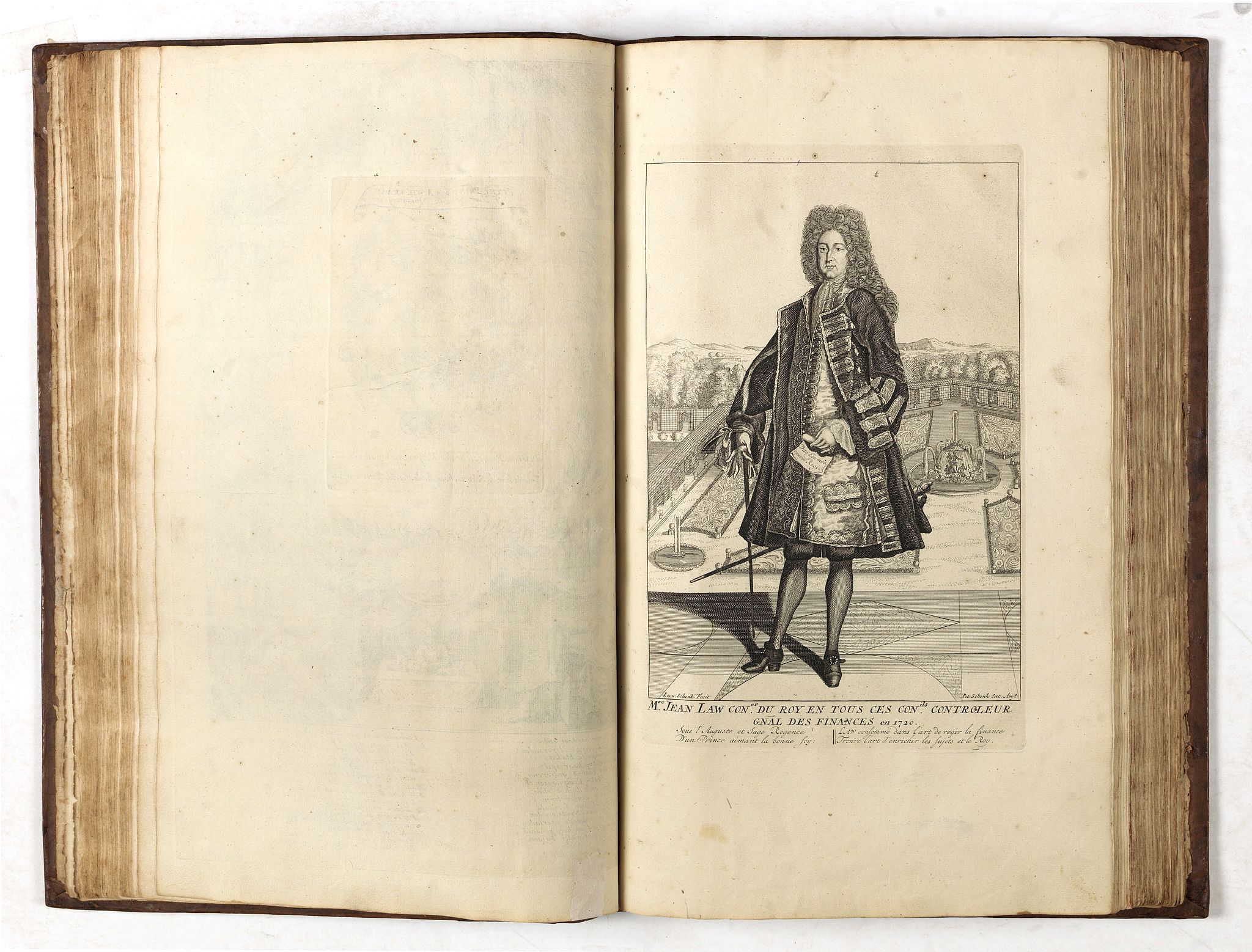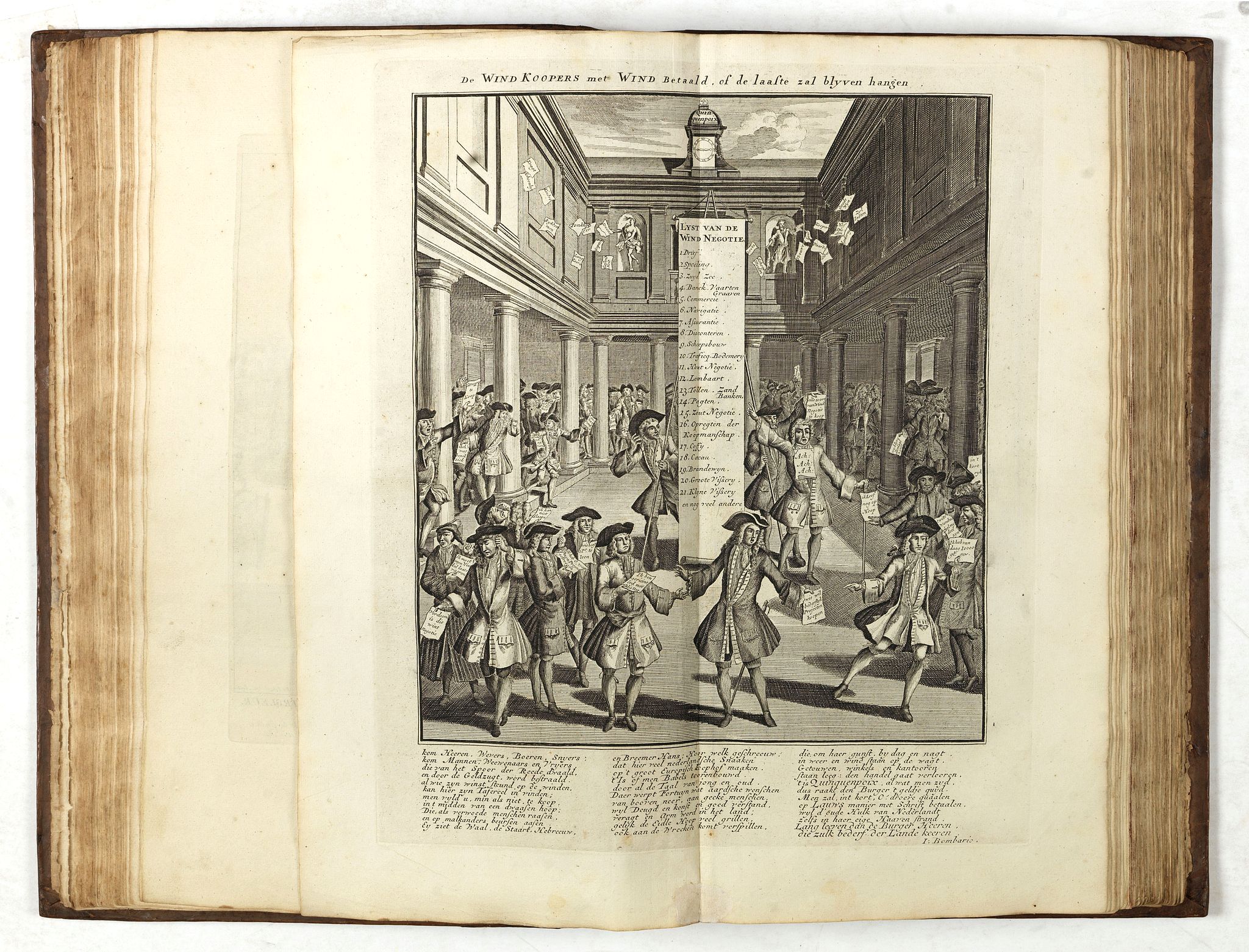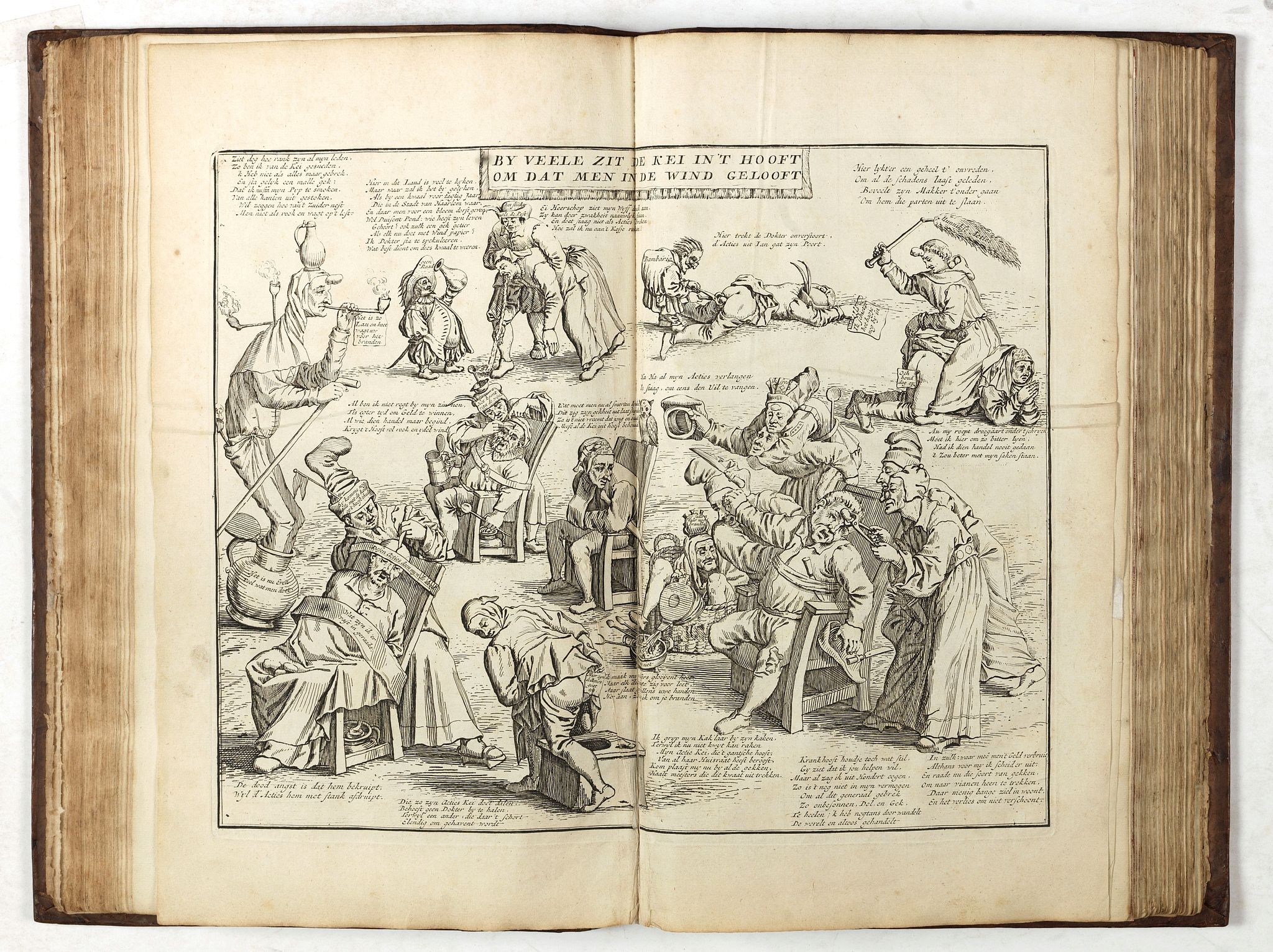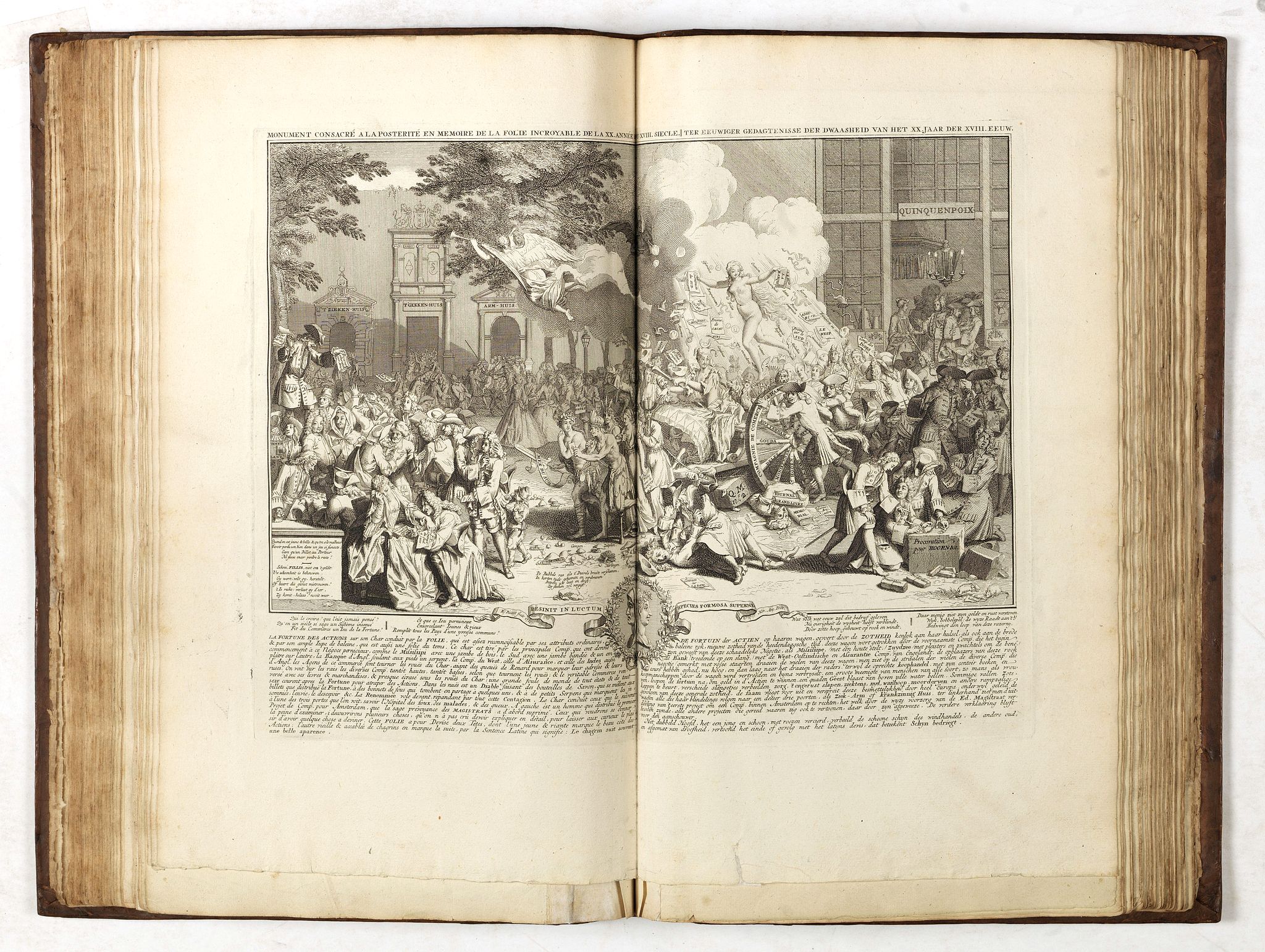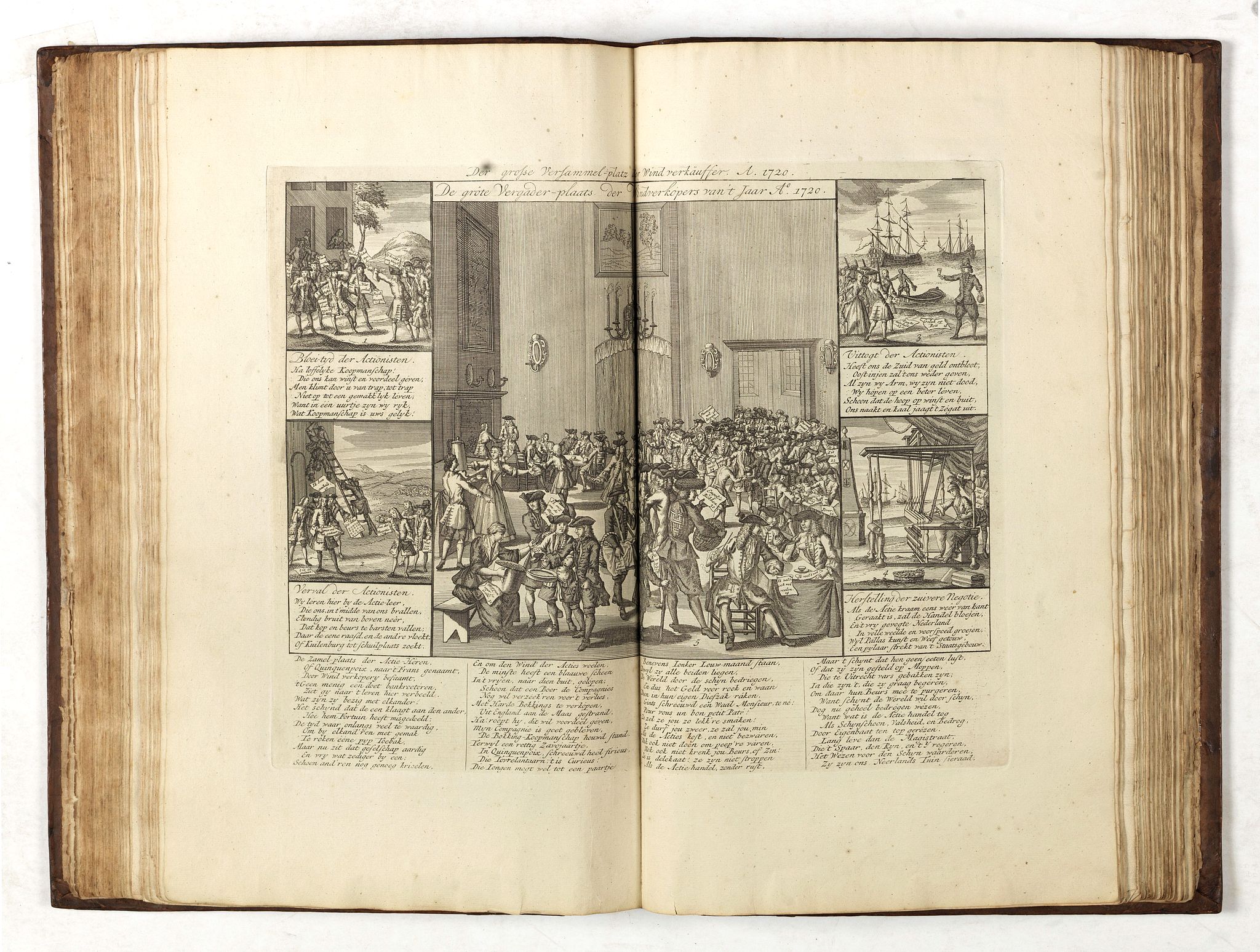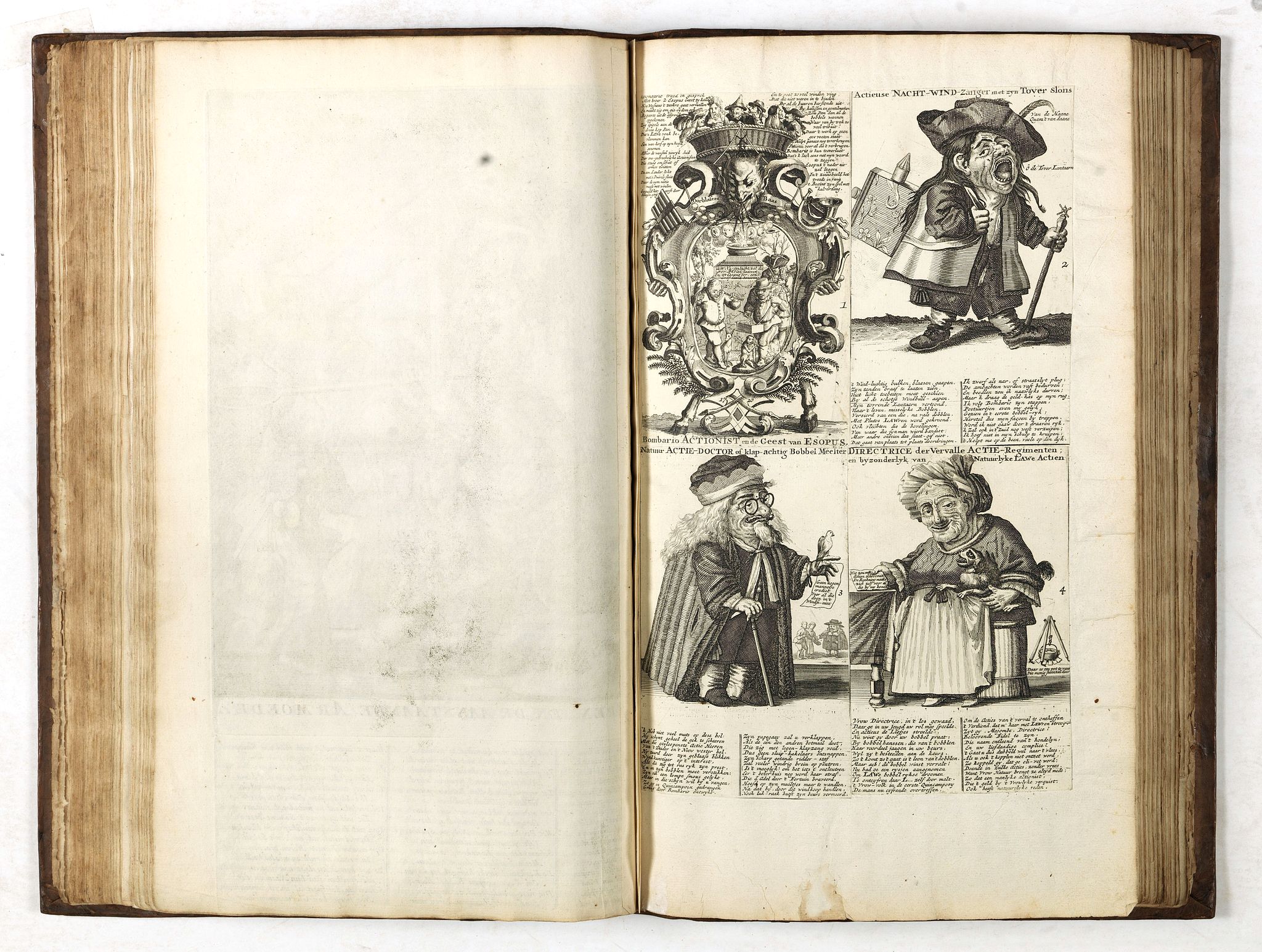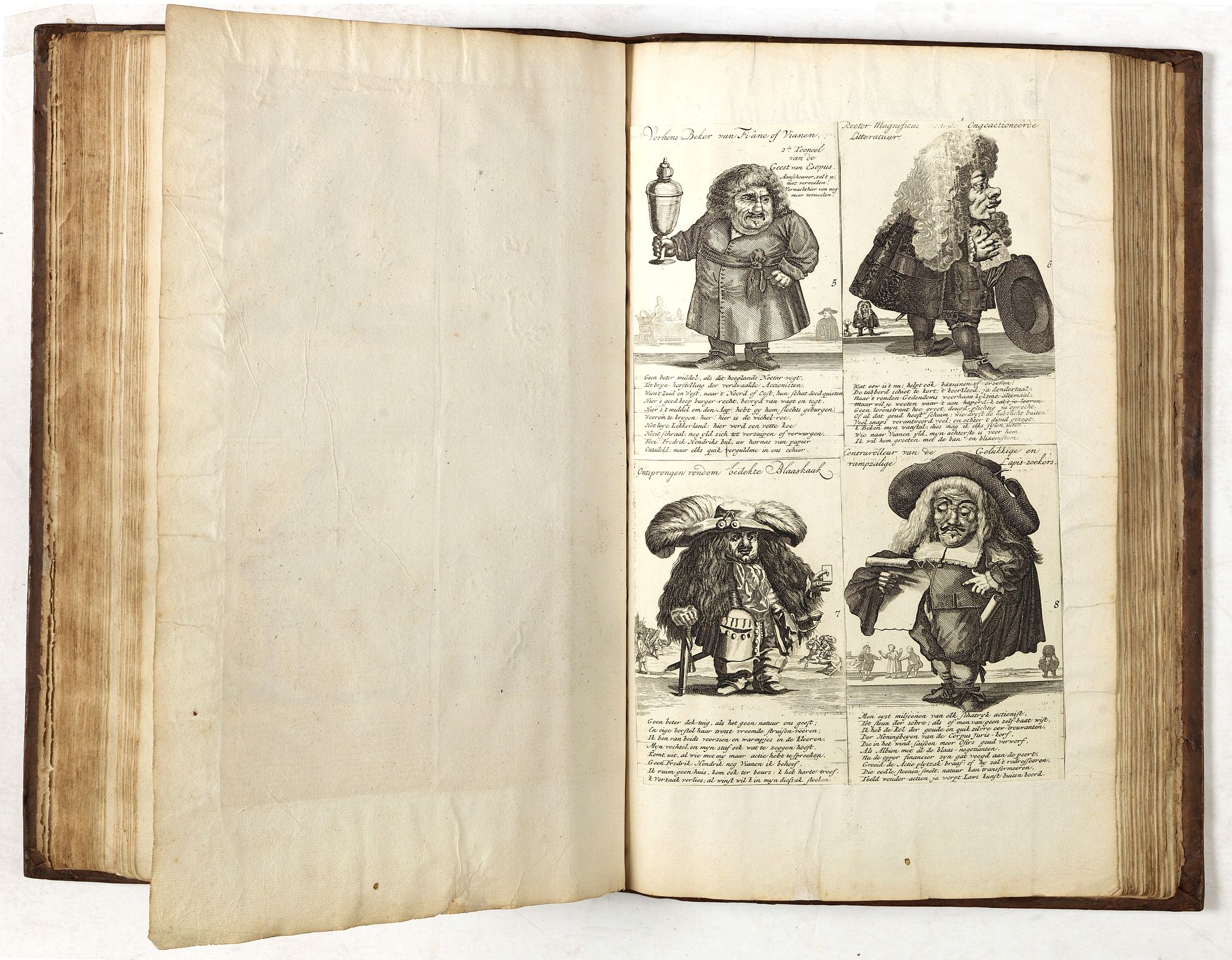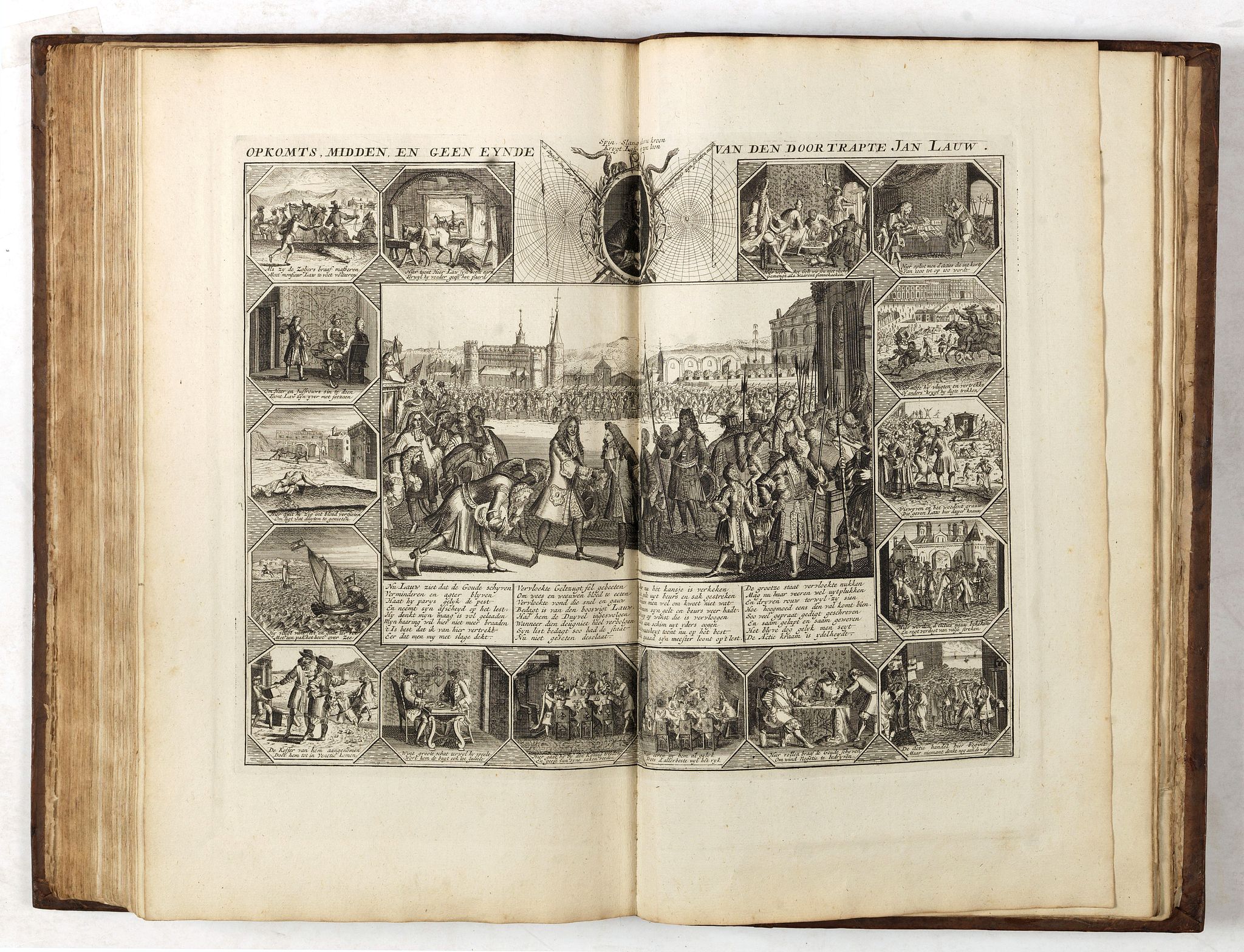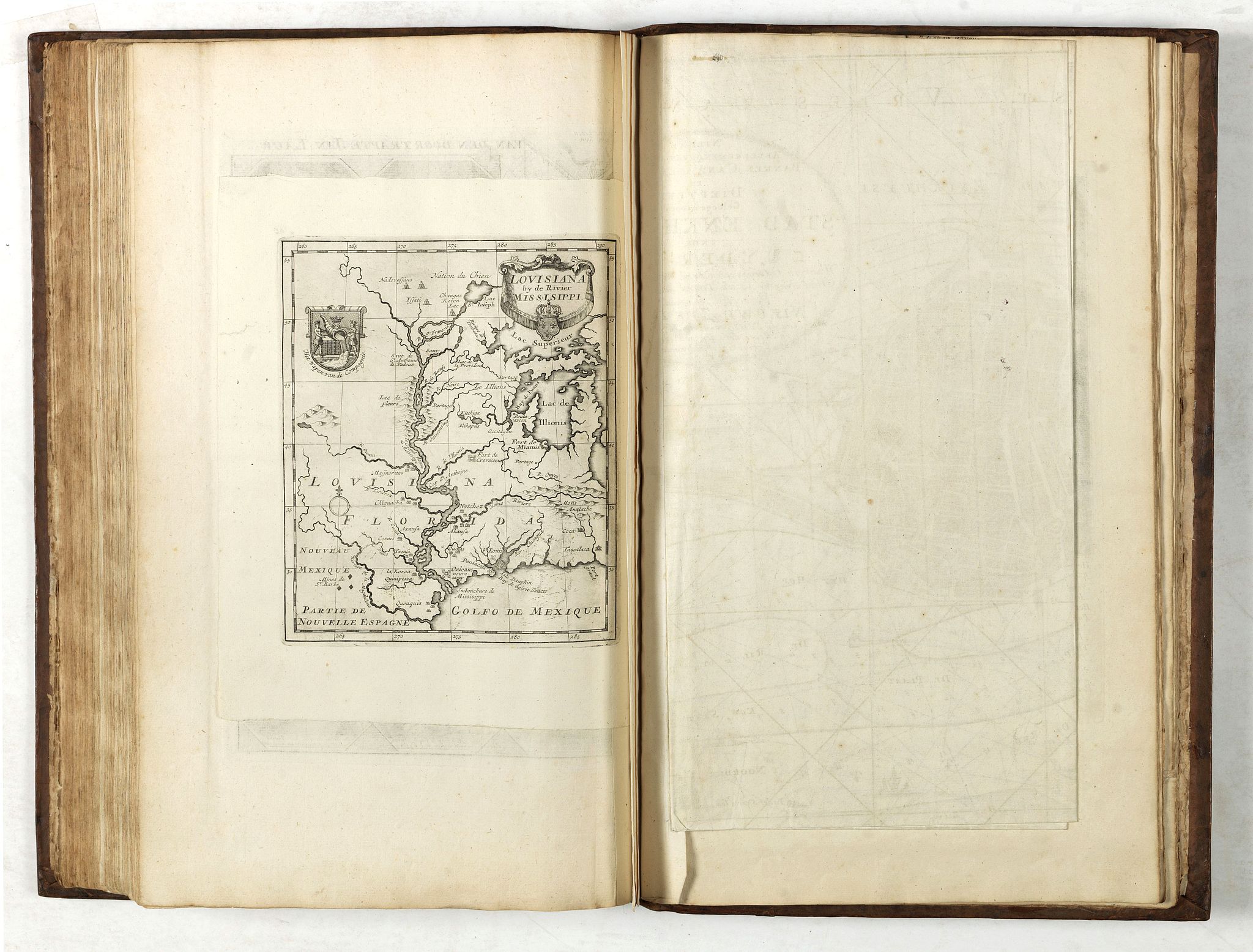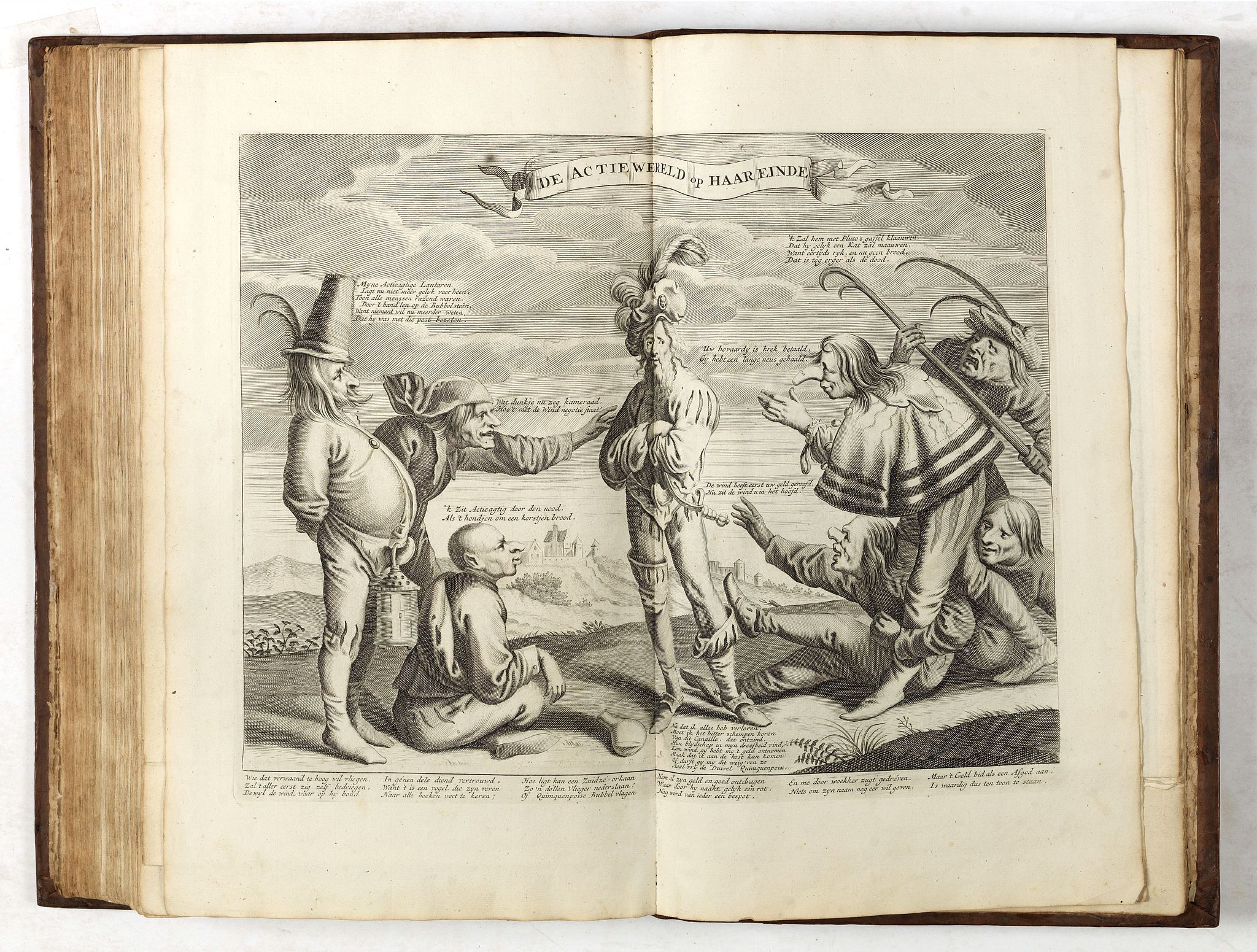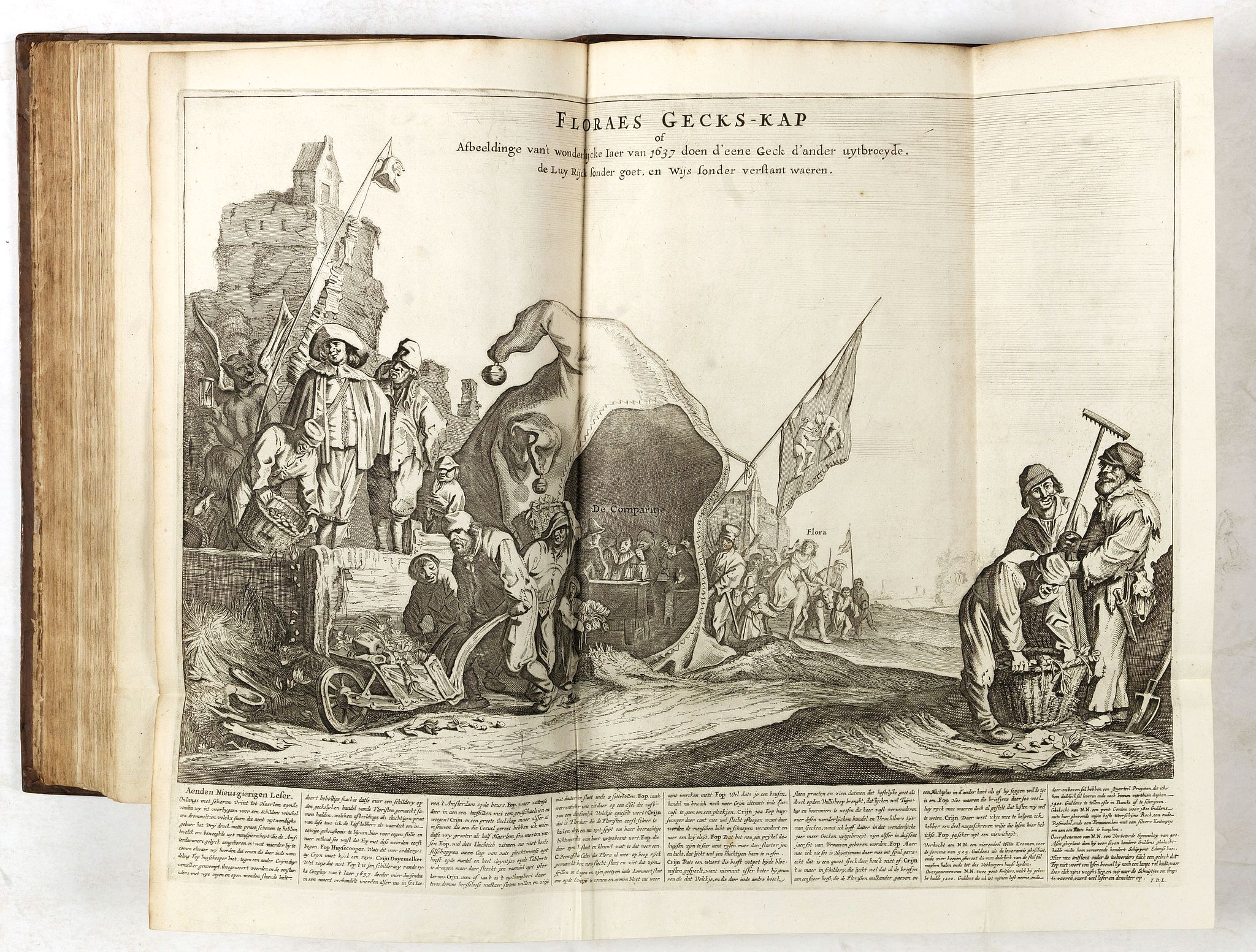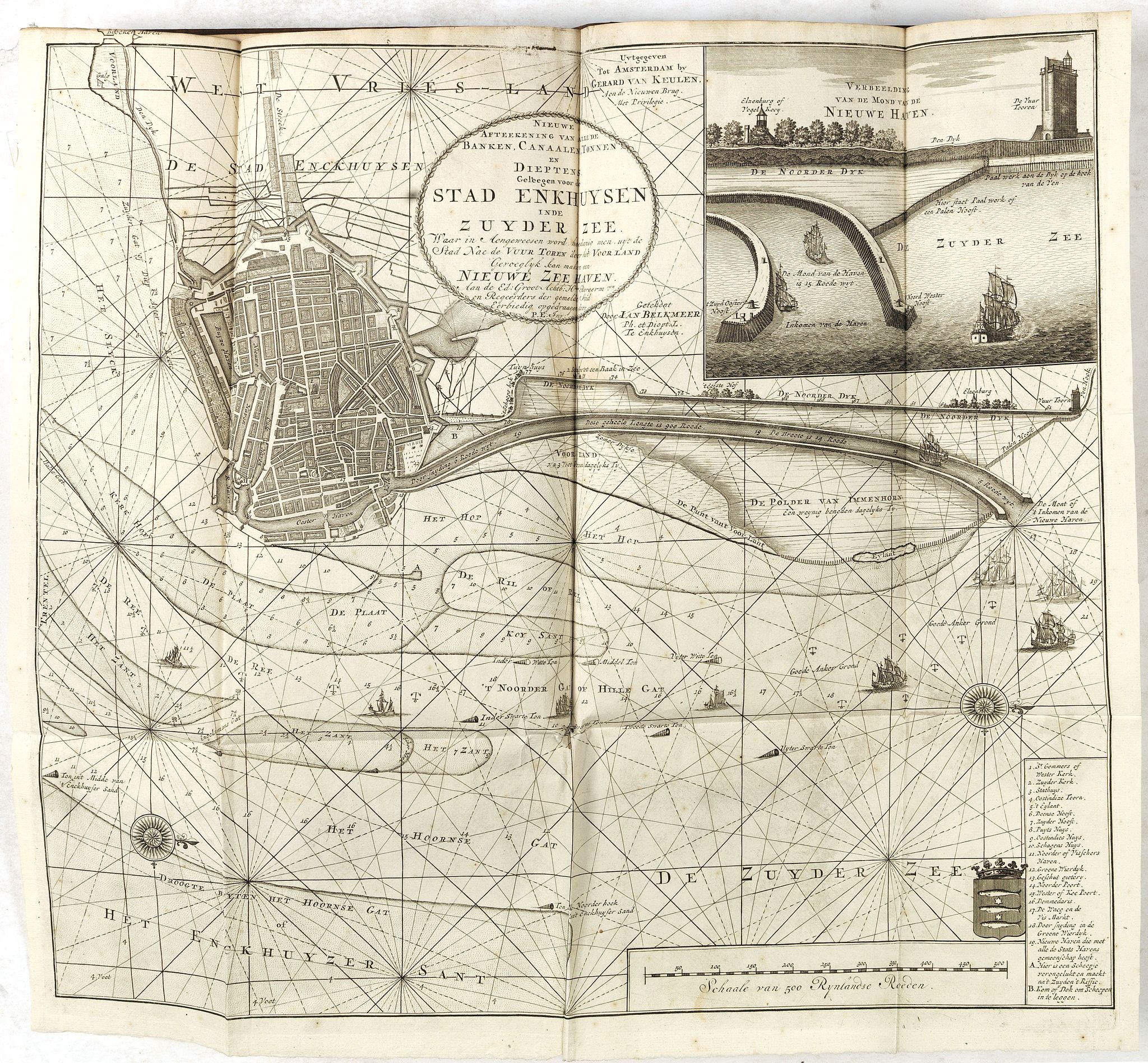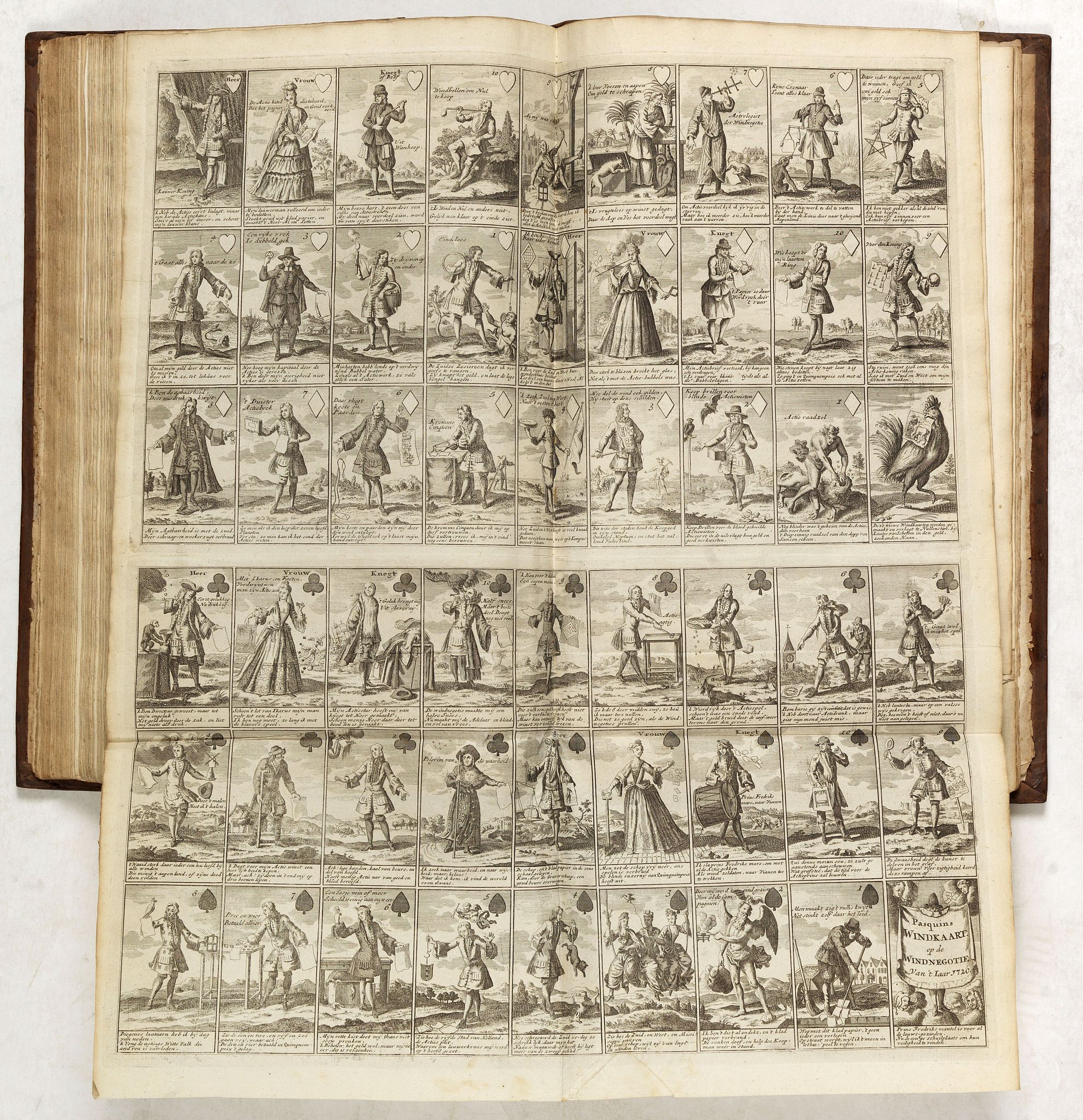 Goldsmiths' 5879. Howes G442. Kress 3217. Sabin 28932.
Condition : (2),25,(1),52,31,8,10 textp., 74 (fold./ double-page) engraved plates, contemp. richly gilt marbled calf by the DOUBLE DRAWER HANDLE BINDERY (Amsterdam.) with i.a. gilt central mirror piece and crown corner tools on both covers, folio. - Of the two plates each bearing 4 small engrs. (Cole 26 "Bombario" etc. and 29 "Verhens-beker" etc.) the engravings have been cut out and mounted on another (contemp.) leaf; 5 plates (Cole 7, 9, 10, 13, 16) w. tear on middle fold in (partly blank) lower margin (2x repaired); Cole 13 also with repaired tear in lower blank corner; title-page and a few plates slightly yellowed.
Generally a very fine copy in a nice contemp. binding.


ID: 42307

This item is available for immediate sale:


Warranty
We warranty the authenticity of each map, print, atlas or medieval manuscript described in this catalogue. There is no time limitation to this garantuee.
- Splits, tears, discolouration and other defects are carefully noted. In addition we use a condition rating system


If the condition report does not show remarks about splits, tears, discolouration, etc; this means there are non to be found in the item!.
As a general rule we try to offer maps of a high quality standard.
- Any map, print, atlas or medieval manuscript differing from the catalogue description may be returned for a full refund.


- A certificate of authenticity is provided for each acquired map, print, atlas or medieval manuscript.