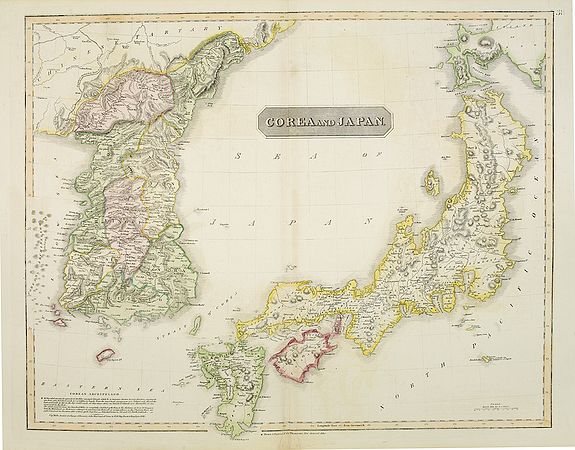 Corea and Japan. - THOMSON, J.
Click image to

| description

Item category: Asia | Korea (and Japan)





---


Bidding at auction
In order to place bids you must register with us. It is free, and we automatically update you about future auctions.
Bids are placed in the bidding table on this page or from My Bid Page / Auction Watch. The bidding table shows the mininimum bid, high and low estimate and the time left before the auction closes. The highest bid received after closing wins!.
You may place a bid by entering any amount equal or higher than the starting bid or the minimum bid indicated on the bid page.
You may place a new bid at the suggested minimum bid increment, or any higher amount in which case the Proxy Bid function will raise your bids with the minimum increase necessary to win the bidding (up to your maximum bid).
If there has been a bid in the last 5 minutes before the closing, that individual item will remain open, until there have been no bids received for 5 minutes. more
Note : Outbid notification and zoom image are disabled 30 minutes prior to the auction closing !


Place your bids now, auction is closing sooner than you think !.
Return to item description

15% Buyers' premium
The buyer pays, on top of the hammer price, a premium of 15% on the first $30,000 and 10% on the excess.
The invoice will be available 2 hours after the closing.

Shipping
A one time flat shipping fee of $ 30 will be added to your bill. This includes Priority Mail, packing and Insurance. If the item fits in a small envelope we charge less. (more)

Hold Shipment option
At no additional charge, Paulus Swaen allows you to put your shipping on hold. This can be incredibly convenient for people who want to buy several items at different auctions and ship them together.
The service is free and you pay only one shipment fee.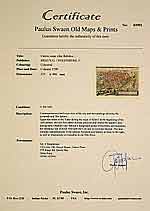 Warranty
We warranty the authenticity of each old map, print, atlas, medieval manuscript described in this catalogue. There is no time limitation to this garantuee.
- Splits, tears, discolouration and other defects are carefully noted. In addition we use a condition rating system


If the condition report does not show remarks about splits, tears, discolouration, etc; this means there are non to be found in the item!.
- We use the following colour key in our catalogue: "Original colours"; means that the colours have been applied around the time the map was issued. "Coloured"; If the colours are applied recently or at the end of the 20st century. Read more


-Any lot differing from the catalogue description may be returned for a full refund.


- A certificate of authenticity is provided for each acquired antique map, print, medieval manuscript.
The certificate can be downloaded from your invoice page.

FAQ
For more details about how this auction works, click here.
Many answers are also likely to find in help section:

.

Paulus Swaen Internet Auction
is the first internet auction specializing in old maps, Medieval manuscripts and prints. It is a unique place for buying and selling antique maps, atlases, books, and medieval manuscripts. We are in the map business for 40 years!
more

Return to top