Jean Boisseau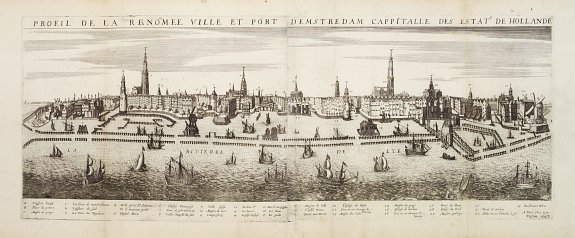 BOISSEAU, J. - Profil de la renomée ville et port d'Emstredam cappitalle des estats de Hollande. (Paris, 1647) Size: 27.5 x 73.5 cm. / 10.8 x 28.9 inches. Uncolored.
A strong impression. Printed on two sheets of paper. Some paper thinness at paper joints. Wide margins.
Euros 5500

Extremely rare panoramic town-view of Amsterdam seen from the river IJ. Exceptional bright, sharp example. The print is a skillful copy of the print of Matthieu Merian, now with an extended title in top. A lettered key 1-33, A-C in the bottom.
Published by Jean Boisseau (fl.1637-1658) a French geographer, topographer, and genealogist who styled himself 'Enlumineur du Roy'. In lower right signed A Paris chez Jean 1647.
From Théâtre des Citez, one of the rarest French collections of views. The master engraver H.Picart was appointed to engrave the plates in 1641 in 1648 he engraved a total of 28 views of France and 28 of other European and Asian cities. It was until 1648 that the available plates were sold on an individual basis. Pastoureau has found only one complete copy of the book in a private collection.
Reference: Pastoureau, Les Atlas Français, Boisseau 1.