Amsterdam prints & publishers




Book-printers and map publishers in Amsterdam


In 1692 a report states "In Europe are no more than 10 to 12 cities where books are printed in considerable amounts. London, Oxford, Paris, Lyon, Leipzig and for Holland in Amsterdam, Leiden, Rotterdam, The Hague and Utrecht. Five large centers of publishers and printers in West Holland and England and France had only two each". Amsterdam had about 400 bookshops!

What did people read? The Bible of course. Bestsellers were the books of Jacob Cats and people devoured travel stories. The story of skipper IJsbrandt Bontekoe had to be reprinted every two years for over a century.


The voyages of discovery in the fifteenth and sixteenth centuries created an insatiable interest in cartography. They also advanced the science of navigation, and there was a pressing need for astronomical instruments to determine the position of ships at sea.


The newly discovered territories offered opportunities for trade, and it was not only essential to know how to reach them but also how to return home safely again.
Knowledge increased with every voyage, and maps consequently became more and more accurate. The unfolding of new opportunities increased the demand for good maps.
In addition to charts used specifically for navigation, growing numbers of people became interested in maps. They wanted to satisfy their curiosity about new countries, even if only on paper. Maps were also used to advertise one's status, to promote a better understanding of history or politics, or to take the place of paintings.

The Golden Age of Amsterdam maps and atlas production.
Growing numbers of map producers and publishers, especially from the mid-17th century in Amsterdam, were producing map and atlas works in high quality for the map market of Europe. The heyday of this long period, the 17th century, is entitled to be reckoned as the Golden Age of European map-making history.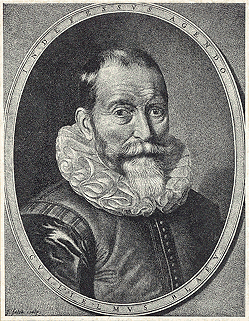 Pre-eminent masters and dealers at the start of the 17th century, as Willem Jansz. Blaeu, Jodocus Hondius, Johannes Janssonius, then from the mid-century, the members of the Blaeu and of the Visscher families, Frederick de Wit and many other talented persons of the trade produced all kinds of map works.
Atlas maps, nautical charts, pilot guides, maps with special contents as polder maps, maps for water management, of theatre of wars and so on. Competing authors and publishers produced and issued maps, charts and atlases of the highest standard as the folio-sized single sheet maps with decorative borders and the Atlas Novus and Atlas Major even in 10 or 12 volumes.

In the second half of the 17th century, there were dozens of major map producers and publishers. The families of the Visscher, of the Allard and of the Danckerts, Frederick de Wit, Pieter Schenk, Gerard Valk, Ottens, van Keulen, Colom, Allardt to name only the most prominent ones.
These firms went mostly in the footsteps of their great predecessors, but their production increasingly focused on serving the needs of collectors and besides, as in this period wars followed each other almost uninterruptedly in Europe, took the opportunity and was producing easy-to-sell, profitable maps relating to war events. The proportion of this map genre has markedly increased in their stock at the end of the century.
There are also many such maps in our exhibition.

Amsterdam held its leading role in commercial cartography in the 18th century.
Although in many countries of Europe, the number of enterprises working for domestic and national map markets has been established and strengthened, Amsterdam's market leadership remained thanks to, first of all, the popular map collecting activity which became widespread throughout Europe.

This is understandable, as even obsolete publications could be traded among collectors. The map printing technology of the era, printing from copper plates made this mostly possible. The plates of the maps of the previous years were purchased and used for subsequent decades. These printing plates mainly concentrated in the hands of publishers as Pieter Mortier, Covens-Mortier, Ottens and Schenk & Valk who resold, in their own name and in very large quantities, those maps had been produced even in the mid-17th century.

Paulus Swaen Europe b.v.
Publishers like Willemand Joan Blaeu, Joducus and Henricus Hondius, Johannes Janssonius, and a dozen others Amsterdam ruled the European 17th-century map and atlas production. It is here in Amsterdam at the Pieter Lastmankade 2, within two kilometers of the Museumplein Park, home to the Rijksmuseum and Van Gogh Museum, and the place where the print shops of Blaeu and Hondius were located that the office of Paulus Swaen Europe b.v., in the Netherlands is located.
Paulus Swaen Europe b.v.
Pieter Lastmankade 2
1075 KJ Amsterdam
The Netherlands
Tel.: +31 (0)20 20 2255198
Roland Boelen
Tel. +31 (06) 51384297 (mobile)
By appointment only
Below is a selection of plans of Amsterdam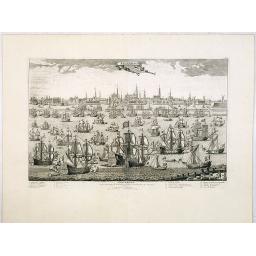 CHEREAU, J. / AVELINE, P.A. - Amsterdam Ville du Comté de Hollande et la plus considerable des Provinces Unies. . . (Paris, ca.1750) Size: 33.2 x 51.3 cm. / 13.1 x 20.2 inches. Uncolored.  A larger paper copy (495x645mm.), in very good to mint condition.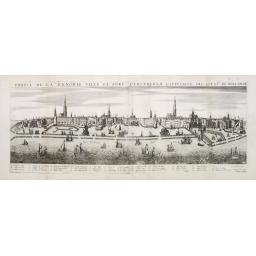 BOISSEAU, J. - Profil de la renomée ville et port d'Emstredam cappitalle des estats de Hollande. (Paris, 1647)  Size: 27.5 x 73.5 cm. / 10.8 x 28.9 inches. Uncoloured. A strong impression. Printed on two sheets of paper. Some paper thinness at paper joints. Wide margins.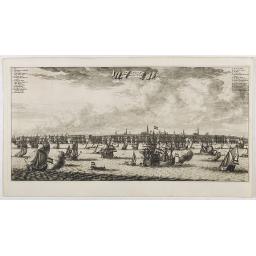 COMMELIN, C. - Amsterdam aan de Waterkant vanaf 't IJ te Sien. (Amsterdam, 1694) A panoramic view of the town from 't IJ. Engraved by Daniël Stoopendaal.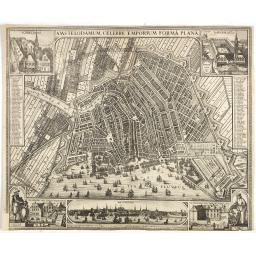 VISSCHER, Claes Jansz. - Amstelodamum, Celebre Emporium Forma Plana. (Published in Amsterdam, c. 1636) Size:  18.2 x 22.0 inches/ 46.2 x 56.0 cm. Second state of this rare and decorative plan of Amsterdam with Visscher's imprint. With a panoramic view seen from the IJ and further insets of Council House, The Exchange, House of the Dutch East India Company and House of the West India Company.