Indie moet vrij vecht ervoor.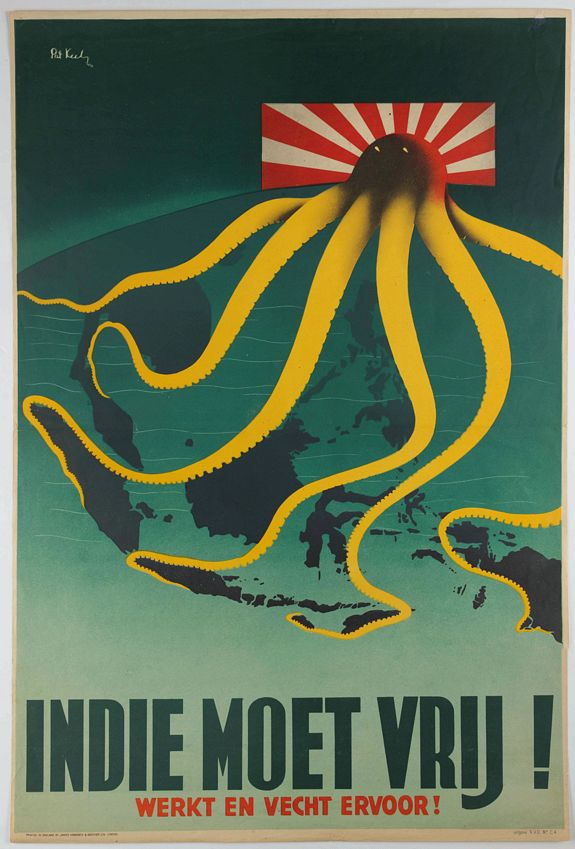 KEELEY, P. - Indie moet vrij vecht ervoor. London, J.Haworth & Brother Ltd, 1944. Size: 28 x 19 inches. / 71.0 x 48.3 cm. Lithography. A few small marginal tears. Small reinforcement of paper in the upper right corner. Generally in very good condition.

€ 2500

War propaganda poster by Patrick (Pat) Cokayne Keely, distributed in the liberated South of the Netherlands, this poster concerned the Japanese occupation of Indonesia and was published by the Dutch government-in-exile in London.

The poster is printed in color lithography depicting a yellow octopus emerging from the Japanese flag with its tentacles wrapped around a depiction of the Dutch East Indies in green.
In bottom "Indie Moet Vrij! Werkt en Vecht Ervoor! [The (Dutch East) Indies Must Be Free! Work and Fight For It!]



Maps depicting Octopi have a long distinguished history. The Octopus was most famously used by Fred Rose, who in 1870 depicted Russia as a malignant Octopus, its malignant tentacles spreading across the map. The device would be used by the Japanese during the Russo-Japanese War of 1904-05, and again by the Vichy government to caricature Winston Churchill.





In the present poster, Keely uses the Japanese Imperial flag to frame the octopus's dark and menacing head, with its lithe yellow tentacles ensnaring all of Southeast Asia.





Patrick (Pat) Cokayne Keely, who died in 1970, was a British graphic artist known for his Second World War posters for the Ministry of Information along with stylized commercial posters for publishers, the GPO and public transport.

His work at the time was notable for its use of few objects or symbols together with rich colors making a bold visual message. This, allied with his design style to deliver the message in shorthand, ensured it was comprehensible to everybody and resulted in some of the most striking wartime posters.