Gerard Van Spaendonck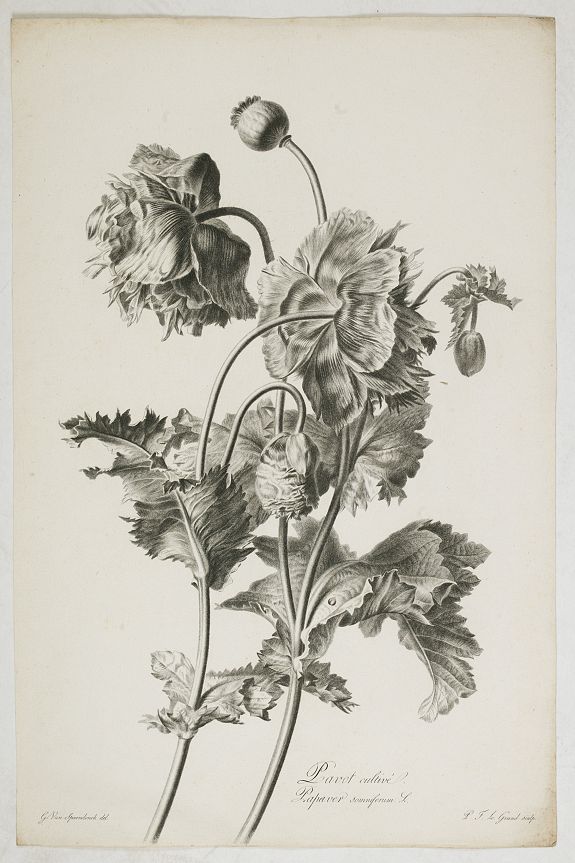 A native of Flanders, Gerard van Spaendonck studied under the decorative painter Guillaume-Jacques Herreyns in Antwerp in the 1760s. In 1769, he left for Paris and, having been appointed miniature painter to the newly crowned Louis XVI in 1774, he became a candidate for membership of the Académie Royale the following year, making his Salon début in 1777.


In 1780, he succeeded Madeleine Basseporte as professor of flower painting at the Jardin des Plantes, and the following year he was elected a member of the Académie. It was at this time that he began contributing to the Vélins du Roi, a series of botanical studies painted on vellum and one of the most important collections of botanical watercolors ever made.


Van Spaendonck eventually contributed over fifty works to this venerable collection. He exhibited two of these flower studies on vellum together with five oils at the Salon of 1783, and was highly praised by the critics.

In 1788 Gerard was appointed adviser to the Académie, and in 1795 he became a founder-member of the Institut de France. From 1799-1801, the twenty-four plates of his Fleurs Dessinees d'apres Nature (Flowers Drawn from Life) were published, engravings of supreme quality destined to be a bible for would-be flower painters. In 1804 he received the Légion d'honneur and the next year he was ennobled by Napoleon.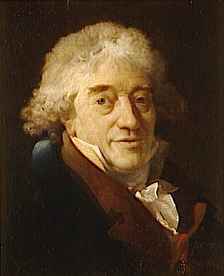 The basis of Gerard van Spaendonck's success, in common with other great flower painters, was a complete, technical mastery of flower painting, in all mediums, in every scale. It is the completeness of his attention to every minute detail, allied to elegance and refinement in composition, that accounts for his success and acclaim. Like Jan van Huysum, van Spaendonck perfectly understood how to adapt flower painting to the tastes of his day.
His work combines the traditional Dutch mastery of flower depiction with French sophistication and good taste. Spaendonck's Fleurs Dessinees d'apres Nature is one of the rarest of the great flower books, its images described by the great scholar Wilfrid Blunt as "magnificent drawings, brilliantly interpreted in stipple."

The luminosity of stipple engraving, a technique that van Spaendonck imparted to his pupil Pierre-Joseph Redouté, is particularly suited to the reproduction of botanical detail. It involved engraving a copper plate with a dense grid of dots that could be modulated to convey delicate gradations of color. (source : Arader Galleries)
Gerard van Spaendonck
Geboren 23-3-1746 Overleden 11-5-1822

Zijn levensjaren in de negentiende eeuw zijn door Gerard vooral gewijd aan opleiding van jonge kunstenaars waaronder vele die later een grote naam verwierven. In dit verband moet op de eerste plaats genoemd worden Pière-Joseph Redouté, die de opvolger van Gerard als schilder van de Vélins verbonden aan het Museum. De vergelijking van beider kwaliteiten heeft tot heftige discussies en meningsverschillen geleid. Ook de Belgische bloemen-schilder Jan Frans van Dael behoorde ertoe. Een bijzondere plaats nam in de oud stadgenote Henriëtte Geertruida Knip, terwijl ook haar broerJosephus A. Knip de lessen zou hebben gevolgd. Een leerlinge en uitgesproken bewonderaarster was de Markiezin van Grollier, wier enthousiasme ook door haar toenemende blindheid niet werd gesmoord.
Ook tijdens het "Empire" vielen Gerard nog bijzondere eerbewijzen ten deel: In 1804 werd hij - als een der eersten - door keizer Napoleon begiftigd met het Légion d'Honneur.

Enkele jaren later - in 1808 zou de Keizer hem de grafelijke titel hebben verleend: Comte van Spaendonck.
Gerard overleed onverwacht op 11 mei 1822 op 75-jarige leeftijd. Hij werd begraven op het kerkhof Père Lachaise te Parijs. In een openbare zitting van de Académie des Beaux Arts op 5 oktober 1822 werd door de heer Quatremère de Quincy, de sécrétaire perpétuelle van de Académie een lofrede, "une éloge historique", uitgesproken.
Op 19 mei 1802 stelde Napoleon het Légion d'Honneur in als de Franse nationale burgerlijke en militaire orde. Gerard van Spaendonck ontving in 1804 als een der eersten deze onderscheiding. Daarna (of volgens een andere bron tegelijkertijd) zou hij de titel van Graaf (Comte) hebben ontvangen. Vrijwel iedereen die de levensloop van Gerard beschrijft - Fransen, Nederlanders en Belgen - maken gewag van deze titel, maar geen van allen voert daarvoor enige bron aan.
Toch bracht Gerard zijn dankbaarheid jegens de Keizer tot uiting in een portret, dat omstreeks 1805 tot stand kwam. Verondersteld wordt nu, dat het hier niet gaat om een adelijke titel in de traditionele zin, maar om een eretitel, die mogelijk als Comte impériale werd aangeduid, Wegens het geheel andere karakter is de titel ook niet in de Franse adelsboeken terug te vinden.

Aan de titel zou een jaargeld van 600 pond verbonden zijn en het recht op een appartement in het Louvre. Al heeft Gerad nimmer van dit recht gebruik gemaakt, de expliciete vermelding in enkele bronnen doen vermoeden, dat de titel niet uit de lucht gegrepen is. In dit verband wordt melding gemaakt van een lakzegelafdruk op papier, waar achterop is geschreven "Cachet van den schilder Gerard van Spaendonck" met de afbeelding van de hoofdletter S in bloemen en het randschrift "TOUJOURS SOLITAIRE JAMAIS SEULE"