Ferrario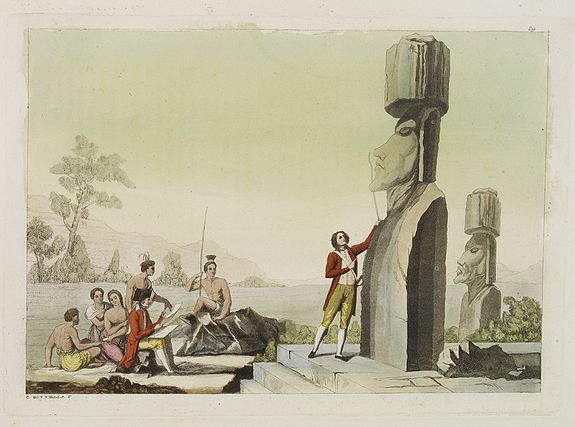 Giulio Ferrario's work "Le Costume Ancien et Moderne ou Histoire" was a 19th century multi-volume / language world encyclopedia of culture, vividly illustrated almost all finely hand-colored. The work was one of the most decorative aquatint publications published in Italy. The text was written by Giulio Ferrario and the plates engraved by Raineri, Gallo Gallina, etc.
Published in Milan simultaneously in Italian and French. The complete French title was "Le Costume Ancien et Moderne ou Histoire du gouvernement, de la milice, de la religion, des arts, sciences et usages de tous les peuples anciens et modernes d'après les monuments de l'antiquité et accompagné de dessins analogues au sujet par le Docteur Jules Ferrario."

The Italian language edition was published 1816/1817-1834 under the title: "Il costume antico e moderno o storio del governo, della milizia, della religione ... " and contains in addition, an Indice generale, 1829 (1 volume) and "Aggiunte e rettificazioni all' opera il costume antico e moderno ...", 1831-1834 (3 volumes.)
These 4 volumes in Italian do not form part of the French language edition. Italian language edition totals 21 volumes.
The work was a subscription series of 143 fascicules containing variants to plates and imprints.

Contributors:
Giulio Ferrario (1767-1847), of Milan, was an intellectual, publisher, printer and librarian. His monumental work 'Il costume antico e moderno' contains over 1,500 hand-colored plates depicting clothing from the classical period through the early 1800's, as well as many architectural drawings and engravings.
Gallo Gallina (1778 - 1837) was an Italian painter and engraver, active in a Neoclassic style. He was active also as a lithographer. He became the custodian of the Archeologic museum in the Brera Academy. He painted a canvas for the baptistery of the Duomo di Cremona.

References: Colas 1050. Colas 1051 (Italian language). Colas 1049 (French language, variant to the plates & imprints). Hiler p.311. Lipperheide Ad.7 (Italian language with imprints).