How to buy

Our Buy It Now Gallery catalog offers more than a thousand maps, prints atlases, posters, medieval manuscripts all at a high-quality level, in very good condition, and at affordable prices; all sold with a certificate of authenticity.
The items are immediately available and no commission is charged.

How to buy in the Buy It Now Catalog
1./  If you want to buy an item in the catalog you need to click on the 'Buy it Now ' or 'Inquire' button or you may contact us for availability.
2./Prices are marked in Euros and US dollars. A currency converter is available to most currencies.
Payments are to be done in US $ or Euros. We accept US checks, Visa, MasterCard, PayPal and bank transfers.
3./ The shipping fee is $30 / € 25 per combined shipment, including handling and insurance, for shipments within Europe and North USA. Shipments to Asia & Australia and South America are $ 45 - $ 75, depending on your location.

4./ Visit Your Invoices and select the invoice.
The invoice includes all details, payment options, shipping address.

5./ You will get an email confirmation of received payments and a pre-shipping notice.
Items are usually shipped out within 2 working days following your payment.

Found a nice item?
Thinking about buying later on?
Missed an item.
Keep track of what you want.
With my Wishlist you can save and collect your favorite maps in one place by simply pressing a button! You can delete an item from your list any time.

Warranty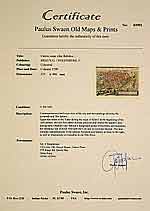 We warranty the authenticity of each map, print, atlas, poster or medieval manuscript described in this catalog. There is no time limitation to this guarantee.
Splits, tears, discoloration, and other defects are carefully noted. In addition, we use a condition rating system.

Any lot differing from the catalog description in such a way that it affects the value of the item may be returned within one week of receipt, for a full refund of the purchase price.
As a general rule, we offer items of a high-quality standard

A certificate of authenticity is provided for each acquired map, print, atlas, poster or medieval manuscript.
You are able to download and save the certificate (pdf format) on your computer. After this, you can print the certificate at your convenience.
We advise printing an extra copy and keeping it with your insurance papers!
You will find a link to generate the certificate on your online invoices.
If you do not have a printer we are happy to print the certificate for you and include it with your shipment. In this case please select "Yes" in Include printed certificate.

The Paulus Swaen Condition rating system


Each item we offer for sale is in good condition, although some have the usual minor imperfections of early material. Individual flaws are noted.
If we do not mention tears, folds, discoloration,; this means there are NONE.
In addition, we use our condition rating system.

The color code
Prints were originally colored for aesthetic reasons and to improve readability. If not otherwise stated: Colors have been applied by hand.
Color may have been applied shortly after first printing (original color) or at any time subsequently (colored).
When an item is colored we indicate if the colors are contemporary or recently applied according to the following color code.

Shipping Fees
A flat shipping fee of $ 30 or € 25 is added to each shipment. Multiple orders will be combined into one shipment. This fee covers: International Priority shipping, Packing and Insurance up to the invoice amount.
Shortly before shipment, we will email you a notification. The status of your shipment is noted on your invoice page.

Maps are usually shipped in solid tubes, if your item can be shipped in an A4 size envelope, a reduced shipping rate of $ 20 / € 15 will be added to your bill.
For parcels of more than 1kg, an additional fee applies. You are billed at nominal postal fees.
If you have an account with FedEx, TNT, UPS we can send using your account and no shipping fee is added to your bill.
In My Client Center

you can update your shipping wants and add special instructions.

High-resolution zoom-able images
Paulus Swaen was one of the first auction houses using high-resolution zoomable images.
Click on the image and you are able to zoom into the image.

FAQ
Many answers are likely to find in help section.
We are happy to answer questions by email or give us a call Tel. +1 727 687 3298
We offer support in English, German and Dutch.

Go to our Buy It Now Gallery catalog or sell your items with us.

Paulus Swaen Old Maps Auction and Gallery
Pierre W.A. Joppen
Paulus Swaen, Inc
901 N. Hercules Avenue, Suite A, Clearwater, FL 33765, USA
Tel. +1 727 687 3298
Paulus Swaen Europe bv
Pieter Lastmankade 2, 1075 KJ Amsterdam
The Netherlands
Tel. +31 (0)20 2255198
By appointment only