Tracing USPS Mail - Tracing Registered Mail - Hold Mail
Dispatch.
A flat shipping fee of $30.00 is added to each shipment. This covers : International Priority shipping from London, Packing and Insurance (up to the invoice amount). If you have won 2 or more items, we charge only one time shipping fee.
All orders will be dispatched in rolled tubes or flat packages by PRIORITY - REGISTERED AIR MAIL unless instructed otherwise, at the customer's expense.
Parcels of more then 3 lbs (pounds) will be billed at nominal cost.
The day we deliver your parcel at the London post office or with UPS or Fedex, we will send you an email with a shipping advice with registration/tracking nr.
This info is also available in Your Invoices

page by clicking on the

in the right colomn. After the parcel has been mailed out, please allow 7-14 days for delivery by Royal Mail Priority Registered Mail or 3-5 days by Fedex or UPS.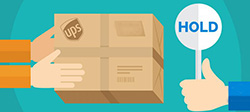 Hold Shipment option.
At no additional charge, Paulus Swaen allows you to put your shipping on hold. This can be incredibly convenient for people who want to buy several items at different auctions and ship them together. The service is free and you pay only one time shipment fee. Please contact us and we will then activate the Hold Shipment option for you.
At activation the standard shipping fee (US$ 30) is added to your bill.
No shipping fees are added to future acquisitions and you may combine Gallery and Auction items and there is no time limit to this service.
If at future shipping the parcel can be shipped at a more economical shipping type; the difference will be refunded, accept for Australia and Asia which have a flat shipping fee of US$ 30. We will be shipping once you instruct us to do so and this

in combination with an ended auction. Generally we can not ship inbetween auctions as the hold items are stored in a warehouse with no immediate access.
Contact us and update your shipping type here !

I need my parcel within 3-4 days. (75$)
If you need to have your item urgently we can ship by a 2-3 day courier service like Fedex, UPS, TNT. In addition your item is traceable online. The shipping cost for Europe, America and Africa is in total $75.00
Please update your shipping type here and select Chronopost in the field for "Shipping type".
Your tracking number will be E-mailed shortly before shipping.

If you have your own account with Fedex or UPS we can send using your account and no shipping fee is added to your bill.

Economy shipping
If the item(s) fit in an A4 enveloppe and no Insurance is requested, we reduce the shipping charge to $20 - $25 pending on weight and destination. Note that there is no tracking possible.

Where are my maps?
A link to trace your parcel has been sent by email at dispatch date. If you can no longer find this email, your shipment information can also be found in Your Invoices. (You may be prompted to sign-in.)
Your invoices will be listed here along with their dispatch status and tracking number. For each invoice you'll see a icon

. If you click on

the dispatch date, courrier and tracking number are shown.

Note that Registered International Priority mail has "no real-time" parcel trace like Chronopost, Fedex, UPS, DHL or TNT.
You may trace your parcel by submitting the Registration number in the TRACK & NOTIFY box below.

If you item has not arrived after 21 days contact us and we will place a trace request at the post office of dispatch.

Find below the track and Trace Submit boxes for USPS, UK Royal mail.





USPS Parcel Trace


You may trace your parcel with destinations to North America by entering your tracking number in the following box and click "OK":
Check with United States Parcel Service.
---

TNT Parcel Service.


Click here to go to Track and Trace page of TNT.


---