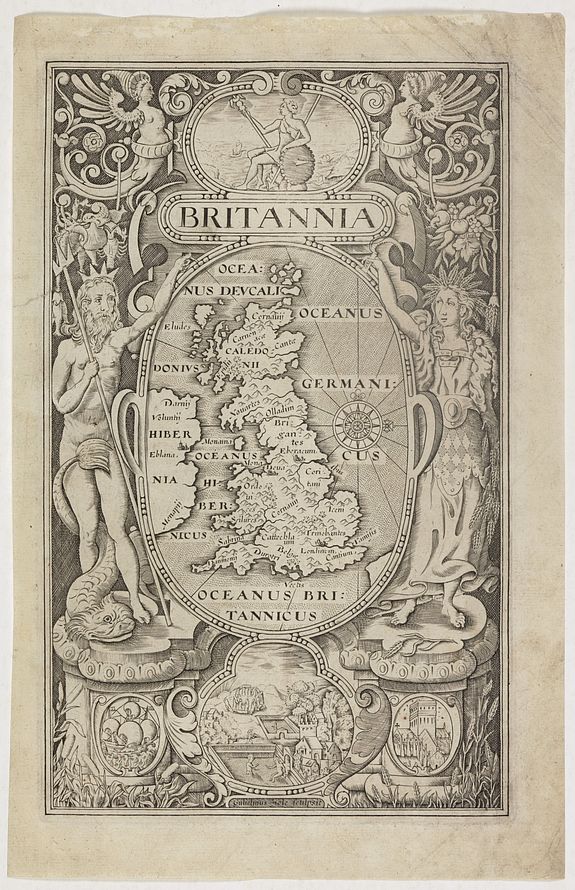 The art of the decorative cartographic title-page
See our current stock of Title pages.
Since the 16th century many atlases of maps and, more widely, works of geography, cosmography, exploration and travel have been preceded by highly decorative titlepages and/or frontispieces presenting their contents in symbolic form. Their aim is to attract the potential reader, first opening the book, by a visual expression of the contents of the work that is to follow. Similar visual messages may be imparted through the decorative cartouches of maps. Typically, from the 1570s and over the next 300 years these printed engravings employ the language of allegory, fable, imagery and classical references to achieve this end.
A highly recommended book written by Rodney Shirley has been published. This book aims to preserve and bring forward for wider appreciation the outstanding works of art that many engraved title pages and frontispieces represent. Over the time period covered by the present publication - roughly from the 1470's to the 1870's - many printed books opened with an attractive and highly decorative title page or frontispiece; sometimes both. In this book a limited selection has been made from the extremely wide field of known title pages, mainly by a focus on subject matter which is primarily cartography, geography, history and topography, together with associated disciplines such as astronomy, travel and exploration.
A selection of 100 main and approx. 70 supplementary entries adequately covers specimens of different styles, formats, and national characteristics over a four-hundred year time period from the late 15th century onwards.
The choice of decorative title pages or frontispieces includes examples emanating from Italy, Germany (including Switzerland and Austria), the Netherlands (including Flanders), France, Spain, England and some later examples published in the United States.

Rodney Walter SHIRLEY; The inspirational founder president of IMCoS, internationally recognised expert and author on all things cartographic died peacefully on Sunday 5th March 2017, aged 88. The Funeral took place on Tuesday 14th March, at Radclive Church in Buckingham.
I will always remember the great times we had when Rodney browsed our stock and discussed the titlepages, world maps and maps of the British Isles. He will always be remembered by the fine books and articles he wrote. We will miss Rodney on all fronts.


See our current stock of Title pages.
Title Pages

Estimate:
$ 60 - 100
HONDIUS, J ./ CLOPPENBURG, J.
[Title page] Wereld Spiegel Waer in Vertoont word De Beschrijvinge der Rijken Staten, etc. . .]
Amsterdam, 1621



Estimate:
$ 60 - $ 75
MEISNER, D.
[Title page] Thesauri Philo-Politci Quarta pars. . .
Frankfurt, 1624



Estimate:
$ 60 - $ 75
MEISNER, D.
[Title page] Thesauri Philo-Politci Quarta pars. . .
Frankfurt, 1624



Estimate:
$ 60 - $ 75
MEISNER, D.
[Title page] Thesauri Philo-Politci pars . . .
Frankfurt, 1624



Estimate:
$ 70 - $ 90
MEISNER, D.
[Title page] Thesauri Philo-Politci Pars Sexta. . .
Frankfurt, 1625



Estimate:
$ 100 - $ 150
MEISNER, D.
[Title page] Thesauri Philo Politci pars septima. . .
Frankfurt, 1626



Estimate:
$ 60 - $ 75
MEISNER, D.
[Title page] Thesauri Philo-Politci Pars Sexta. . .
Frankfurt, 1630



Estimate:
$ 220 - $ 250
BLAEU, J. / C.
Title page from Le Theatre du Monde ou Nouvel Atlas.
Amsterdam, 1640



Estimate:
$ 300 - $ 350
BLAEU, W.
Toonneel des Aerdrycx oft Nievwe Atlas (Title Page)
Amsterdam, 1642



Estimate:
$ 100 - $ 120
MERIAN, M.
Io. Petri Lotichii Rerum Germanicarum Libri. LV Francofurti Ad Moenum.
Frankfurt, 1646



Estimate:
$ 180 - $ 250
BLAEU, J.
[Tittle page] Belgica Foederata qvae est Europae Liber Dicimvs.
Amsterdam, 1649



Estimate:
$ 55 - $ 80
DE BEAULIEU, Ch.
[Title page] Les Plans et Profils des principales Villes et lieux considérables Du Duché de Gueldre. . .
Paris, 1668



Estimate:
$ 55 - $ 80
DE BEAULIEU, Ch.
[Title page] Les Plans et Profils des principales Villes et lieux considérables Du Duché de Brabant. . .
Paris, 1668



Estimate:
$ 55 - $ 80
DE BEAULIEU, Ch.
[Title page] Les Plans et Profils des principales Villes et lieux considérables du Comté de Haynaut. . .
Paris, 1668



Estimate:
$ 55 - $ 80
DE BEAULIEU, Ch.
[Title page] Les Plans et Profils des principales Villes du Comté de Namur. . .
Paris, 1668



Estimate:
$ 55 - $ 80
DE BEAULIEU, Ch.
[Title page] Les Plans et Profils des principales Villes et lieux considérables du Comté de Flandre. . .
Paris, 1668



Estimate:
$ 840 - $ 1,000
BLAEU, J.
[Title page to] Atlas mayor, o geographia Blaviana : Que contiene las cartas, y descripciones de Partes Orientales de Europa.
Amsterdam, c.1672



Estimate:
$ 950 - $ 1,200
SANSON, N. / MORTIER, P.
[Title page] Table Des Cartes etc: Du Sr. Sanson..
Amsterdam, 1700



Estimate:
$ 60 - $ 80
HALMA, F.
Algemeene Wereldtbeschryving . . .
Amsterdam, 1705



Estimate:
$ 480 - $ 550
DE FER, N.
[Title page] Atlas ou recüeil de Cartes Geographiques Dressées Sur les Nouvelles Observations de Mrs. de l'Academie Royale des Sciences..
Paris 1709



Estimate:
$ 30 - $ 65
VAN DER AA, P. / OLEARIUS, A.
[Title page] Les Voyages du sieur Adam Olearius . . .
Leiden, 1719



Estimate:
$ 25 - $ 30
CHATELAIN, H.
[Title page] Atlas Historique ou nouvelle introduction à l'Histoire, à la Chronologie & à la Géographie Ancienne & Moderne . . . (Tome VII & Dernier)
Amsterdam, 1720



Estimate:
$ 175 - $ 250
CHATELAIN, H.
[Title page] Atlas Historique.
Amsterdam, 1728



Estimate:
$ 25 - $ 30
CHATELAIN, H.
[Title page] Atlas Historique ou nouvelle introduction à l'Histoire, à la Chronologie & à la Géographie Ancienne & Moderne . . . (Tome I)
Amsterdam, 1728



Estimate:
$ 300 - $ 375
CHATELAIN, H.
[Title page] Atlas Historique. Tome II.
Amsterdam, 1705-1739



Estimate:
$ 150 - $ 180
DELISLE, G.
Atlante Novissimo (Frontispiece)
Venice, 1740



Estimate:
$ 950 - $ 1,200
COVENS, J. / MORTIER, C.
[Title page] Atlas Novus ad Usum Serenissimi Burgundiae Ducis.
Amsterdam c. 1745



Estimate:
$ 110 - $ 120
Robert de Vaugondy, G.
(Title page) Atlas Portatif, Universel et Militaire.
Paris, 1748



Estimate:
$ 60 - $ 65
Tirion, I.
De Tegenwoordige Staat van Groot Brittannie
Amsterdam, 1754



Estimate:
$ 500 - $ 600
ZOCCHI, G.
(Title page) Scelta di XXIV Vedute delle principali contrade, piazze, chiese, e palazzi della Città di Firenze. . .
Florence, Bouchard, 1754



Estimate:
$ 240 - $ 300
RASPE, G.N.
[Title page] Schauplatz des gegenwaertigen kriegs. . .
Nuremberg, 1757-1764



Estimate:
$ 300 - $ 375
CASSINI, C.M.
[Title page] Nuovo Atlante geografico universale. . .
Rome, 1792 - 1801