Dutch Trade Bead.

An extremely rare necklace made from authentic early 17th C. glass beads produced in the Netherlands.  (Middelburg, before 1623) 90 cylinder beads made of drawn glass tubes. Half Indian-red over a blue-greyish core, the others dark brown to black with 4 white stripes, both types showing a beautiful polish.  Some of the red beads show slight discoloration due to four centuries in the soil.
 € 1500 - $ 1650

This rare and early Dutch Trade bead is built up from irregularly broken off parts from the drawn tubes, length varies between 5 and 15 mm, diameter 2-4 mm. Recently strung to a necklace with a length of 80 cm.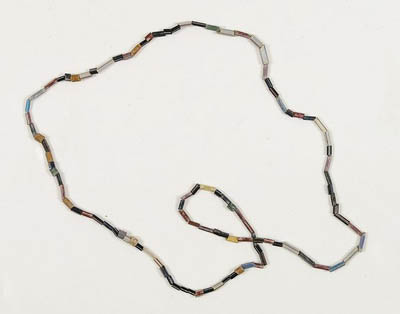 A fine typical Dutch glass beads, produced since the late 16th century mainly for trade in North America, Africa, and Indonesia.
It is known that Henry Hudson bartered Dutch beads when traveling for the VOC in 1609, and, besides other goods, glass beads are discussed to have been paid for the purchase of Manhattan Island in 1626. They are found in early North American Iroquois and Susquehannock sites, but also on the Antilles, in East and West Africa, and in Bali.

17th Century Dutch glass beads are exceptionally in the market, and if they are offered they are composed of brown/black beads. This recently strung necklace with a length of 80 cm. is multi-colored and consists 90 authentic 17th-century Dutch beads with a total length of 80 cms (31 inches).of the most desired tread beads.


The history of Beads and Trade.
Europeans realized early on that beads were important to Native Americans. The Dutch West India Company (W.I.C.) used the beads for trading with natives in America and Africa.
Corporations such as the Hudson Bay Company and individuals such as Stephen A. Frost developed lucrative bead-trading markets with the Indians. Contemporary prints exist of Indians wearing these beads.

Also, the East India Company (V.O.C.) must have used them for trade as Dutch Trade beads are also found also in Polynesia.
The towns of Amsterdam and Middelburg were important places of manufacture for these glass bread,s making beads very like contemporary Venice because the bead makers in Holland were themselves Venetians.

The glass production was introduced in the Low Countries by Antonio Miotti, member of the famous Venetian glass and bead manufacturing family, first in Antwerp in 1590, and subsequently in Middelburg and in Amsterdam. The glass bead production technique in the Netherlands was different from that in Venice because the Dutch used potash instead of soda to liquefy the glass for glass-blowing.
Amsterdam.
Although a glass bead industry is documented in Amsterdam from 1619 to at least 1679, recent archeological evidence suggests that the industry was operating near the edge of the old part of the city in the early 1590's.
Manufacturing debris and more than 50,000 whole and fragmentary beads have been found. At the Waterlooplein in Amsterdam, the fill of a ditch dating between ca. 1580 and 1593 included tubular bead fragments and fragments of glass tubing.

A variety of artifacts producing evidence of the bead-making industry was found in deposits dating from 1593 to 1596 and also included bone beads, jet beads, and an oblate black glass button. Two late 16th-century bead manufacturing sites were found at the west end of the Keizersgracht.