The Dutch Overseas

Dutch-Japanese relations have a long and interesting history, which is determined by commerce, trade, and war. Below are some interesting artifacts marking the 400 years that the Netherlands and Japan share.
Japan, for most of its history, was a relatively isolated country. Whoever dared to invade had to put up with a civilization that was not going to give in easily.
First, the Japanese made contact with Europeans with the Portuguese, but their relationship shortly afterward with the Dutch proved to be the enduring one.

New Amsterdam
In 1625 Dutch settlers founded Nieuw-Amsterdam as the capital of Nieuw-Nederland on the island of Manna-hata, which according to the Native Americans meant "island of many hills". An Englishmen working for the Dutch turned the Native American name into Manhattan.
It was a location chosen for strategic reasons, large enough to be able to sustain the population and small enough to be defended by a fort. For a trading post, it was a prime location as well, being close to both the ocean and rivers going inland.
Below are some prints and artifacts available for immediate sale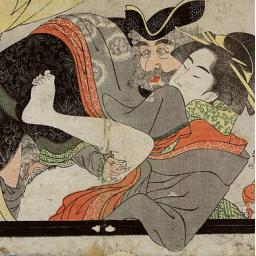 An explicit scene of a Dutchman and a Maruyama prostitute, featuring a gray-bearded westerner coupling with a courtesan.
The woman protests that she doesn't understand what the foreigner is saying, but demands that he "Push! Do it harder!.
The man, gripping her thigh, responds to her entreaties with a stream of gibberish, "Oken, kera, kera, kenkera tou yoka yoka yoka"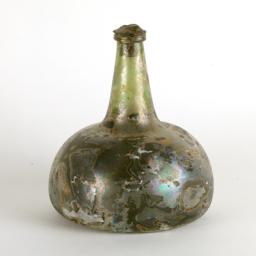 The bottles found in 't Vliegent Hart resemble the form of a carafe, which is characteristic for the beginning of the 18th century. The modern form of corked wine bottles was only invented at the end of the 17th century. The wine bottles on board were probably made in Middelburg, the first Dutch town where bottle factories were founded.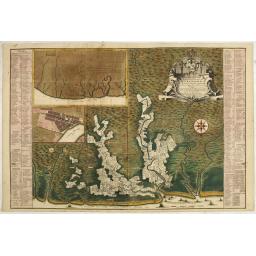 DE LETH, H. - Algemene kaart van Suriname Algemeene kaart van de Colonie of Provintie van Suriname : met de rivieren, districten, ontdekkingen door militaire togten en de grootte der gemeeten plantagien... (Amsterdam, 1740) This large map is oriented with north at the bottom and depicts the colony extending inland along the watershed of the Suriname River, with hundreds of plantations lining the shores.

...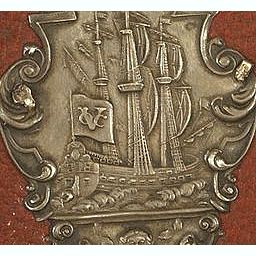 HÉRISSANT, Ve. - Calendrier de la cour, tiré des éphémérides, pour l'Année bissextile.. / Notebook bearing silver plates with the VOC monogram. (Paris, 1787) Size of book block : 10.5 x 5.5 cm.
Almanac in-18, contemp. red marocco, richly gilted, with a silver centerpiece on each cover, bearing the image of a Dutch East Indiaman in full sail, with a flag and the V.O.C. monogram.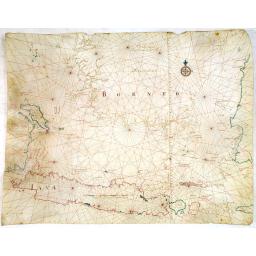 GRAAF, I. = [Manuscript chart on vellum of the Java Sea] Amsterdam, 1743. Size: 30 x 39 inches. / 76 x 99cm. Pen, ink and gouache on vellum: strong and resistant to all kinds of weather. Very good condition.  One of the few manuscript charts on vellum in private hands, signed by Isaac de Graaf.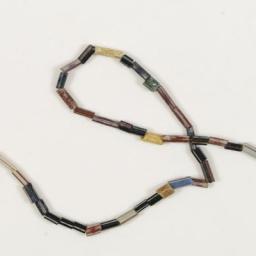 Dutch Trade Bead. (Middelburg, before 1623) 90 cylinder beads made of drawn glass tubes. Half Indian-red over a blue-greyish core, the others dark brown to black with 4 white stripes, both types showing a beautiful polish.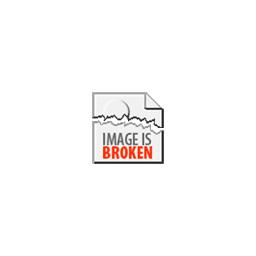 [ LANDSKROON ]. Oranda Fune no zu [= Depiction of a Dutch Ship]. Japan, Kansei 4, 2nd month, 9th day, 30 March? 1792. Size: 32.3 x 44.5 inches./ 82 x 113 cm.
An extremely large and detailed Japanese ink drawing on rice paper of a Dutch ship identifiable as the VOC ship "Landskroon" at Deshima island in Nagasaki Bay in 1766.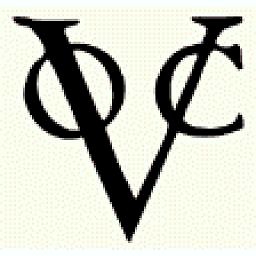 On 20 March 1602, the prime companies of Holland merged to form a large company called "Verenigde Oostindische Compagnie (V.O.C.)