Christopher Ebeling's "Erdbeschreibung von Amerika"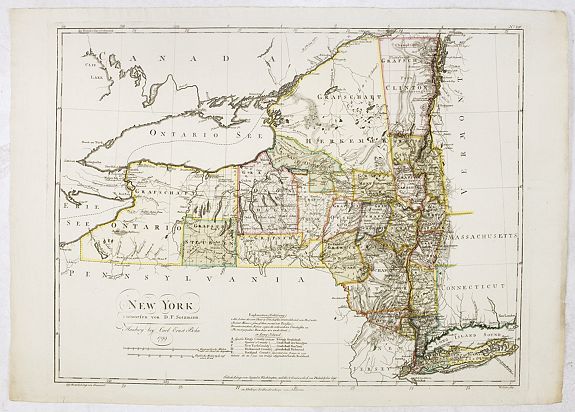 The independence of the United States created a desire for information about the new republic in Europe as well as in America. One of the most comprehensive, detailed, and systematic geographic descriptions of America, was compiled and published by a European. This ambitious and dedicated individual was Christoph Daniel Ebeling.
The "Erdbeschreibung von Amerika", was a project which ended after only ten maps of America were completed, the series is discussed in Chapter 11 of Ristow.
The Atlas was to accompany Ebeling's seven volume "Erdbeschreibung und Geschichte von Amerika, die vereinten Staaten Von Amerika".
Sotzmann completed only 10 maps of an intended 18 - Vermont, New Hampshire, Connecticut and Massachusetts in 1796, Rhode Island, New Jersey, Pennsylvania, and Maryland & Delaware (1 sheet) in 1797, Maine in 1798, and New York in 1799.
Maps for this publication are prepared by Daniel Friedrich Sotzmann.

Sotzmann made use of the American maps of the period by Carey, Blodget, Belknap, Howell, Carleton, De Witt, Griffith, and others. Sotzmann's maps are highly detailed with symbols for churches, roads, courthouses, distilleries, ironworks, mills, academies, county lines, town lines, and more.

They are also very rare - only a few institutions have all ten maps that were published.

Daniel Sotzmann was a German cartographer and was active for the "Akademie der Wissenschaft" in Berlin in 1786. Between 1783 and 1806 he produced a number of district, province and city maps of Germany in association with Carl Ludwig Oesfeld.
Their work laid the foundations for the cartographic style used by many German cartographers throughout the nineteenth century.

Christopher Ebeling
Ebeling was born at Garmissen near Hildesheim, November 20, 1741. In 1763 he entered the University of Göttingen intending to devote himself to theology and the ministry but found himself more drawn to the study of history and literature and of the English language, of which, as well as of the ancient languages, he became very fond.
An increasing deafness which unfitted fil foe pastoral work confirmed him in these pursuits.
In 1767 he was employed as a tutor in Leipzig, but in 1769 he took a position as a teacher in a commercial academy (handlungsakademie) in Hamburg.
The next year, in co-operation with J.G.Büsch, he became director of the academy, and continued in this office until 1794 or later.
In 1784 he was appointed professor of history and of the Greek language in the Gymnasium of Hamburg.
In 1800 he added the post of librarian of the city library to his other duties. For the last ten years of his life he was completely deaf.

He died June 20, 1817.