After the closing of the Buy or Bid sale!
What to do after the closing of the sale.
The day after the closing
Please check within 2 to 24 hours after closing the status of your bids and offers in My Buy-or-Bid Watch List

A seller has two hours following the closing of the sale the option to accept or decline bids below the BidAsk Spread.
When the seller accepts such a bid, the item will be made available for purchase and the buyer has then 24 hours to confirm the purchase of the item.
Items with accepted bids under the BidAsk Spread are shown in My Buy-or-Bid Watch List with a label:
Make your selection within 24 hours after the closing by clicking the label of each item you want to buy at your accepted bid.
When ready go to the Invoice & Certificate section to download/print certificates or pay the invoice.
The following days
Your invoice is in the  Invoice & Certificate section. Please double-check your shipping and billing address and let us know immediately if you need any changes. You may pay your invoice in US$ or Euros and we accept most credit cards, PayPal, and direct bank wires.

SHIPPING
Maps are usually shipped flat between solid cardboards or in solid tubes. For parcels of more than 2kg, an additional fee applies. You are billed at the prevailing postal rate.
If you have your own account with FedEx, DHL or UPS we can send using your account, and no shipping fee is added to your bill.
In the Client Center, you can update your shipping preferences.
A flat shipping fee is added to each shipment.
This covers:
- Shipping to The Netherlands and Belgium for $20
- International Priority shipping to North America and Europe for $ 30
- For South America, Australia, New Zealand, and Thailand a shipping fee of $ 50 will be charged.
Packing and Insurance (up to the invoice amount) are included.
Shortly before shipment, we will email you a shipping notification with the tracking number.
Check carefully the shipping address! Please update your ship to address here and contact us immediately about your update.



When will my items ship?
We try to ship out as soon as possible however due to the large volume of items to be shipped, this may take up to 3-10 days after the close of the sale or 2 days after we have received payment. You are informed by email about the shipping date and tracking/registration number.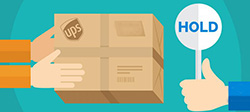 Hold Shipment option
At no additional charge, Paulus Swaen allows you to put your shipping on hold. This can be incredibly convenient for people who want to buy several items at different auctions and ship them together. The service is free and you pay only one shipment fee.
Please contact us if you want us to hold your shipment or learn more