Do I get a Certificate of Authenticity ?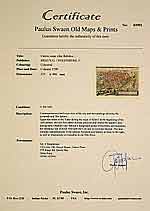 Paulus Swaen warranty the authenticity of our items; a certificate of authenticity is provided for each acquired item.

You will find a link to generate the certificate on your on-line Invoice. You are able to download and save the certificate (pdf format) on your computer. After this, you can print the certificate at your convenience. We advise printing an extra copy and keep it with your insurance papers!
Alternatively, we can provide a printed certificate and include it in your shipment.
In case you prefer a printed certificate please follow this link and select "yes" after "Include printed certificate".
Do remember that you need to be logged in in order to get directly to this page and do not forget to submit your request by hitting the Submit Query" button.