Les Maitres de l'Affiche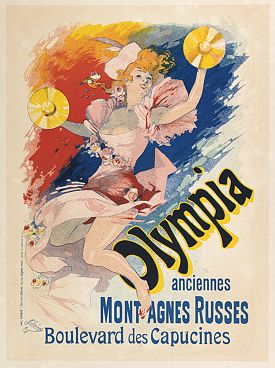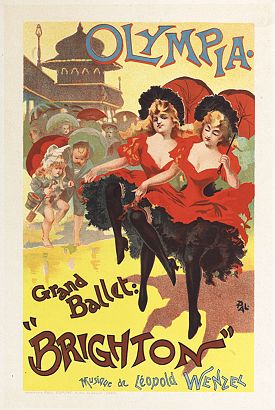 At the turn of the 19th century into the 20th Paris outdoor and indoor walls of buildings flowered with posters that took their themes from the passing show of 'La Vie Parisenne.' Advertising never new happier days. The poster had not only caught the fancy of the broad public but its best examples were already being regarded as works of art (specifically, as fine prints) to be exhibited, reviewed in journals, collected and reprinted in a manageable form.
In the last five years of the century, the Imprimerie Chaix was to play a great part in codifying, hallowing and perpetuating the ebullient period of 'La Belle Epoque.' It was in those years that the firm published "Les Maitres de l'Affiche" (Masters of the Poster) reduced lithographic versions, in authentic colors, of the best posters of Europe and America, by more than 90 great artists, posters that bring the period to life." (Appelbaum p.iii)
Alain Weill, an authority in the field of poster history, points out that posters in this series had major appeal, in part, due to their manageable size: "At the time posters posed a problem which, moreover, has still not been solved, of how to keep, preserve and enjoy a collection consisting of very large size posters which one has to preserve rolled or flat in some large cabinet...("Les Maitres de l'Affiche") provided a reduction of the most valued and the most widely known posters." (Masters p. 4)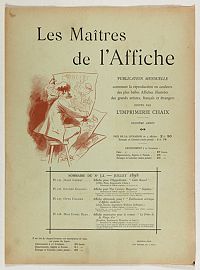 The Publication
The "Les Maitres de l'Affiche" series was offered as a subscription series to collectors.
Every month for 60 months, from December 1895 through November 1900, subscribers received by mail, 4 loose sheets (Maitres) with a cover sheet. It was sold in Paris for 2.50 francs for one month's subscription, (4 Maitres) and for 27 francs for 12 months (48 maitres), plus special (bonus) plates (see Special plates). Maitre's were never issued in a book form, but a binding of the 12 months Maitres was offered to subscribers, at the end of the year, with a beautiful hardcover design by Paul Berthon, for 8 Francs.

The "Maitres de l'Affiche," were issued as separate numbered sheets, referred to as "plates" (PL). They were numbered, with the printer's name "Imprimerie Chaix," in the margin at the bottom left-hand corner, "PL.1" to "PL.240." In the margin at the bottom right-hand corner of each, is a blind embossed stamp from a design of Cheret's. Each overall plate measures approximately 11 3/8 in. x 15 3/4 in. (29cm x 40cm).

The smaller format and the fact the "Maitres" were a paid subscription series, allowed Imprimerie Chaix to use the latest state-of-the-art printing techniques, not normally used in the large format posters due to cost. (see "Poster Printing," The Great Poster Movement).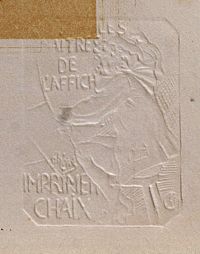 Very high-quality of paper was used, whereas the large format posters were usually printed on lesser quality newsprint, due to cost and a short expected life span. This explains why the quality of the printing, in the "Maitres de l'Affiche," usually far exceeds that of their larger counterparts.
Each print has in the bottom right margin the blind embossed publisher's stamp.

Alain Weill, notes that a month's offerings (four Maitres) could be had at the same price as an original poster by Toulouse-Lautrec, Mucha or the other greats of the poster era, being sold through print dealers at the time: "This is not at all surprising since the larger posters were printed in quantity on ordinary paper and, to boot, the one-time art and plate costs were assumed by the company whose product it advertised; the dealers paid printers only for the overrun they wished to acquire.
Hence, we must consider it normal that "Les Maitres de l'Affiche," specially produced by means of lithography on quality paper, was offered for sale at the price of an original poster.

The people did not perceive these two types of products as being in competition. They were infatuated with small prints and with this kind of compilation".