Where in the World is Ulimaroa?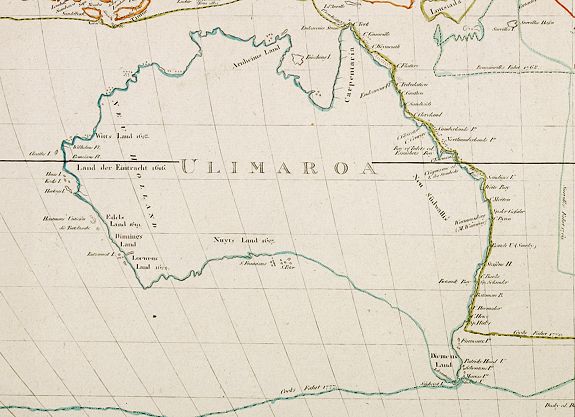 Or, How a Pacific Island Became the Australian Continent
The continent of Australia had a number of appellations until the early 19th century. The most enigmatic of these was Ulimaroa. This name was first used in 1776 by the eccentric Swedish geographer Daniel Djurberg and, subsequently, by a number of other European cartographers until around 1850.
Djurberg's (1744-1834) motivation for renaming the continent was to give it an indigenous name, rather than imposing the European name. He found the name Ulimaroa in Hawkesworth's account of Cook's voyage.
The name had actually been given to Cook and fellow explorer Banks by the Maori people of New Zealand his 1769-70 visit to New Zealand.
Djurberg mistakenly believed it was a name indigenous to Australia and meant "big red land." Ulimaroa continued to be used by numerous northern European cartographers until around 1819, when it disappeared and was replaced by Australia.

A very interesting article "Where in the World is Ulimaroa?", written by Jan Tent reviews the various theories before considering linguistic and historical evidence to propose that Ulimaroa actually referred to an island known to the New Zealand Māori. It also briefly explores the implications for the extent of voyaging by the New Zealand Māori and their knowledge of the pig.
The article "Where in the World is Ulimaroa?" is posted in The Journal of Pacific History, Volume 47, Issue 1, 2012, by Jan Tent, Macquarie University.

- Daniel Djurberg's map was first published in Sweden in 1780.
- it was reprinted in Austria nine years later by Schraemble.
Eric Åkerland used it on his maps of 1816.

Other interesting reading:
The Chinese name for Australia by David L B Jupp.