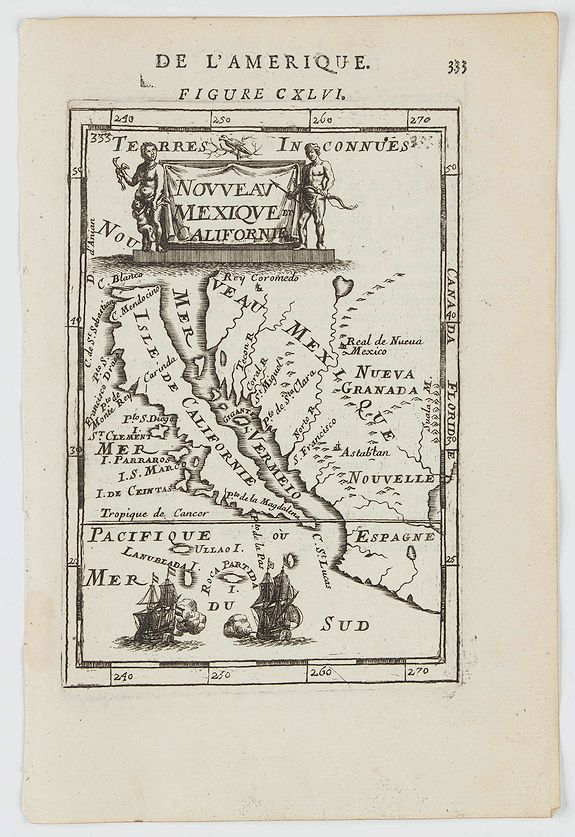 Allain Manesson Mallet
Allain Manesson Mallet (1630–1706) was a 17th century French cartographer and military engineer. He started his career as a musketeer in the army of Louis XIV, became a Sergeant-Major in the artillery and an Inspector of Fortifications. He later served under Alfonso VI, King of Portugal, during the Portuguese Restoration War before returning to France at the conclusion of that conflict in 1668, where his military engineering and mathematical background led to an appointment teaching mathematics at la Petite Écurie.

He is best known for his extensive work "Description de L'Univers" (1683) in 5 volumes, a copious publication which contains maps of all parts of the then-known world (both ancient and modern), star maps, prints of the costumes, customs, cities and religions of many nations, and astronomical prints.
Mallet himself drew most of the figures that were engraved for this book.

First published in 1683 in Paris with French text, a second, German, edition was published in Frankfurt in 1684, with the addition of German titles to the plates outside the printed border.

The philosopher Pierre Bayle considered the work "a curious rabble of a thousand things on Geography and History".
Mallet also published Les Travaux de Mars ou l'Art de la Guerre (1684) in 3 volumes and La Géométrie pratique (1702).
Alexandre Dumas honoured him with a mention in the Vicomte de Bragelonne.


We offer the following maps by Allain Manesson Mallet.