Highlights of our stock.
more highlights
Paulus Swaen Old maps specializes in maps, atlases and globes from the 16th - 18th century. The firm was founded in 1978 and since 1996 a fully Internet based auction devision was added to the company.
When no auction is active, our catalogue does offer items available for immediate sale.
Below are some highlights of our current stock :


An exceptional and very rare pair of celestial and terrestrial globes.
BLAEU, Willem Janszoon (1571-1638) a pair of celestial and terrestrial table globes, 9inch / 23cm, with an overall height of 38 cm, Amsterdam, dated 1602, but published after 1621.
In their original stands with circular wooden horizon rings, covered with printed paper, supported by four legs and brass meridian rings supported by a single column. The diameter of the terrestrial and celestial globe is 9 inch (23 centimeters) and each globe made up of a set of 12 engraved gores and Arctic ice caps, printed on paper and mounted on a sphere of papier maché. Each sphere is mounted in a graduated brass meridian ring with the production number stamped at the back of the ring. The hour circles are missing. Both globes mounted on four legged ebonied oak Dutch stands, which support the horizon ring. The legs are connected by two crossbeams which support a circular base plate with a central support for the meridian ring. The horizon rings are covered with printed paper.
Read more or order these globes [+]
Coloured and heightened with gold by van Santen, bound in Albertus Magnus' workshop.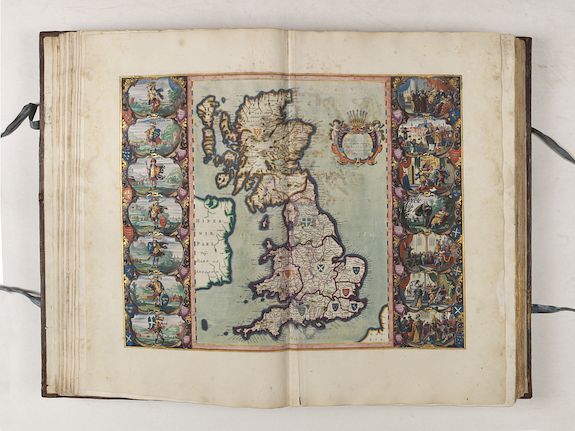 Vierde Stuck der Aerdrycks-Beschryving, welck vervat Engelandt, i.e. Theatrum Orbis Terrarum. vol 4, England & Wales.. Amsterdam, 1648. Contemporary red morocco, elaborately gold-tooled. The spine in compartments, the second showing the title of the book. Large folio (565 x 370 mm.). Dutch text, engraved title, 58 engraved maps, all but one double page, hand-coloured and heightened with gold, engraved and woodcut text-illustrations, many hand-coloured.
An outstanding example of Joannes Blaeu's "Vierde Stuck der Aerdrycks-Beschryving, welck vervat Engelandt, i.e. Theatrum Orbis Terrarum": being volume 4, England & Wales, with Dutch text. The engraved title border with printed text label, 58 engraved maps hand-coloured and heightened gold most probably by the master colourist Dirck Jansz. Van Santen. The binding in contemporary red morocco and attributed to Albertus Magnus or his work shop.
Read more or order this atlas [+]
The second landmark in the European mapping of China in mint condition.
BLAEU, W. / MARTINI,M.. Asia quae est Geographiae Blavaranae - Volume 10 of Atlas Maior including NOVUS ATLAS SINENSIS A MARTINO MARTINIO. Published in Amsterdam, 1662-1665. Together illustrated with 28 maps..
Joan Blaeu had close connections with the Dutch East India Company (V.O.C.), acting as their official cartographer, but he was not permitted to publish maps based on their files. Instead, Blaeu published 17 detailed maps and 171 pages of text of China based on the work of the Italian Jesuit Missionary, Martino Martini (1614–1661). This appeared within the volumes as the Novus Atlas Sinensis. The atlas starts with a decorative engraved title with a architectural façade with an opening giving a view of a landscape. In the foreground putti with a map and a globe, both of which exhibit a map of China.
The Novus Atlas Sinensis (New Atlas of China) was prepared by the Jesuit Priest Father Martino Martini of the Society of Jesus and published in 1655.
Read more or order this atlas [+]
A made-to-order atlas by Seutter in mint condition.
SEUTTER, M. [Atlas de Seutter], Augsburg, ca. 1750. Contemporary calf with arms of Antoine-Clériadus de Choiseul. Large folio (555 x 370mm.), engraved allegorical title, manuscript index at beginning 161 double-page engraved map sheets (including the world and 4 continent maps, 6 of the Americas, 8 of Asia and a detailed town plan of Nuremberg.
A made-to-order atlas based on his "Atlas Novus sive Tabulae Geographicae". Matthaus Seutter the elder first published his "Atlas Geographicus" in 1720 and added to the contents in subsequent editions under the title "Atlas Novus". He was succeeded in his business by his son Georg Mathaus Seutter, and after his death his son Albrecht Carl inherited, but died early in 1762. Matthaus' widow then sold the business to her sons-in-law Tobias Conrad Lotter and Johann Michael Probst, who eventually left it to M.A. Lotter Matthaus' grandson.
Read more or order this atlas [+]
Linschoten's Travel book.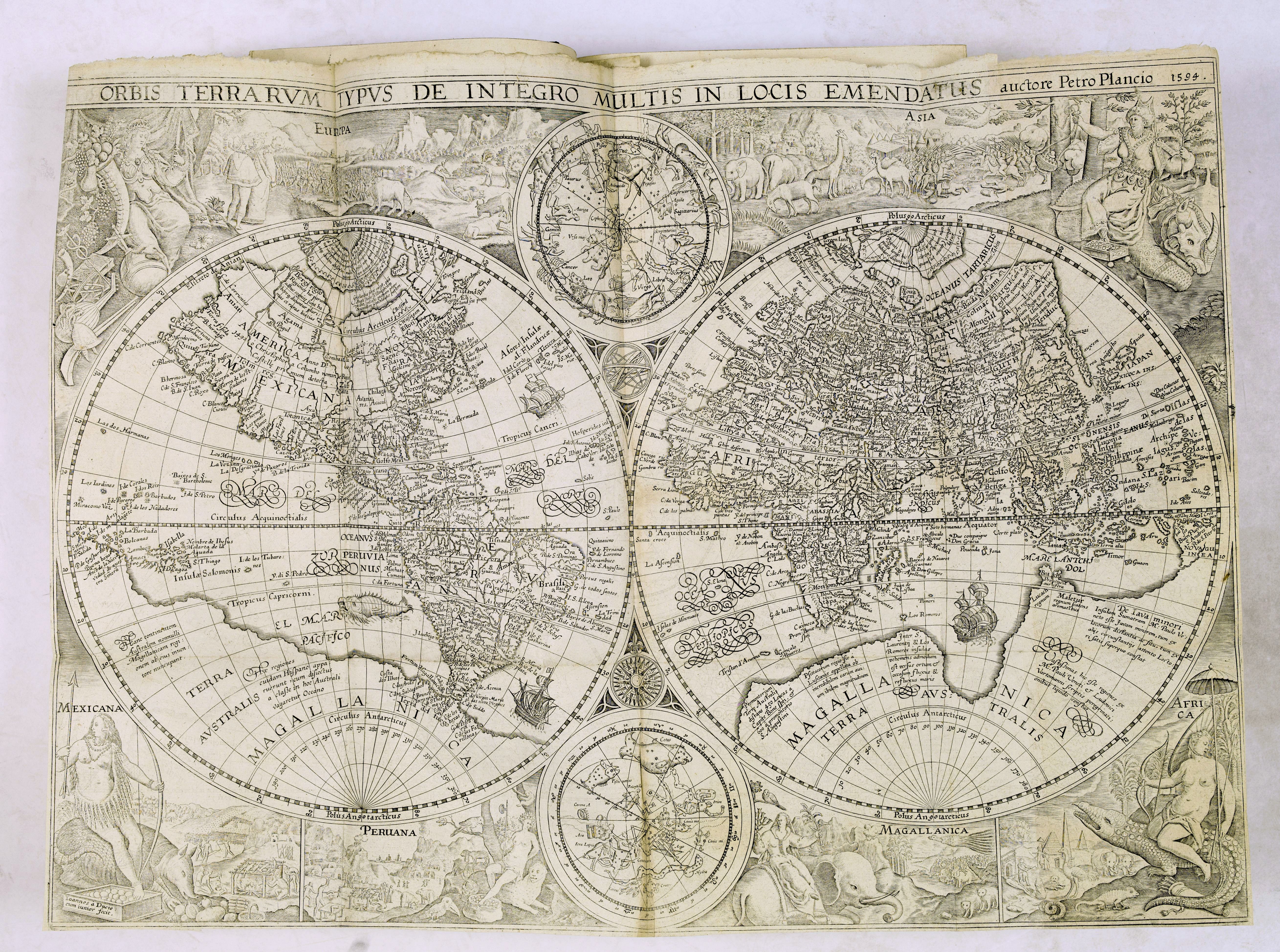 LINSCHOTEN, Jean Hugues. Histoire de la Navigation. Amsterdam, Evert Cloppenburgh, 1638. Folio (4) ff. [including half-page engraved portrait], 36 plates and 6 maps. Bound in 17th century red Morocco binding, gold stamped spine. Excellent.
A stunning copy of Linschoten's classic illustrated travelogue to the East and West Indies, termed by Lach "the most important of the firsthand accounts published independently of the great travel collections" (I.198). No other book contained so much usable intelligence on the East and West Indies as Linschoten's.te; Alden, Vol. I, p. 52, #542/22; Stevens (Ptolemy) 49; Karrow, Mapmakers of the Sixteenth Century, p. 422.
Read more or order this book [+]
Leo Belgicus map by Claes Jansz. Visscher with an unrecorded date (1641).
The most important edition of all Leo Maps being the birth certificate of an Independent Country. It is well-known that the Leo maps are a symbol of strength and bravery in their heraldic representation. The series of Leo-maps should be placed in the context of the Eighty Years' War or "Dutch War of Independence" (1566-1648). They symbolized the revolt of the Seven United Provinces of the Netherlands against the Spanish (Habsburg) Empire.
Claes Jansz. Visscher acquired the copperplate from Henricus Hondius of The Haque. He added two medallions portraits to the plate of the contemporary rulers and negotiators Prince Frederik Hendrik of Orange (Stadholder 1625-1647) FREDERICUS HENRICUS PRINCEPS ARAUSIO COMTES ETC. GUBERNATOR FOEDERAT PROVIN BELGIO, and the Spanish Archduke Cardinal-Infante Ferdinand (governor of the Low Countries from 1634-1641).
Ferdinand died on 9 November 1641, therefore the plate will have been published before November 1641.
It was not before 1650, two years after the peace of Münster which ended the War, that C.Jz. Visscher changed the date (1650) and started selling the plate, likely on a larger scale, as of this is the most commonly found state.
Read more or order this map.

Sea Atlas with 6 additional maps by Visscher.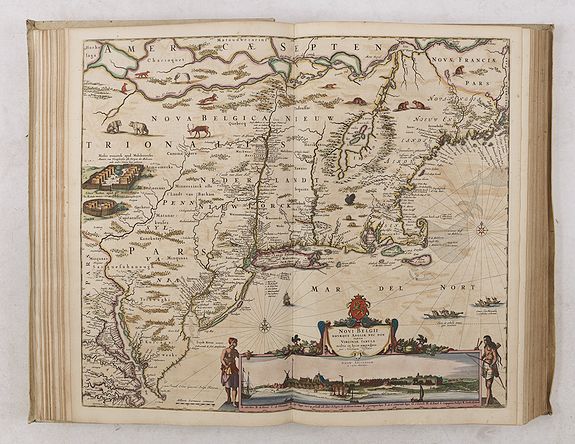 JANSSONIUS HEIRS, J. - Novus Atlas Absolutissimus... Die Wasser-Welt, oder See-Atlas. Amsterdam, 1657 [after 1664]
39 Copper-engraved maps with 38 maps in very fine period hand-colouring and 1 uncoloured map. Original publisher's vellum, panelled in gilt with central gilt arabesques and corner pieces. Text and maps with some browning and foxing.
Volume IX (Sea-Atlas) of the "Novus Atlas Absolutissimus". German text, letterpress title on slip within hand-coloured engraved architectural border, heightened in gilt, 39 maps of which 38 are finely coloured by a contemporary hand. With 6 additional maps by Visscher listed in the index : ("Insulae Americanae", "Insula Matanino", "Novi Belgii", "Indiae orientalis", "Insularum Melitae" et "Insula Candia").
Including Northeast/ New York City. JANSSON J./ VISSCHER, C. J. Novi Belgii Novaeque Angliae... 18 ¼ x 21 ½ inches. A most attractive example of a map that is as historically important as it is beautiful. It was the culmination of all the surveys of the area conducted by the Dutch colonists of New Netherlands during their first three decades in America. It is also the first printed map to delineate the shape of Manhattan with relative accuracy; it had been shown as a triangle earlier. Also, English towns that were just being settled at the time, such as Milford, Guilford, Stratford, and Stamford, are shown along the Connecticut shoreline. Every Indian tribe encountered by the colonists, most of which are long extinct, as well as every town and settlement in existence at the time, are believed to be on this map.
Read more or order this atlas.
Rare 'Stoel des Oorlogs' wall map.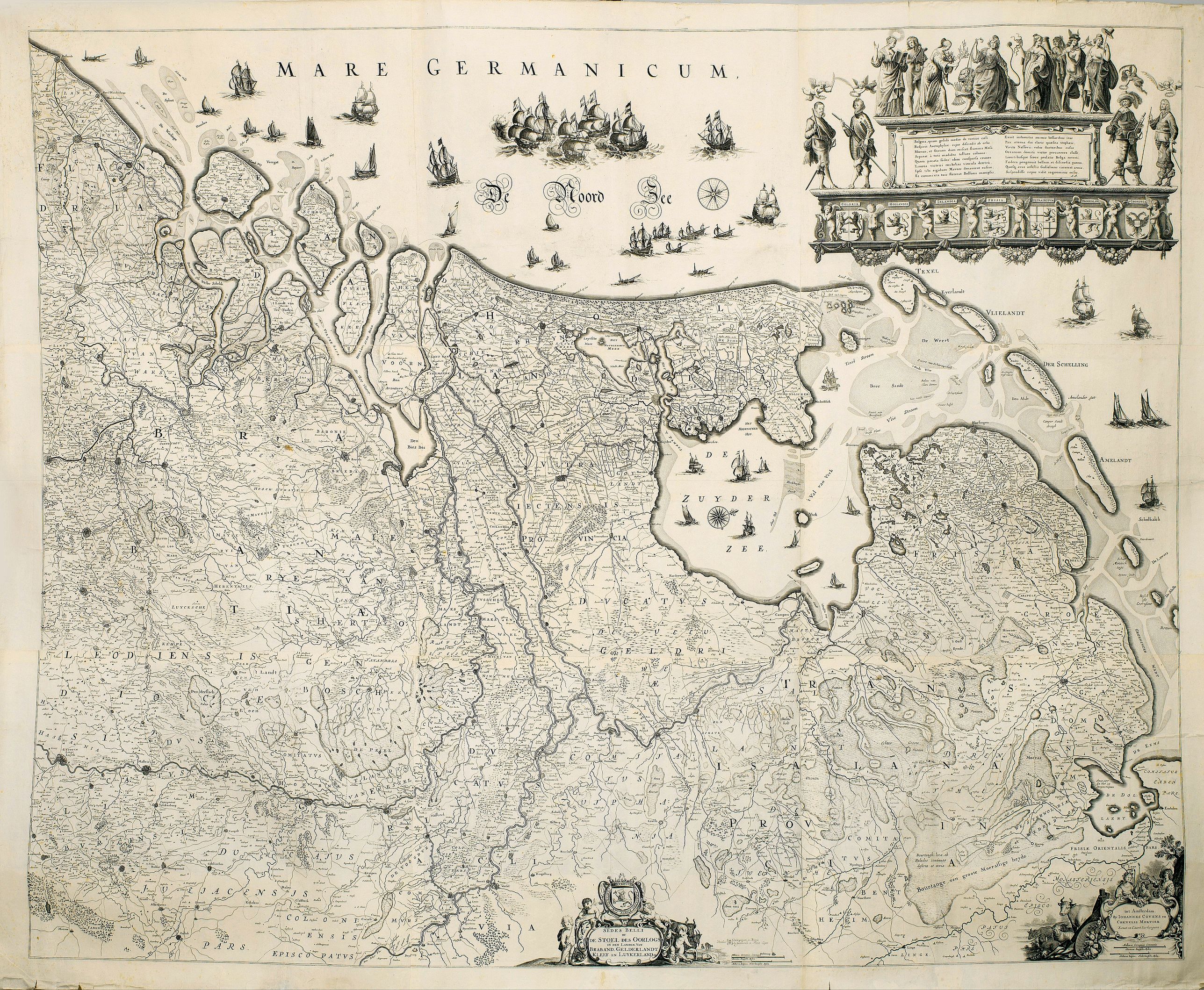 COVENS, C. / MORTIER, P - Les Provinces confederées du Pais-Bas... (Amsterdam, 1740)
Wall map (1030 x 1200 mm.) in very fine condition.
The first wall map of the Seven Provinces of 1651, re-issued as 'Stoel des Oorlogs' by Covens & Mortier. The first issue of the present wall-map is known to be included in the Klencke Atlas in the British Library; the second edition, by son Dancker Danckerts, is present in the other two giant atlases: the Mecklenburg Atlas in Rostock and the Atlas des Grossen Kurfürsten in Berlin. After Nicolaas Visscher published a third state of this decorative piece it was the firm of Covens & Mortier who sold this fourth and final state of the map. Presumably commemorating the 1648 treaty and the Republic's independence, this map might be considered to be a peace-counterpart of the monumental 21-sheet world map that was published by Joan Blaeu in 1648.
This historical context, also unveiled by the many decorative and symbolical references, hardly applied to the Covens & Mortier era. However, the new 'Stoel des Oorlogs' title and some minor changes were a poor attempt to bring it more or less up-to-date and fit it into the popular 'Théâtre de la guerre' category.
Read more or order this map.
Jean Baptiste Bourguignon d'ANVILLE - Atlas.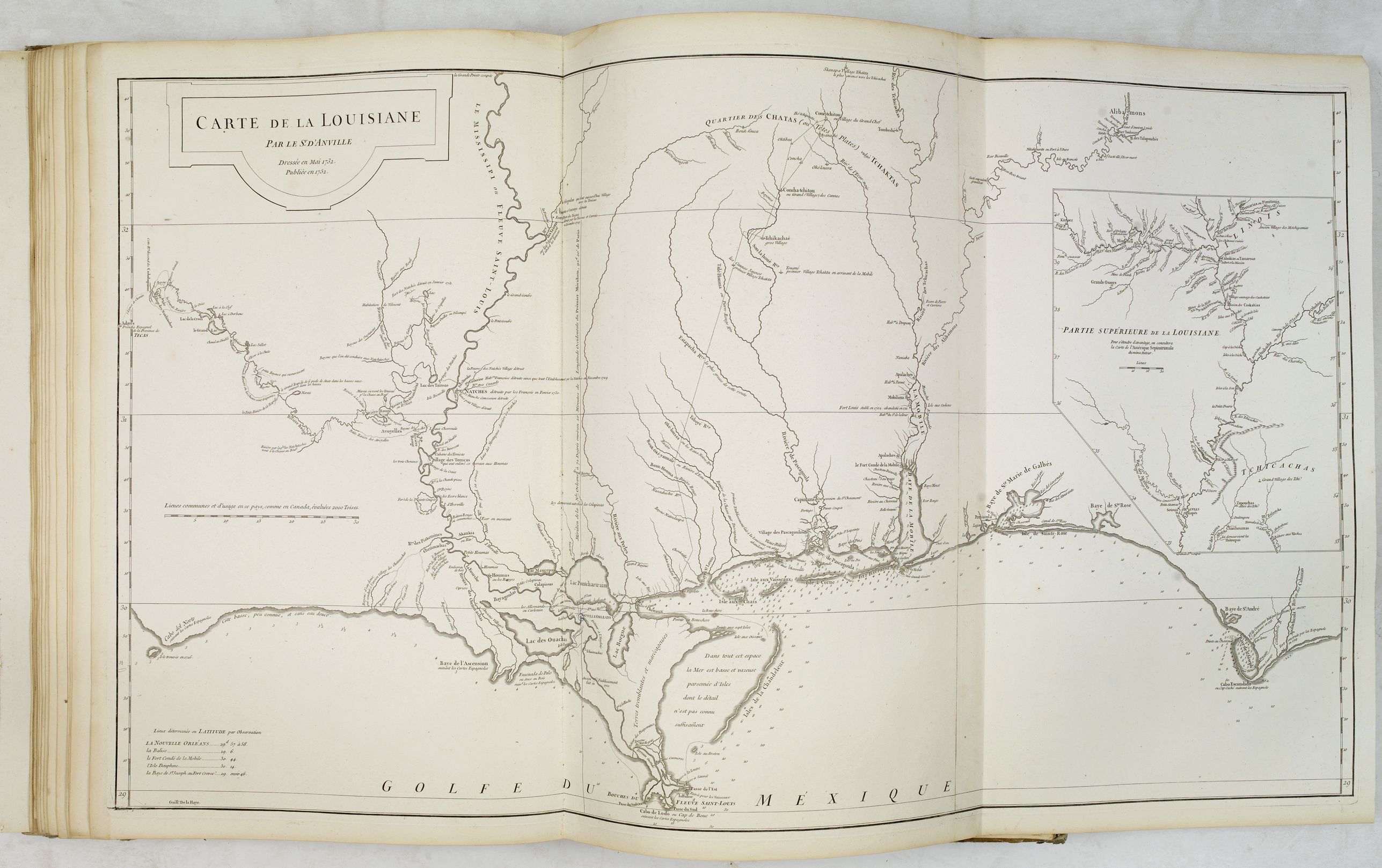 Atlas in elephant folio (book block measuring 580 x 375 mm.), bound in contemp. half calf with gilted label on spine "ATLAS DE D'ANVILLE", 59 pages multisheet maps, actual map sheet count is 42. Maps dated 1743-1786. This set is accompanied by a 4 pages printed broadsheet "Mémoire instructif. . . En Mars MDCCXXXII D'Anville, Geographe ordinaire du Roy. Permis d'imprimer ce 21 Mars 1732, Herault" and 4 pages manuscript text in pen and brown ink "Mémoire instructif pour faire la carte (de d'Anville)..."
The maps are copper engravings with original outline colour, most are double page, some folding, multi sheet maps. The first 39 maps have a number 1-39 in brown ink in a contemporary hand on verso. The cartouches on many of the maps are designed by his brother; Hubert-François Bourguignon, commonly known as Gravelot (26th March 1699 - 20th April 1773). Gravelot was a engraver, a famous book illustrator, designer and drawing-master.
D'Anville's maps draw on material gathered from several French expeditions made during the first half of the eighteenth century.
It is known that Thomas Jefferson acquired seven maps by d'Anville in 1787, and although the titles of the maps he acquired are not known, Jefferson must have been familiar with d'Anville's maps of North America, including "Carte de la Louisiane." In a letter to Secretary of the Treasury Albert Gallatin relating to a newly commissioned map of North America, Jefferson discussed the use of d'Anville as a reference for the lower Mississippi basin. Meriwether Lewis obtained a copy prior to the Lewis & Clark Expedition.
Read more or order this atlas.


Japanese world map representing Buddhist cosmology with real world cartography.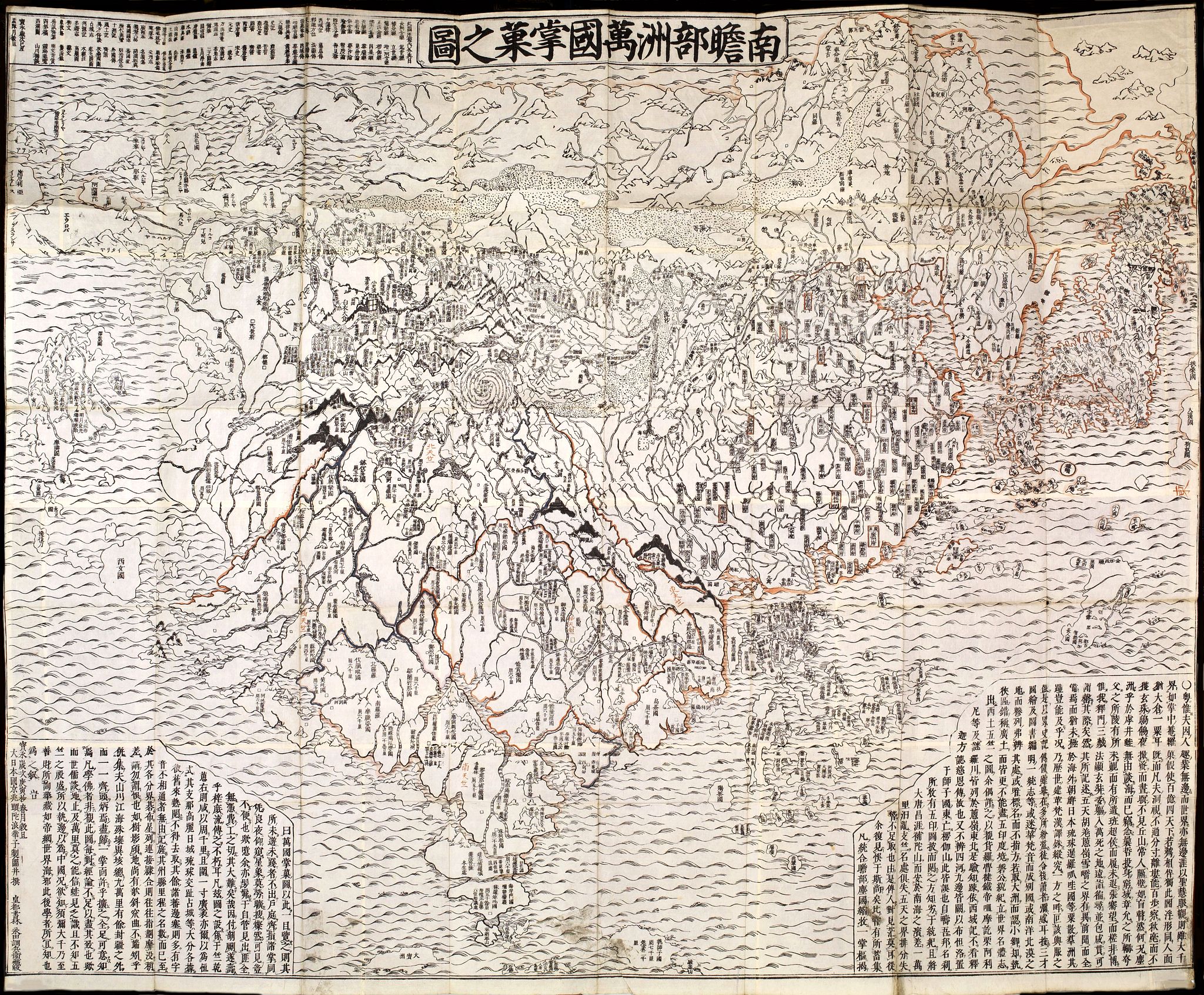 ZUDA ROKASHI (Priest Hotan) - Nansenbushu bankoku shoka no zu.[Outline Map of All Countries of the Universe]. Published in Kyoto, 1710 (Hoei 7 = Year of the Tiger) by Bundaiken Uhei (fl. 1680 - 1720).
This map is a great example for Japanese world maps representing Buddhist cosmology with real world cartography. It is the earliest one and - therefore - the prototype for Buddhist world maps.
The map centred on 'Jambu-Dvipa', the mythological heart of Buddhist cosmography where Buddha was born in Northern India with the sacred lake of Anavatapta, and the four sacred rivers Ganges, Oxus, Indus, and Tarim flowing from it, the map extending from Ceylon to Siberia, and from Japan to the British Isles 'Country of the Western Woman', with Europe as a group of islands, Africa figured as a small island, and a land bridge connecting China with an unnamed continent to the East [America?].
Read more or order this map.
Yangzi River across Shanghai map - Used by the "Even-Victorious Army".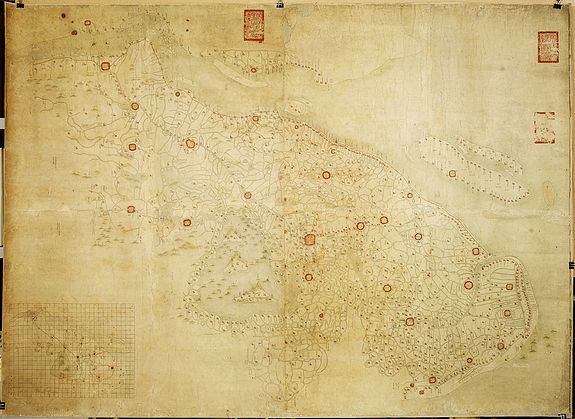 ANONYMOUS. Militairy manuscript map of the end of Yangzi River across Shanghai, Jiangsu, and Zhejiang areas. China, ca 1862. 1019 x 1600mm. In original colours. Manuscript map in brown ink, with red and green and wash colour. A few holes, and paper missing on old foldings. The maps has been backed with thin paper for protective reason.
A military map including the end of Yangzi River across Shanghai, Jiangsu, and Zhejiang areas with 3 red seals of the "Ever-Victorious Army". More than thousand houses with a red flag are named, military camps, mountains, forests, and battle fields are drawn in. In the lower left corner a inset map of the area covering present-day Shanghai (265 x 355mm.)
The map served the "Ever-Victorious Army" during 1860 -1862 when the Taiping rebels ruled the region and twice attacked Shanghai and destroyed the city's eastern and southern suburbs, but failed to take the city.
Read more or order this map.