Guicciardini - Early description of the Low Countries.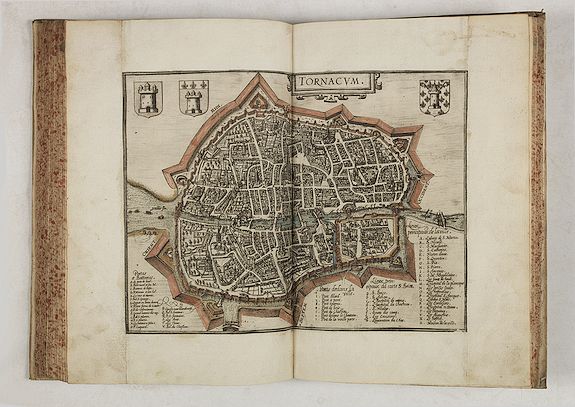 GUICCIARDINI, L. - Descrittione di M. Lodovico Guicciardini patritio Fiorentino, di tutti i Paesi Bassi,… (Antwerp, Plantin, 1581) The book block 23.0 x 31.0 cm. / 9.1 x 12.2 inches. Uncolored.
Folio. In contemp. vellum binding, red mottled edges. Hinges weakened at head and foot. Binding a little bit soiled. Illustrated with 57 maps and city plans. The first pages a little bit soiled. A very fine copy.
 € 8500 - $ 10000

Second Italian edition (variant B) and first Plantin edition (1st Silvius 1567) and the most sought-after edition of the famous description of the Low Countries, updated by the author with the recent drastic changes in the region's history. Illustrated with engraved plates : title, coats-of-arms of the 17 Provinces with coat-of-arms of Philip II pasted on in the middle, portrait of Philip II pasted on in the middle of a baroque architectural setting with between the allegorical presentation of Arts and Sciences, the compass of Plantin, on verso the coat-of-arms and device of Guicciardini, elaborate frontispiece (allegorical representation of the Netherlands with the 3 rivers), 57 plates including 1 general map of the Netherlands and 56 plates representing maps of each province and city plans and views of the towns.
The 2 plates (Tournai and Cambrai) usually not yet present in this edition "per causa della guerra non s'e ancor' potuto habere il ritratto di questa Citta al naturale", are added in original colours in this copy.

With annotations in Italian handwriting pp. 440 and 470. Seems to be an acknowledgment by L. Guicciardini himself to Abraham Ortelius royal geographer, for having him provided the missing plates of Tournai and Cambrai.
Probably this example was Ortelius' copy of Lodovico Guicciardini's Descittione di tutti Paesi Bassi.

Ludovico Guicciardini was a nobleman from Florence, who lived and worked in the Low Countries and died at Antwerp in 1589. His present work was translated into French, Dutch, Latin, -and even into German and English all through the sixteenth and part of the 17th century, and all editions were in folio. The illustrations in the numerous editions vary greatly and were often renewed or replaced.

Plantin ordered in 1581 entirely new plates, specially engraved for his editions mostly by the brothers Hogenberg, the famous engravers of Ortelius's atlas. Many new and updated city plans are included. The illustrations of this most important work were used by Braun and Hogenberg in their 'Civitates Orbis Terrarum'.

The book is divided into sections, each devoted to a particular, with emphasis on the topography of the various regions and the region. It really is a sophisticated traveler's guide, with emphasis on the topography of the various regions and the major cities, and beautifully illustrated by plans and views. Including a fine print of the Antwerp Exchange. But the book fully covers all aspects of contemporary life in each area as well, including an extensive treatment of the fine arts, trade and the commercial concerns of each region. "It is well known that during his lifetime Ortelius gradually filled his house with substantial collections of various forms of art.
He also accumulated a large library of printed books, books with maps, loose maps, portolan charts, manuscript maps and manuscript texts.
The focus is on his maps and books, information for which comes primarily from Ortelius himself. Unusually for the time, Ortelius recorded his cartographical sources and the books and authors he consulted for his maps and writings in a Catalogus auctorum, but much can also be discovered from the texts on the verso of the maps in the Theatrum Orbis Terrarum, and from the Synonymia and Thesauri, his correspondence and the ledgers in the Plantin Moretus Museum, in which Ortelius's transactions with Christophe Plantin were recorded.

Some of Ortelius's library books, identified by his signature, have survived. From all these sources it is estimated that Ortelius owned about 5,965 maps and 3,514 books written by about 2,892 authors, making his library one of the largest, if not the largest, private collection of books and maps in sixteenth-century Europe…. We know, for instance, that he owned Lodovico Guicciardini's Descittione di tutti Paesi Bassi…" (Imago Mundi, 66).

Reference: Guicciardini Illustratus, 5 B