Covid-19 virus Update
IMPORTANT UPDATE REGARDING SHIPMENTS OF GOODS
Paulus Swaen considers your well-being of the utmost importance.
During this time of global uncertainty, we will continue our Buy or Bid sales while doing all we can to ensure the health and safety of our clients and employees.
As a global business, we are heavenly dependent on a reliable and safe service provided by courier services and national postal systems.
We are happy to let you know that we have resumed the shipping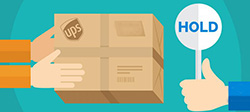 The hold option
In the last year shipping was very difficult and many of our clients used our hold and combine option, which works as follows :
Your items will be kept on hold and combined mailed out with a future auction and you pay only a one-time shipment fee.
At activation, the standard shipping fee (US$ 30) is added to your bill.
No shipping fees are added to future acquisitions and you may combine Gallery and Auction items and there is no time limit to this service.
If in the future, shipping the parcel can be shipped at a more economical shipping service; the difference will be refunded.
Stay safe and healthy,
Pierre Joppen / Roland Boelen

---
*** A interesting site providing info about the Covid-19 developments is :
www.worldometers.info
** Although we're all washing our hands and sanitizing regularly, remember that the use of alcohol-based hand sanitizers is not good for collection items.
The Preservation Research and Testing Division (PRTD) of the Library of Congress screened two classes of sanitizers (alcohol-based and water-based) to assess their effect on paper-based collection materials.
- The results from colorimetry measurements indicated an increase in yellowness for the coated relative to uncoated papers, where both were exposed to elevated heat and humidity.
- Alcohol-based hand sanitizers showed the most significant changes in color compared to water-based.
* Rosanne Cash tweeted: "Just a reminder that when Shakespeare was quarantined because of the plague, he wrote King Lear." (March 12th 2020)