Jacques Chéreau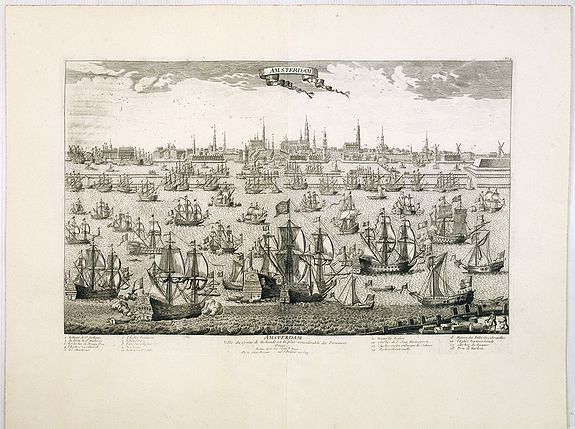 CHEREAU, J. / AVELINE, P.A. - Amsterdam Ville du Comté de Hollande et la plus considerable des Provinces Unies. . . (Paris, ca.1750) Size: 33.2 x 51.3 cm. / 13.1 x 20.2 inches. Uncolored.
A larger paper copy (495x645mm.), in very good to mint condition.

Euros 3000

A very decorative and extremely rare town-view of Amsterdam, including a numbered (1-18) key in the lower part. Extensive shipping on the IJ. To the left, the headquarters of the V.O.C. (present-day Maritime Museum) with their shipyards are shown.
Published by Jacques Chéreau, (1688 - 1776). Engraved by Aveline and first published in 1692 by Crepy, here the rare Jacques Chéreau re-issue, with a re-worked plate, of ca.1750. Still with the address " Aveline fecit exc cum P. Regis. A Paris Ches Chéreau rue St. Jacques au Coq." and plate number "2" in upper right margin.
The brothers Chéreau, were one of the most prolific print publishers active in Paris at "rue st. Jacques au Grand St.Remy". François Chéreau was born in 1680 in Blois, it is unknown when he settled in Paris. He was student of Gérard Audran and Pierre Drevet. In 1718 he acquired the stock of copperplates and prints of his tutor Gérard Audran. He was a very talented engraver. After his death in 1729 the copperplates were sold by his widow. His brother Jacques (le jeune) (1688-1776) was also engraver and publisher and worked for one year in England. He was well known as an engraver of portraits.