COVENS / MORTIER - Les Provinces confederées du Pais-Bas.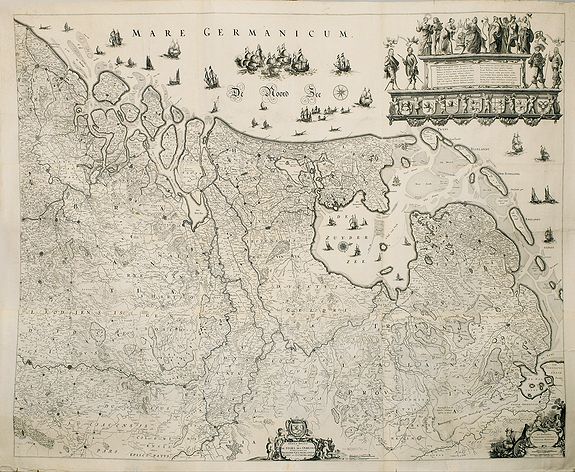 COVENS / MORTIER - Les Provinces confederées du Pais-Bas. (Amsterdam, c. 1740) Size: 40.6 x 47.2 inches. / 103 x 120 cm. Uncolored. In very good condition, dark impression.

The first wall map of the Seven Provinces of 1651, re-issued as 'Stoel des Oorlogs' by Covens & Mortier. The first issue of the present wall-map is known to be included in the Klencke Atlas in the British Library; the second edition, by son Dancker Danckerts, is present in the other two giant atlases: the Mecklenburg Atlas in Rostock and the Atlas des Grossen Kurfürsten in Berlin.

After Nicolaas Visscher published the third state of this decorative piece it was the firm of Covens & Mortier who sold this fourth and final state of the map.
Presumably commemorating the 1648 treaty and the Republic's independence, this map might be considered to be a peace counterpart of the monumental 21-sheet world map that was published by Joan Blaeu in 1648. This historical context, also unveiled by the many decorative and symbolical references, hardly applied to the Covens & Mortier era.
However, the new 'Stoel des Oorlogs' title and some minor changes were a poor attempt to bring it more or less up-to-date and fit it into the popular 'Théâtre de la guerre' category.

This map, like those in the giant atlases, is a good example of the few surviving cartographic treasures, meant to be mounted and hung on the wall.