Willem Blaeu Theatrum orbis Terrarum, 1634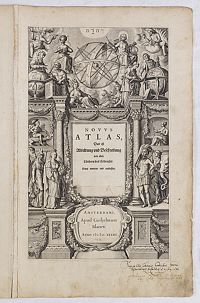 In 1633, partly due to aggressive competition by Hondius-Janssonius, Blaeu announced his intention to publish a new 'Novus Atlas' in two volumes. According to Gunter Schilder, correspondence between Blaeu and Wilhelm Schickhard, indicated that Blaeu intended to complete the atlas that same year. Blaeu's intention to publish a new 'International edition' of a world atlas is mentioned on February 11th, 1634 in an Amsterdam newspaper.
"
At Amsterdam is now being printed by Willem Jansz Blaeu the large book of maps, the Atlas, in four languages: Latin, French, German and Dutch. The one in German will appear about easter, the ones in Dutch and French in the month of May, or early June at the latest, and the one in Latin shortly thereafter. All editions on very fine paper, completely renewed with newly engraved copperplates and new, comprehensive descriptions."
Despite the fact that Blaeu's newspaper announcement early in 1634 stated that the atlas was 'now beining printed', only the German edition of the atlas was completed in that year, though not in its final form.
The other editions all have a 1635 publication date. The atlas was published in German (10th March 1634), Latin (13th April 1635), Dutch (22th April 1635), French (1st July 1635).
Blaeu's plans were ambitious. In the preface to the German edition of 1636, he writes:
"Our intention is to describe the entire world, that is the heavens and the earth, in several volumes like these two, of which two more of the earth will shortly follow"
.
But Willem Jansz. Blaeu did not live to see the other two volumes issued which he had prepared. These two volumes appeared in 1640 (Italy) and 1645 (England).