Prince Grigory Grigorievich Gagarin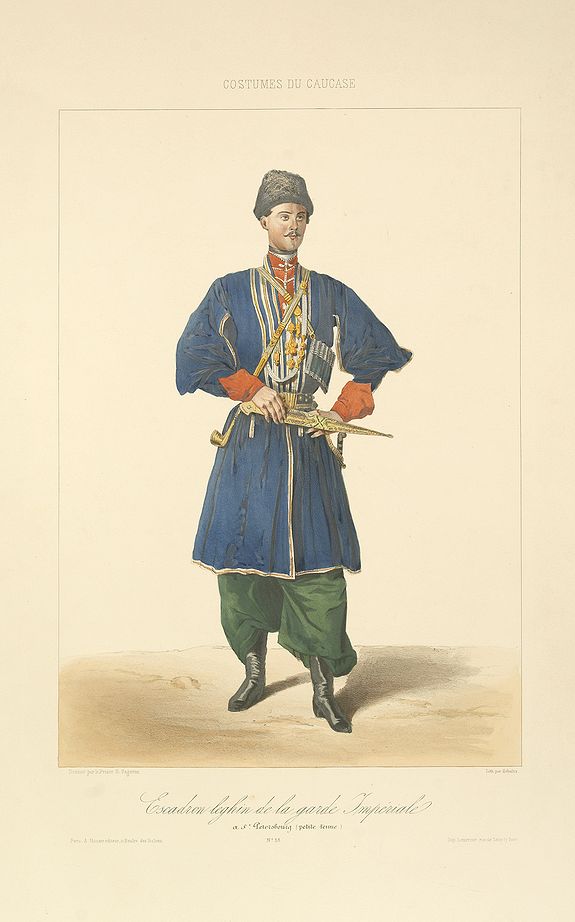 Gagarin was born in one of the oldest noble families in Russia, Gagarin princes, descendants of Rurikides. He is raised until the age of thirteen by tutors, when his parents lived in Paris and Rome. He joined the College Tolomei in Siena. As his family knew Karl Bryullov, who lived at the time in Italy, the young prince took drawing lessons from him. He joined after completing his studies at the Russian Embassy in Paris in 1826, then in Rome and Constantinople. It is in St. Petersburg in 1832, where he made the acquaintance of Pushkin, which shows the Queen of Spades, and Lermontov. He is secretary of embassy in Munich, capital of the kingdom of Bavaria from 1836 to 1838.

Gagarin travelled to the Caucasus (1839-1840) following his friend Mikhail Lermontov.
They work together, Lermontov wrote and painted Gagarin. It also illustrates the novel by Vladimir Sologub, Tarantas. Gagarin's Caucasian period was probably the most prolific period of his artistic career. He drew numerous drawings and watercolours depicting battle scenes, Caucasian warriors and Russian soldiers as well as genre scenes of the life of people of the Caucasus.
These works were later reproduced as colour lithographs in the album series "Le Caucase Pittoresque", (Paris, 1847-1859) and Scènes, paysages, moeurs et costumes du Caucase (Paris, 1845-1846).
He is actively involved as an officer in 1841, after having had the pain of losing Lermontov who dies in a duel. Gagarin made the expedition of Prince Tchernichiov Dagestan. He served in the dragoons, until 1848. His bravery earned him honors and the rank of captain of cavalry (Rittmeister), then colonel.

Prince Gagarin is at the service of Prince Vorontsov from 1848 to 1855. In addition to his military and administrative Gagarin working hard to beautify the city of Tiflis. He built a theater, painted frescoes Sioni Cathedral (Cathedral of the Assumption Georgian from Tiflis) and restores in other churches, including those of the Monastery of Bethany Georgia.

Prince Gagarin returned in 1855 to St. Petersburg, where he is at the service of the Grand Duchess Marie, daughter of the Emperor Nicolas and President of the Imperial Academy of Fine Arts. It was at this time a supporter of Byzantine architecture and taste draws the chapel of the Palais Grand Duchess Marie (1860). Gagarin was appointed Major General and Vice President of the Imperial Academy. He remains in that position until 1872 and is in fact the true leader of this institution. He built the Museum of early Christian art, and is the champion of the work of Lermontov. He raises his play at the Devil the Hermitage Theatre in 1856.

He died in France in 1893.

Costumes du Caucase.
Paris: Imprimerie Lemercier for A. Hauser, c.1840]. Containing 66 plates heightened with gum arabic, some tinted by Gagarin, J. Keller, J. Bachmann, C. Schultz, and A. Springer after Gagarin, each with the publisher's blindstamp on the lower margin.
Costumes du Caucase was intended to form part of a work depicting the scenes, landscape, customs and costumes of the Caucasus to be issued in 48 livraisons; however, Colas states that only 11 of these were issued, containing 66 plates.

References : Colas 1147; Lipperheide Kaa 51.