Honoré Daumier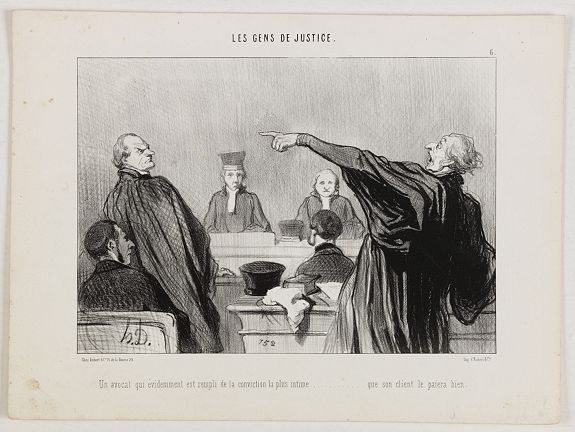 Honoré Daumier was born 26 February 1808 in Marseille and died 10 February 1879 in Valmondois.

His most active years: 1830 - 1879.
Known as the "Michelango of Caricature", Honoré Daumier was a prolific painter, printmaker, sculptor, and caricaturist.
He produced over 4, 00 lithographs in his lifetime, which was known for their satires of political figures and the behavior of the bourgeois inn society. As a boy, he showed an inclination towards art, which his father tried to discourage, and so he put him to work as an usher. But, Daumier's talents could not be dissuaded, and he later works at a bookseller, eventually landing in the employ of Alexandre Lenoir, an artist and archaeologist, and becoming his protégé.

It was here that he began making his first attempts at lithography and began a career producing plates for music producers and advertisement illustrations.



He began working for the comic journal "La Caricature" during the reign of King Louis Phillippe, and produced many caricatures outlining corruption on the law, the mistakes of the bourgeois, and the incompetence of the government. It was at this time that he published a satire of the king as Gargantua, which landed him in prison for six months, after which the journal La Caricature ceased publication. He also produced caricatures for the publication Le Chavivari, holding the bourgeois up to more scrutiny.

One of his favorite themes was Don Quixote, of which he drew 49 drawings and completed 29 paintings depicting his life.
Daumier received little recognition until 1878, a year before his death, when his works were put on exhibition. Posthumously, more recognition has been placed on Daumier and his revered social commentary.

Wikipedia article : https://en.wikipedia.org/wiki/Honoré_Daumier

Daumier used his lithographic skills in several satirical publications of the era. During this time period, this was a powerful social platform from which to influence the masses. The first journal that he worked at was known as La Caricature, launched by Charles Philipon, a lithographer and journalist. His cartoons used biting sarcasm against the pretensions of the bourgeois and railed against the corruption of the government of Louis Philippe, the king of France from 1830-1848.


Originally popular for his perceived liberalism, over time his governmental policies came to be perceived as increasingly conservative and monarchial.

Caricaturana
is a series consisting of 100 numbered lithographs, which appeared in the Charivari between August 20, 1836 and November 25, 1838.
All 100 prints of the series "Caricaturana" were published sur blanc as an album under the title "Les Robert Macaires" in 1838 and offered to collectors.
The black and white album cost 45 francs, while the colored version was offered at 55 francs.
Published by Bauger, rue du Croissant 16 (lower left). Printed by Imprimeurs d'Aubert & Cie at Aubert, Place de la Bourse.

Philipon was the author of all the texts of this series. It should be noted that Daumier did not monogram or sign the prints, presumable because Philipon wanted to document his position as author of the texts and as "inventor" of the series.
After the September laws, it was impossible for Daumier to draw political caricatures. A solution had to be found how the system of the "Juste Milieu" could be attacked without getting political about it. The Robert-Macaire series was the answer.


Macaire personified the clever businessman who was willing at any time to throw moral and ethical principles overboard for a quick buck. His personality fitted exactly to the period so well described by Alexis de Tocqueville: self-enrichment at all levels and a Government-run on shareholder's principles. Short-selling, pyramid systems, investments in Californian gold mines and IPOs of non-existent companies were the name of the game. Thanks to Macaire and Bertrand, all the little tricks were demonstrated in detail to the public.

Robert Macaire may seem to be a realistic figure; however, one should remember that in reality, he is an artificial personality, created in 1823 by Benjamin Antier for his play "L'Auberge des Adrets".
The breakthrough came in 1834, when Frédéric Lemaitre used the names of Macaire and his somewhat simple partner Serres-Bertrand for his various comedies in Paris. The figure of Macaire goes back as far as 1371, when - as the legend goes - Aubri de Montdidier, a nobleman from the court of Charles V was assassinated by Macaire. The murder was vindicated by his dog, the only witness of the assassination.
A duel between the dog and Macaire, who was armed with a cudgel, should settle the case.
The dog killed Macaire, who confessed to the murder before he died.


Lawyers and Justise
For his biting depictions of Emperor Louis-Philippe in the weekly journal La Caricature in 1832, Daumier spent six months in prison and began painting. After the state suppressed La Caricature in 1835.
Around the mid-1840s Daumier started publishing his famous caricatures depicting members of the legal profession, known as 'Les Gens de Justice', a scathing satire about judges, defendants, attorneys and corrupt, greedy lawyers in general.


A number of extremely rare albums appeared on white paper, covering 39 different legal themes, of which 37 had previously been published in the Charivari. It is said that Daumier's own experience as an employee in a bailiff's office during his youth may have influenced his rather negative attitude towards the legal profession.
He clearly enjoyed mocking the legal profession and obviously felt that the deck was always stacked against society's poor and defenseless. No matter what the outcome for the average man, the lawyers in Daumier's images always do fine.


They are, self-congratulatory, puffed up with self-importance, exchanging clever quips. While in the courtroom, they attack each other with obligatory theatricality, outside, there is unity and collusion.