Emile Prisse d'Avennes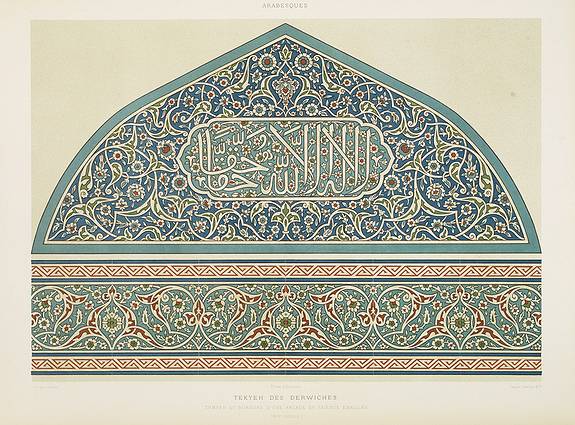 Emile Prisse d'Avennes (1807-1879), a French Orientalist, author and artist, was one of the greatest pre-20th century Egyptologists.
A French nobleman by birth, though impoverished, Prisse d'Avennes seems to have spent his life in the pursuit of the exotic.
Prisse d'Avennes spent many years in Egypt after 1826, first as an engineer in the service of Mehmet Ali. After 1836 he explored Egypt disguised as an Arab and using the name Edris Effendi; during this period he carried out archaeological excavations in the valley of the Nile.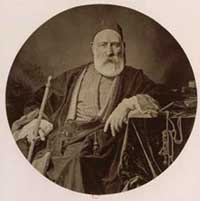 An ardent admirer of the superb skills of Egyptian and Oriental artisans, he was enamored of Arabic art. As a youth, he dreamed of exploring the Orient, and at 19 began traveling to Greece and Palestine.

Over the next 40 years, he explored Syria, Arabia, and Persia, and resided in Egypt and Algeria. Converting to Islam, he traveled to Egypt disguised as an Arab, using the name Edris Effendi.
A student of ancient Egyptian and Islamic cultures, he later wrote: "
We shall discuss all the arts, all the industries cultivated by Orientals with so much taste, brilliance, and fantasy. We will present splendid reproductions of the monuments, objects of art and luxury, which provide evidence of an advanced civilization, the influence of which has been felt even in Europe
.
In 1848/1851 Prisse d'Avennes published his Oriental Album in London (Oriental Album. Characters, Costumes, and Modes of Life, the Valley of the Nile). This brilliant collection of 32 chromolithographs illustrating the people and costumes of the Nile Valley was accompanied by a commentary by renowned Orientalist and Egyptologist James Augustus St. John.
After again traveling to North Africa, Prisse d'Avennes returned to France in 1860, with the fruits of his travels: 300 folio drawings, 400 meters of bas-reliefs, 150 photographs of important architectural details, 150 sketches, daguerrotypes, numerous plans, details and elevations copied on the scene.
Fascinated by the symmetry, complexity, and opulence of Egyptian and Arabic art, he drew from this vast collection to create compilations of the finest examples of art and architecture, which also took into account historical, social, and religious contexts.
In 1877, he published his
unsurpassed standard work on Islamic art and architecture
,
Arab Art L'Art arabe d'après les monuments du Kaire, 1869-1877
), in Paris with the publisher A.Morel et Cie., 13 Rue Bonaparte.
"'Arab Art', however, is more than a monument to the author's tenacity, skill, and devotion. For the historian of architecture, it is a precise source, a unique documentary record [.] On an entirely different level, Prisse d'Avennes has provided today's architects, designers, artists, and illustrators with some of the finest examples of measured drawings, pattern details, and illustrations of selected aspects of the built environment of a medieval Islamic city.
But 'Arab Art' is not merely an exercise in architectural description. Prisse d'Avennes writes about and records in the plates art forms ranging from elaborately decorated tiles to carpets and fabrics, to Korans and illuminated manuscripts. His text examines how these objects were made and the way they were used, and describes the value placed on them by contemporary society. The result is that his book offers invaluable glimpses of aspects of Arab life as they were viewed by a sympathetic West European" (preface to the 1963 London edition).

We offer some superb original colour lithographed plates from the author's "L'Art Arabe d'après les monuments du Kaire..."