Tips for prospective map collectors
TYPES OF COLLECTIONS
Most collectors have a theme for their collections. Often this is a geographical area, usually the one in which they live or are otherwise familiar with, or something else, such as the earliest of world maps after the discovery of the New World. Others specialize in a specific feature; such as California shown as an island, or other figments of imagination. Sometimes people collect examples of many cartographers or a single cartographer. Others might be interested in exploration or highly decorative maps or perhaps maps related to events such as the Civil War or industries such as railroads or even maps of places they lived or visited. As in other fields, there are many directions in which to build a collection.
FACTORS AFFECTING VALUE
Many factors can affect value. The following are some of those factors. As a rule the more of these important qualities possessed by the map the greater its value.
1. Region Depicted. There are more collectors of maps of some regions than others, affecting the size of the market and thus the value of maps of those areas. For instance, world maps have a universal appeal. Among nations there are sizable numbers of collectors for maps of the United States, Great Britain, Germany, Australia and Canada, and increasingly Japan and China. Within the United States, some of the larger states such as Texas, California and Florida have a lot of interest, but the earliest maps of any state or region would be in demand. Some areas that have small populations but that are vacation destinations such as Bermuda, Malta and some of the islands of the West Indies are popular. Areas that are more remote or with smaller less affluent populations have less demand and are often very decorative and well priced.
2. Historical importance. Some maps, particularly those of explorers, are the earliest to depict an area or feature. Other maps might depict an important battle or similar event. Other examples may be imagined geography such as California as an island. Generally the closer such maps date to the event the more importance and thus value they have.
3. Size. Generally the larger the map the more opportunity for detail and decoration. Such maps also display well so they are usually more valuable than smaller maps of the same area or event. Some maps are very large and difficult to display, thus reducing their value.
4. Rarity. Some maps were issued in small numbers and are relatively rare. If other conditions that enhance value, are present the map is further enhanced by rarity, but rarity alone does not create value.
5. Age. For similar maps the older is generally the most valuable, but age alone does not determine value as some very early maps of regions of relatively little interest have relatively little value. Age, like rarity, is more an enhancement of value.
6. Aesthetic qualities. Some early maps were enhanced with large cartouches, sea monsters , ships and other decorative additions. Such maps display well and thus have greater value. Colour and condition also affect value.
CONDITION
Ideally an old map should be in as close condition to the original as possible. If the original owner put the map aside and rarely consulted it and preserved it well the map can be in "as new" condition but such circumstances are rare. The following are some of the usual defects that occur.
1. Stains. Stains come from outside influences or might result from the aging process. Stains might be water, coffee or similar liquid, wax even, these are all things that can fall on the map in the course of its use. Even dust and dirt or soiled fingers can affect a map. Older paper usually is of such quality that it deteriorates only slightly with age, but since about 1820, cheaper paper has been used and this can deteriorate much more quickly. Browning or oxidation of the paper usually appears at the edge or along the crease where it is exposed to the air. Foxing or mildew spots also occur. A skilled paper conservationist can often reduce or eliminate these problems, but not always.
2. Tears. These occur through use. Large maps were often folded and are weakest at the folds. Other maps were folded into a binding and often tear at the fold. Atlas maps often have a centerfold that is vulnerable to tearing. As a rule, the more visible a tear is in the image the greater the problem. Again, a skilled paper conservationist can often reduce or eliminate these problems.
3. Margins. It is desirable to have a margin on each side of at least a quarter-inch on each side if for no other reason than to enable framing to occur. Some maps were not published with such margins or they have been trimmed. Such trimming reduces value. A "false margin" can sometimes be added for aesthetic or practical reasons.
4. Creases. The crease on the centerfold or other fold that occurred when the map was issued can often be flattened or reduced. If this is done and they are not obtrusive it does not affect the value, as all examples of the same map would have similar creases. Other creases resulting from mishandling affect value due to the extent that they interfere with the appearance of the map.
5. Backing. Maps have often been dry mounted or glued to another surface. This can often reduce the value a great deal, as the glue or backing can contain substances that make the map susceptible to wear, discoloration or other deterioration. A skilled paper conservationist can often remove the map and reduce the side effects.
Sometimes folded maps have deteriorated to such an extent that they are professionally rebacked with tissue or rice paper. This usually enhances value compared to a map that needs restoration.
1. Contemporary Colour. Colouring varies with old maps. When they were produced, some maps were fully colored at the time, some were partly colored, some were colored in outline, and many not colored at all. When maps were colored at or close to the time of production, it is referred to as contemporary color as it is contemporary to the printing of the map. Maps were originally colored to enhance appearance and readability. Generally, three or four colors (green, pink, orange and yellow) distinguished political subdivisions, black was used for names, red-coloured cathedrals or other buildings distinguish large cities and blue stands for water.
2. Modern Colour. Often older maps issued without color have color added in whole or in part. Any color added long after the map was issued is referred to as modern color. Modern color can be skillfully applied or less so but it usually is in outline and may or may not be historically correct. If it is skillfully applied and historically correct it is often difficult to distinguish from contemporary color. If you are in doubt you can ask a map dealer. Usually, they can distinguish between the two.
3. Pros and Cons. Most dealers and collectors agree that contemporary full color is best and that bad modern color is undesirable but after that there is a substantial lack of agreement. Many uncolored maps are much more attractive with skillfully applied modern color. A few collectors prefer maps only originally issued in color, or not, but most dealers agree that skillful modern color enhances interest and thus the value of many maps. It is very much an individual collector's choice.
Very few maps have been deliberately faked to deceive but some have been reproduced and occasionally they are confused with the original. There are some obvious signs that they are reproductions.
1. Size. Reproductions are usually larger or smaller than the original. If you can determine the size of the original map comparisons are easily made.
2. Folds and plate marks. Older maps were often produced by a copper plate and then folded at least once into a volume. These marks are obvious on the original and usually still physically present. On a reproduction, they can often be seen but they are flat photographic images.
3. Colour. Most early maps were colored by hand and brush strokes can often be discerned. Reproductions usually use printed halftones and the small dot patterns can be seen with a magnifying glass.
4. Legends. Reproductions that are not intended to deceive usually identify themselves with fine print that includes modern dates or printing houses.
5. Paper. Early paper is made with a high rag content. Chain marks, watermarks and similar features can be seen in the bright light. Reproductions on modern paper lack such features.
6. Aging Process. Old paper usually looks old. The edges will be slightly worn and perhaps soiled. When in doubt, most experienced map dealers can identify reproductions without difficulty.
Most early maps were produced using handmade rag paper. By holding an original map up to the light you will see the chain & wire marks, or the impression of the grid that the pulp was pressed onto to dry. Watermarks can also sometimes be seen in the paper. Secondly, the texture of handmade rag paper is slightly rough to the touch. Run your fingers over it lightly and you'll feel the texture, but don't rub your fingers over the image as oils from the fingers can be destructive to the engraving. Thirdly, a plate mark is usually evident around the perimeter of the map image. This is the impression made by the edge of the copper plate itself. As reproductions have been mostly produced using lithographic processes, and on commercial grade paper, the appearance of the image is flat and smooth to the touch. Under magnification, printed dots appear over the surface. There are no plate marks or, incised lines, on the image.
STORAGE
Museums keep their storage areas at an optimum temperature of around 70 degrees F, and relative humidity of 50%. If conditions cannot be kept to this ideal (and historic houses, for example, often are not air-conditioned), avoiding extremes, such as the very high heat in an attic, and avoiding major fluctuations, such as an the unheated building that gets cold in the winter, but hot in the summer should help from a preservation standpoint. If it's always warm and humid that's better than warm and humid, then cold and dry, then warm and humid again.
It always makes sense to keep any work on paper out of direct sunlight and use UV filtering glass. Check periodically for signs of foxing or mold, as that is one of the common problems with paper and high humidity.
Then there are some interesting products out: Fuji Silysia Chemical Ltd. has a line of products called Art-sorb, which is supposed to absorb and desorb moisture depending on the climate changes and protect the artwork. It comes in various forms including sheets. Their number is (800) 795-9742 and they are in Oregon, USA.
If you want to consult a conservator; The American Institute for Conservation of Historic and Artistic Works gives Referrals. They're in Washington, DC, at (202) 232-6636.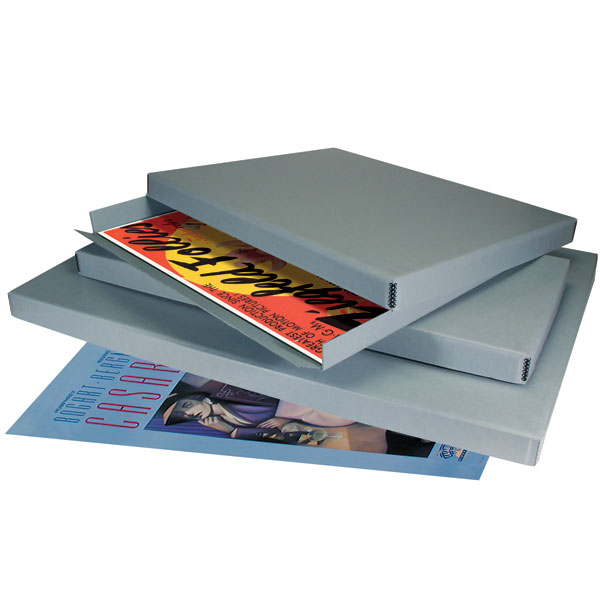 Archival Box
Each of these specifically designed archival boxes are custom manufactured. Made from exclusive Perma/Dur B-Flute Single Wall Corrugated Board (which by design is extremely strong, lightweight, acid-free and lignin free). The box is also buffered with 3% calcium carbonate for an alkaline reserve in all three layers for maximum protection against acids. This exclusive board is made of fully bleached virgin fibers and is very durable.
The board is single wall (0.125") with a pale blue/gray color. The two smaller boxes feature metal edge construction while the largest box is a ready-to-assemble design which provides more structural integrity for its large size. All feature fully telescoping lids.
Use Acid-Free Interleaving Tissue paper to separate each map. You may either use Unbuffered or Buffered tissue paper.
Unbuffered Tissue paper is acid-free and is recommended for use with colored prints, textiles and watercolors. Cyanotype, dry transfer, or chromogenic prints also require unbuffered tissue. This tissue is an excellent choice for separating prints, drawings or lithographs and protecting artifacts. In addition, unbuffered tissue is used with silk, leather, and other animal protein-based textiles. Very thin (.001) 16 gm2 acid-free tissue with a 3% calcium carbonate buffer added. Buffering agents will help neutralize acids and prevent acid migration to the objects that the tissue is used to protect. Buffered interleaving tissue extends the life of paper, photographs, textiles, and artifacts. Use for most photographs, including black & white, color & albumen prints.
Available in packages of 100 sheets or rolls.
Contact University products - the archival company for more info and prices.



CUSTOM ARCHIVAL FRAMING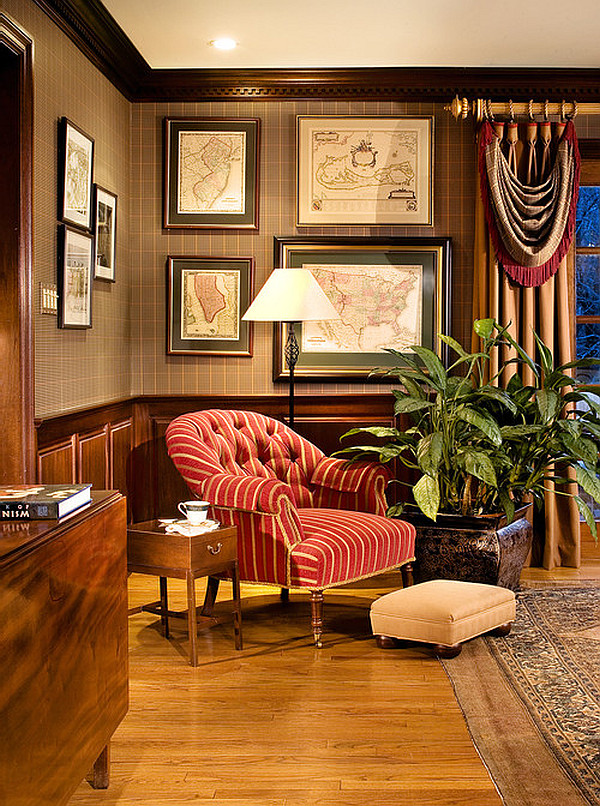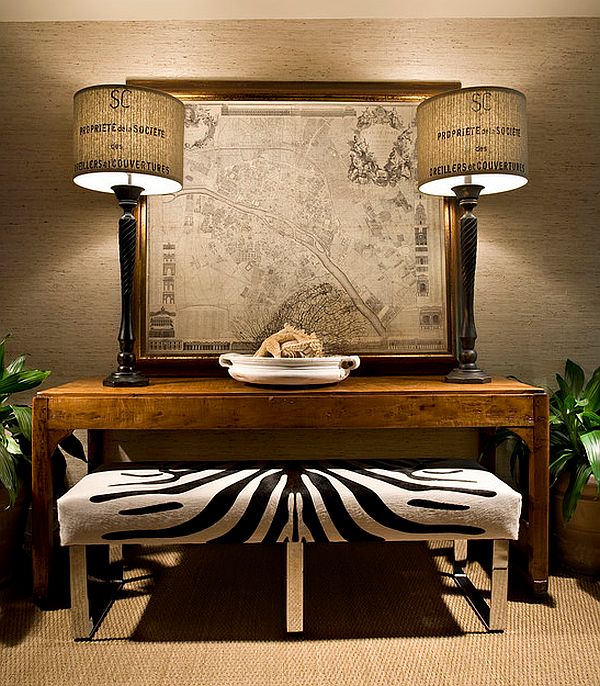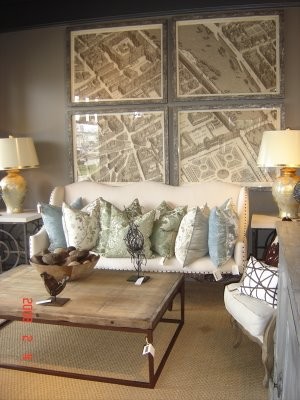 In framing, the materials that directly contact your art are of the greatest importance. Using non-archival (acidic) or inappropriate materials to adhere to or support artwork can result in unnecessary damage and a possible decrease in the artwork's monetary value.

Reversibility is essential when adhesives are used to hinge artworks to their supports.

Following are a few basics:



Museum Boards


Ask for museum-quality rag mat boards that come in a variety of widths and natural tones and are designed to protect and preserve your artwork. They are not only acid-free but are designed to absorb acid from the art as well as the environment. Photographic work, for example, requires a specially treated museum board, formulated specifically for its photochemical make-up.

Backing Boards
A matted or floated artwork is backed for further protection with an acid-free corrugated board or a corrugated plastic board when drastic humidity changes are a concern. It is then sealed with paper tape, which protects the artwork while allowing an exchange of air.

Hinging
Hinging is the process of attaching works on paper to a backing board, or support, often for the purpose of "floating" the artwork. This is done as an alternative to "over-matting" in which the mat is placed over the artwork. As with the selection of matting and frames, hinging must be tailored to the artwork in question. Depending on the weight of the paper on which the artwork is made, an appropriate hinge is chosen that will support the piece without restricting its natural movement over time. All hinges are made from acid-free Japanese papers. Our adhesives are also acid-free and reversible.



Glazing


Glazing refers to the use of either glass or plexiglass as a practical barrier between your art and the atmosphere in which it is hung. This is necessary because of moisture, smoke, acidic fumes and a host of threatening conditions artwork often faces. Typically, we recommend the use of plexiglass over the glass, as it is clear and visually indistinguishable from glass, yet will not break and pose a threat to your safety or that of your artwork. Museum quality UV-filtering plexiglass and glass are available and recommended for valuable artwork on paper and color photography to protect them over time from the color-fading UV-rays. These products also offer anti-reflective and anti-static properties.

Text by Conservation framing services



Tru-Vue sells high-performance glazing to custom frame shops, to museums and galleries across the globe, to anti-reflective custom coatings for commercial applications.
Whether it's Museum Glass®, Conservation Clear®, or Optium® Acrylic Glazing.

Contact : Conservation framing services, New York, NY.


 

1. Books. No single book tells everything there is to know about map collecting. Libraries often have books on cartography and some are offered by large book dealers or map dealers.

2. Dealer catalogs. Most larger dealers issue catalogs of material. There are often well documented and useful. Occasionally back issues of catalogs appear at used book stores but dealers often have back issues that are available for collectors.

3. Map Societies and networking. Many large cities have map societies and local inquiries will usually locate them. Also, map collectors can sometimes be located on the World Wide Web.

4. Cartographic Journal. Become a member of one of the map collector' societies worldwide. Many produce journals with interesting topics.

Here is a list of most of them.

Cartographic journals
IMCoS Journal
Journal of the International Map Collectors' Society. This contains a calendar of events, articles on various aspects of mapping, a selection of the papers presented at IMCoS Symposia, summaries of meetings, book reviews, exhibition news, letters to the editor, reports from International Representatives, messages from the society officers and advertisements.
www.imcos.org/

Imago Mundi, The International Journal for the History of Cartography
Imago Mundi is the only English-language scholarly periodical devoted exclusively to the history of maps, mapping and map-related ideas. It deals with all facets of the history and interpretation of maps and map-making in any part of the world, at any period. The journal is now multi-disciplinary and over the last few years, Imago Mundi has carried the insights of geographers, historians, art historians, historians of science, social scientists, and literary scholars.
www.maphistory.info
ISSN 0308-5694

Cartographica Helvetica
Cartographica Helvetica is a communication tool between scholars, map collectors and dealers. It aims to provide information on every aspect of early maps, their history as well as production methods. It is published in German (with English and French Summaries of the feature articles). However, the themes are international in scope. The articles deal with both Swiss and international maps and mapmakers.
www.kartengeschichte.ch/ch/d-main.html

Brussels Map Collectors Circle
The Brussels Map Circle publishes an illustrated magazine, Maps in History, three times per year, in January, May, and September. The newsletter offers articles and contributions by members and specialists; reports on past activities of the Circle and its future program; reviews of specialized books and exhibitions an agenda of national and international events.
www.bimcc.org

Caert-Thresoor, the Dutch Cartographic Journal
Caert-Thresoor is the only magazine published in The Netherlands to devote its efforts to the history of cartography. The articles pay attention to various aspects of historical cartography, such as plans of towns, fortifications and gardens, developments in styles of decoration and activities of individual mapmakers, engravers and publishers. Room is available for contributions on Dutch maps collections and for announcements of findings of unusual items. Generally, each issue contains two or three articles, reviews, news, and announcements — Varia Cartographica — and listings of new literature and facsimile's. The language of the publication is Dutch, articles have a summary in English.


Worldwide History of Cartography Project
The History of Cartography Project is a research, editorial, and publishing venture drawing international attention to the history of maps and mapping. The Project's major work is the multi-volume History of Cartography series. It's inter-disciplinary the approach brings together scholars in the arts, sciences, and humanities. Organized by region and time period, the History of Cartography looks at maps in the context of the societies that made and used them.
www.geography.wisc.edu

The Portolan - Journal of the Washington Map Society
The Portolan, published thrice-yearly, was established to keep members informed of upcoming meetings, exhibitions, seminars and conferences; to provide listings of new books dealing with the history of cartography; and to provide information of specific interests to the membership. It has grown to nearly 80 pages, with original research and articles of interest to subscribers and institutions worldwide. An index and contents listing is at the website.
http://www.washmapsociety.org
ISSN 1096-1925

e-Perimetron
A non-for-profit peer reviewed international journal that deals with humanistic, artistic, scientific and technological issues related to map history and cartographic heritage.
http://www.e-perimetron.org/
ISSN 1790-3769

The Globe
The Globe is the journal of the Australian and New Zealand Map Society Inc. (ANZMapS). It includes selected papers from the ANZMapS annual conference, contributed articles, reviews and reports. Articles and papers are peer-reviewed.
https://www.anzmaps.org/publications/
ISSN 0311-3930

Historia y Mapas
A blog about the history of cartography written in Spanish and English by our Member Luis A. Robles Macías


https://historiaymapas.wordpress.com/




Finaly

Our best advice is to buy a map or two you find interesting. Try to learn about the map. Who published it how and when? What information does it contain that is interesting? Why? What is omitted? The collector would be surprised how much can be learned from this approach.