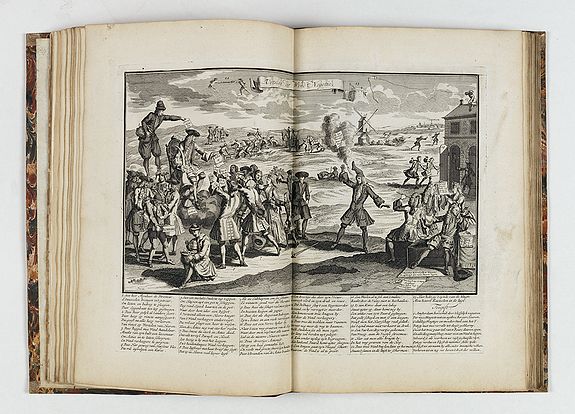 Het Groote Tafereel der Dwaasheid. - ANONYMOUS
Click image to

in.


Title : Het Groote Tafereel der Dwaasheid..
Map maker : ANONYMOUS.
Date : Amsterdam, 1720.
Size : 14.4 x 9.8 inches. / 36.5 x 25.0 cm.
Colouring : Uncoloured.

Description :
AN EARLY ISSUE of this biting and vulgar satire on the Mississippi and South Sea Bubbles and an extraordinary visual record with 78 plates of the first banking crash, showing the shocking effects of the " South Sea Bubble" in France, England and Holland, and placing John Law (1671-1729), with his Mississipi company scheme, squarely at the center of the disastrous chain of events.

This copy has 61 copper-engraved plates and maps, most double-page and a few folding on 58 pages. The 4 Bombario Auctionist's prints (1-4) printed on separate paper are mounted on a two single pages.
The text provides the charters of important companies floated in various Dutch cities during the period of bubble fever, and the plates expose the principals of these companies to merciless ridicule. "The combination of such prosaic data with the numerous satirical engravings, with the reprint of comedies and satires, and with a description of bubble playing cards offers the student a unique historical document, the like of which was not thrown up by the speculative manias in either France or England" (Cole, The Great Mirror of Folly… An Economic-Bibliographical Study, p.1).
The Tafereel is perhaps an important factor in the slow development of modern corporate organization. "Against the joint-stock manner of business arrangements were thrown the fears engendered by this popular portrayal of the downfall of the 'windnegotie.' Possibly a mere book was really an economic force" (Cole, p.20).

'The engravings, which illustrate the rise and fall of the great speculation, are full of humor; many of them are exceedingly ludicrous, and some very obscene… The number of plates in copies varies from 60 to 74" (Sabin).

Including a portrait Jan Law and the AFBEELDINGHE van't zeer vermaerde Eiland GEKS-KOP. gelegen in de Actie-ze, ontdekt door Mons.r Laurens, werende bewoond door een verzameling van alderhande Volkeren. die men dezen generalen Naam (Actionisten) geest.


One of the most famous cartographic curiosities; The island of Madhead: showing a man's head, wearing a fool's cap, with bell, but with the ears of a jackass.
Cartographic features are given punning names such as the River Bubble, the Island of Despair and the town of 'Madmandam'. Principal names within the map: QUINQUEPOIX: capital of the island, named after the headquarters of the Compagnie in the Rue Quimquempoix, Paris. R: de Seine, R. de Teems & R. de Maas: the principal rivers of the three major countries involved: the Seine (Paris), the Thames (London) and Meuse (Amsterdam). R: de Bubbel: Bubble River Z.Z. have: South Sea Haven, alluding to the English South Sea scheme. M. have: ie Mississippi haven.


Provenance : With book plate of Lady Charlotte Schreiber (1812 - 1895) impassioned collector of porcelain, fans, and playing cards.
Daughter of Albemarle Bertie, 9th Earl of Lindsay. 1833, married Sir Josiah Guest, the Welsh iron magnate and when he died she ran the ironworks; In 1855 she married Charles Schreiber, M.P. Distinguished Welsh scholar. Sir Charles and Lady Schreiber gave nearly 12,000 pieces of English, Continental and Chinese porcelain to the Victoria and Albert museum in 1884. The collection was the creation of Lady Schreiber, rather than her husband. Lady Charlotte kept diaries of her travels and purchases.
In 1911 Montague Guest published "Lady Charlotte Schreiber's Journals" dealing with her collecting 1869-85.
Donations to the BM included her collections of fans (1891) and games (1893); in 1895 bequeathed her collection of playing cards.
¤


Goldsmiths' 5879. Howes G442. Kress 3217. Sabin 28932.
Condition : 2° (365 x 250mm). [2 blank] pp. , 79 copper-engraved plates and maps, most double-page and a few folding on 73 pages. Contemporary gilt-paneled mottled calf, covers with central gilt, the inner panel with floral corner pieces, spine gilt and decorated with floral tool in each compartment , raised spine, with red morocco label "Tafereel der dwaasheid A° 1720". Printed title in black and red, De Conditien van de Compagnien van Commercie en Assurantie..25pp., Aanwyzinge der Prjecten [1 blank], De Windhandel of Bubbels Compagnien, 52pp., Versameling van Gedichten…, 31pp, [1 blank], Papegaay of Actie Kaart, 8pp, Copie van een brief, 9, [2 blank] pp. In general a very good example of this sought after book.


ID: 41212

The item is no longer available for sale.
Click here to see for how much the item sold or the estimated value.

Missed this item? Never miss another item again!