BOOK OF HOURS usage of Liége, Belgium. (Flanders, The Netherlands, ca. 1470) In-8°, containing 108 pages on parchment, Numerous initials at the start of the texts, orations and verses: painted in blue, red and gold. Illustrated with 19 full page minitures and 16 small miniatures, some slightly retouched.
Bound in a 19th century brown calf binding. Spine and boards with blind stamped and gilded decoration. The calander with marginal waterstaining, a few pages with very light marginal browning. Some katerns were bound in a wrong order, 12 irregular katherns. A complete book of hours, with large margins, and fresh.
US $ 50,000
Provenance: At page 1, ex libris in manuscript: Ce manuscrit appartient à sa seigneurie le Marquis henri de Pérignon, chevalier des ordres royaux et militaires de Saint Louis et de la Légion d'Honneur, officier de cavalerie, gentilhomme de la chambre de leurs majestés Louis XVIII, Charles X et Henri .
The manuscript belongs to François Henri de Pérignon, Marquis de Pérignon,
Dominique Pérnoign was born in Grenade, Haute-Garonne, May 3, 1754 in a noble family. His father, Jean-Bernard de Pérignon, is a former provost of the maréchaussée in Santo Domingo. His career began in 1780 as a second lieutenant in the Grenadiers Lyonnais battalion.
In 1782, he was a lieutenant of the Royal Grenadiers of Quercy. Disappointed by the slowness of the promotion, he resigned and went into politics: in September 1791, he was elected deputy of the Haute-Garonne to the Legislative Assembly.
At the outbreak of war in September 1792, he resumed service in the Legion of the Pyrenees with the rank of lieutenant-colonel. In 1793 he was appointed brigadier general and then general of division.
He distinguished himself at the time of the capture of Boulou, then at Junquera, June 7, 1794, and at the Battle of Sierra Negra. At the death of General Dugommier, Pérignon replaces him at the head of the army of the Pyrénées-Orientales.
He is then elected to the Council of Five Hundred. It is thanks to his victories that Spain is forced to sign peace. As a reward, in 1797, he was appointed ambassador to Spain and in May 1799, placed at the head of the Ligurian army. At the battle of Novi, August 15, 1799, he was seriously wounded and taken prisoner. He did not return to France until June 1800. He was appointed senator in April 1801, vice-president of the Senate in October 1802, and was promoted to Marshal of the Empire on May 19, 1804.
It is Pérignon who holds the scepter of Charlemagne during the coronation ceremony. He became governor of Parma and Piacenza in 1806, count of the Empire in 1808 and governor of Naples.
In 1814, he rallied to Louis XVIII who conferred on him the title of president of the commission of the examination of the titles of the former officers. He is a peer of France the same year and governor of the 10th military division. He tried to raise the Midi during the Hundred Days, against Napoleon who then removed from the list of marshals.
After the second abdication, King Louis XVIII restored to him the dignity of Marshal of France, and made him Marquis and Peer of France. He died of illness in Paris on December 25, 1818.

Below the ex-libris is a heraldic composition evoking the arms of the possessor: a ram with his head summoned by a patriarchal cross; all crowned by a marquis crown.


HEURES usage à l'usage de Liège. (ca. 1470) In-8 de 108 ff. sur parchemin, complet, mais les cahiers ont été reliés dans un mauvais ordre, 12 cahiers irréguliers ; veau fauve, plats ornés d'un décor à froid, dos à nerfs, tranches rouges (reliure du XIXe siècle).
Provenance : Au f. 1, ex-libris manuscrit : Ce manuscrit appartient à sa seigneurie le Marquis henri de Pérignon, chevalier des ordres royaux et militaires de Saint Louis et de la Légion d'Honneur, officier de cavalerie, gentilhomme de la chambre de leurs majestés Louis XVIII, Charles X et Henri .
Le manuscrit appartient à François Henri de Pérignon, marquis de Pérignon, lieutenant-colonel, gentilhomme de la chambre du Roi, pair de France par hérédité (23 février 1819) ; il fut admis au titre de marquis-pair, sur promesse d'institution d'un majorat de paierie, par lettres patentes du 14 avril 1824. Il était né à Montech, le 23 février 1793 et mourut à Grenade le 12 octobre 1841.
Sous l'ex-libris une composition héraldique évoque les armes du possesseur : un bélier passant et contourné, la tête sommée d'une croix patriarcale ; le tout couronné par une couronne de marquis.
Séquence des textes:
1. ff. 2-7 : le calendrier. Encre rouge et brune. Justification 115 x 75 mm.
2. ff. 8-11 : 4 passages des Evangiles :
- Saint Jean 1, 1-14. Prologue
- Saint Luc 1, 26-38. L'Annonciation.
- Saint Matthieu2, 1-12. L'Epiphanie du Seigneur.
- Saint Marc 16, 14-20 (sans le premier mot Novissime). L'Apparition aux Disciples.
3. ff. 12-15 : Heures de la Sainte Croix. Uniquement les Hymnes et les collectes des heures.
4. ff. 15v°-17v° : Heures du Saint Esprit. Il n'y a que les Hymnes et les collectes des offices de vigiles, prime, tierce, sexte, none et vêpres.
5. ff. 18-20 : fin d'un office suivie de la messe Salve Sancta Parens.
6. ff. 21-22 : fragment de la prière à la Sainte Vierge Obsecro Te Domina.
7. ff. 23-28 : partie de l'office des matines de l'office de la Sainte Vierge, uniquement les nocturnes II et III.
8. ff. 29-35v° : les laudes de l'office de la Sainte Vierge.
9. ff. 36-38 : prime de l'office de la Sainte Vierge.
10. ff. 39-41 : tierce de l'office de la Sainte Vierge.
11. ff. 42-44r° : sexte de l'office de la Sainte Vierge.
12. ff. 44v°-46 : none de l'office de la Sainte Vierge.
13. ff. 47-51 : vêpres de l'office de la Sainte Vierge.
14. ff. 52-55r° : complies de l'office de la Sainte Vierge.
15. f. 55v° : Début de l'office des vêpres de la Sainte Vierge pour le temps de l'Avent.
16. f. 56r° : épaves de prières mariales.
17. ff. 56v°-57 : prière à la Sainte Vierge et à Saint Jean l'Evangéliste.
18. ff. 58-65v° : antiennes de Magnificat, repons et oraisons pour les offices des saints.
19. ff. 66-70v° : premier nocturne et début du second des matines de l'office des matines de la Sainte Vierge. (La suite est au f. 23).
20. ff. 71-75r° : suite de l'office de la Sainte Vierge pour le temps de l'Avent : vêpres, complies, matines et laudes. (Suite du f. 55v°).
21. ff. 75v°-87r° : les sept psaumes de la pénitence (6,31, 37, 50, 101, 129, 142) avec l'antienne Ne reminiscaris, suivis des litanies majeures et de leurs oraisons.
22. ff. 87v°-108 : les matines et les laudes de l'office des morts.
Peintures
:
Exemplaire soigné. Réglure à la plume. Initiales très nombreuses en tête des textes, oraisons et versets : peintes en bleu, rouge et or, avec filigranes.
19 grandes peintures et 16 petites miniatures, certaines légèrement retouchées :
-f. 8 : saint Jean l'Evangéliste.
-f. 9 : saint Luc
-f. 10 : saint Matthieu.
-f. 11 : saint Marc.
-f. 12 : la Crucifiction.
-f. 15v° : la Pentecôte.
-f. 21 : la Vierge à l'Enfant entourée d'anges.
-f. 29 : la Visitation.
-f. 36 : la Nativité.
-f. 39 : l'Annonce aux bergers.
-f. 42 : l'Adoration des Mages.
-f. 44v° : la Présentation au Temple.
-f. 47 : le Massacre des saints Innocents.
-f. 52 : la Fuite en Egypte.
-f. 55v° : le Couronnement de la Vierge.
-f. 56v° : la Pieta.
-f. 66 : l'Annonciation.
-f. 75v° : la Résurrection des morts.
-f. 87v° : un service funéraire.
-f. 58 : saint Jean-Baptiste.
-f. 58v° : saint Pierre.
-f. 59 : saint Paul.
-f 59v° : saint Jean Evangéliste
-f. 60 : saint André.
-f. 60v° : saint Jacques.
-f. 61 : saint Etienne.
-f.61v° : saint Laurent.
-f. 62 : saint Vincent.
-f. 62v° : saint Victor.
-f. 63 : saint Martin
-f. 63v° : sainte Agathe.
-f. 64 : sainte Barbara.
-f. 64v° : sainte Marguerite.
-f. 65 : sainte Marie-Madeleine.
-f. 65v° : sainte Anne.

About Medieval Manuscripts
The medieval Book of Hours evolved out of the monastic cycle of prayer which divided the day into eight segments, or "hours". Those of: Matins, Lauds, Prime, Terce, Sext, Nones, Compline, and Vespers. By the early fifteenth century, the format of the Book of Hours had developed to satisfy the demands of private, as opposed to communal, devotion. These portable books are smaller in format than their monastic forebears, designed for use by individuals, with a liturgical system somewhat less complicated than monastic liturgy and more "user-friendly." A Book of Hours invariably begins with a liturgical calendar, listing feast days in chronological order along with a complicated method of calculating the date of Easter. The seven Penitential Psalms are usually included as well, and additional prayers (devoted to particular saints or personal issues) according to the desires and needs of the owner.
In Books of Hours are preserved some of the finest works of medieval art. Each section of the manuscript traditionally begins with an illuminated miniature that complements the prayers, to stimulate contemplation and meditation in the reader. Because they were expensive and spectacular works of art, the ownership of these manuscripts was limited mainly to royalty, nobility and the very wealthy. They are often adorned with coats of arms, and portraits of patrons may sometimes be found within the miniatures. As their popularity increased, an efficient system of book production and trade developed to match the demand for Books of Hours. Professional scribes produced the texts in one location, the miniatures were painted in artists' workshops, and the two brought together in the bookbinder's hall. Patrons could choose the texts and miniatures they wanted, or purchase complete, generic manuscripts in stationers' book shops. A thriving economy developed around the production of Books of Hours, especially in centers such as Paris, Bruges and Utrecht.
See our inventory of Medieval Manuscripts for sale.
What is an illuminated manuscript?
An illuminated manuscript is a book written and decorated by hand. Its name is derived from the Latin manus meaning hand and "scriptus" meaning writing. Manuscripts which were decorated with gold, silver or bright paint ,are called illuminated, from the Latin "illuminare" meaning to lighten or brighten up.
A large number of manuscripts are covered with painted ornaments which may be presented under several forms:
* initials of chapters or paragraphs, ornamented sometimes very simply, sometimes on the other hand with a great profusion of interlacings, foliage, and flowers; these are developed along the whole length of the page and within are sometimes depicted persons or scenes from everyday life;
* paintings on the margin, in which some scene is carried over several pages;
* borders around the text (interlacing colonnades, etc.), the most remarkable example is that of the evangelistic canons of the Middle Ages;
* full-page paintings (or such as cover only a part of the page), but forming real pictures, similar to frescoes or easel pictures; these are chiefly found on very ancient or very recent manuscripts (fourteenth and fifteenth centuries);

How were illuminated manuscripts made?
During the medieval period, books were written and decorated on parchment, a type of animal skin. Most parchment came from cow skins, which were prepared through an elaborate process that involved soaking, scraping, drying and treating the skins. The finest quality parchment, noted for its thin and supple character, was called vellum. Once the necessary number of vellum skins were prepared and cut to size for pages, they were then marked along both margins with small pinholes. Using these holes as a guide, lines were then inscribed or drawn on the page to establish the layout for the scribes and decorators.
Following this, a calligrapher or scribe would write on the parchment with a reed or feather quill pen. In the early Middle Ages, the best quills came from several varieties of geese found off the coast or England. The scribe used an ink derived either from carbon soot or gall nuts. In one method, carbon soot from beeswax candles or linseed oil lamps was combined with gum arabic to produce an indelible black ink. In the other, gall nuts, the swollen nodules produced by certain insects living in oak trees, was mixed with iron salts, making an ink which eventually turned brown from exposure to the atmosphere.
While the main body to the text was usually written in black or brown ink, colored lines of writing, called rubrics (from the Latin rubrica meaning red), were most often, but not always, written in red. Rubrics served as instructional guides to the reader, providing descriptive headings and marking divisions in the text. Rather than write original works spontaneously onto the page, medieval scribes, more often than not, copied their work from model texts, called exemplars. When the text was completed, the manuscript was decorated or illuminated in the blank spaces the scribe had intentionally left for the illuminator. See our inventory of Medieval Manuscripts for sale.
How were illuminated manuscripts decorated?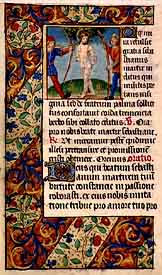 The illuminator, who was a specialist distinct from the scribe, had a repertoire of visual motifs which he, or she, employed to decorate the manuscript according to the nature of the text and the expense of the commission. Letters which began new chapters or important passages in the book could be decorated or historiated. Decorated letters were embellished with geometric, foliate ,and zoomorphic designs, or with mixed elements of all three. Historiated initials, deriving their name from the French "ystoire", served as frames which enclosed small figural or narrative scenes.
To further enliven the text, the margins of the page were often adorned with decorated borders. Their decoration varied from small line drawings of a whimsical character, known as "drolleries," to elaborately painted floral patterns filling the entire border. In some instances, small scenes were incorporated into the border in the form of medallions called roundels or rectangular panels in the lower margin known by their French term, bas de page.
For more expensive commissions, paintings known as miniatures were often included in the decorative program. Miniatures are named not for their small size but from the Latin word "minum", which is a red pigment used in paint. Miniatures enhanced the beauty of the book with narrative and symbolic scenes. Their functions ranged from illustrating the text and dividing the book into sections, to serving as devotional icons and aids to study and prayer. Within this context, a diverse range of regional and personal styles developed; making each manuscript unique in both style and content.
The paint used to decorate manuscripts and paint miniatures came from a variety of sources including oxidized metals as well as vegetable and animal matter in a tempera base. Vermilion was made from mercury and sulfur, while ultramarine blue, a pigment as expensive as gold, was made from crushing lapis lazuli, a semi-precious stone imported from Afghanistan during the Middle Ages. Materials were very expensive, and sometimes substitutes for real gold were used.
Before the thirteenth century, medieval manuscripts were initially produced in monasteries by monks working in the scriptorium, or writing room where books were made. More than five hundred monasteries existed in England alone by the twelfth century, and a typical monastic library might possess over three hundred books in its library. By the beginning of the thirteenth century, the growth of towns and the establishment of universities in Paris, Oxford, and Bologna led to the rise of secular scribes and artists who served students and professors as well as the nobility.
Later in the fourteenth century, a rise in literacy and the development of an upper-middle class created a large demand for illuminated manuscripts. The production of illuminated manuscripts of prayer books for personal devotions, called Books of Hours, increased dramatically.