Blaeu's Theatrum Orbis Terrarum (1635) in 2-volumes.
Willem Blaeu's Atlas production.
Willem Jansz. Blaeu and his son Joan Blaeu are the most widely known cartographic publishers of the seventeenth century. Willem was born either in Alkmaar or in the nearby village of Uitgeest in 1571, and it was there that he received his first schooling. Blaeu was originally educated as a clerk in the herring trade, but later went on to study mathematics, and, in 1594 studied under the astronomer Tycho Brahe. He returned to Amsterdam in 1596 and established himself as a globe, instrument and map-maker.

After purchasing the copperplates of the atlas maps produced by Jodocus Hondius Jr. Blaeu brought out his first atlas in 1630. With this publication a new trend in Amsterdam atlas publication began, characterized by competition with Janssonius / Hondius and an increase in the number of maps.
Blaeu's first atlas was the "Atlas Appendix sive Pars Altera", a modest atlas without text and with only 60 maps. A year later he published a second "Appendix" with Latin text and almost 100 maps.

Willem Blaeu's intention to publish a new 'International edition' of a world atlas is mentioned on February 11th, 1634 in an Amsterdam newspaper.
"At Amsterdam is now being printed by Willem Jansz Blaeu the large book of maps, the Atlas, in four languages: Latin, French, German and Dutch. The one in German will appear about eastern, the ones in Dutch and French in the month of May, or early June at the latest, and the one in Latin shortly thereafter. All editions on very fine paper, completely renewed with newly engraved copperplates and new, comprehensive descriptions."

Despite the fact that Blaeu's newspaper announcement early in 1634 started that the atlas was 'now being printed', only the German edition of the atlas was completed in that year, though not in its final form. The other editions in Latin, Dutch and French all have a 1635 publication date. The French text edition has a preface dated I July 1635 and counts 208 maps. 0ne map more than the Latin and Dutch editions - only the German and French edition included De Hertochdommen Gulick Cleve Berghe (2381:2A)
The publication of the third and fourth volume took much longer than expected and around 1640, the third volume, including maps of Italy and Greece, was finished and volume 4 appeared only in 1645. Together with his third volume Blaeu published a new edition of his first two volumes which included 24 new maps. Making this 1635 edition rare.

This French edition is from all four 1635-language editions the most interesting as it contains 19 maps in an early state, and several in a pre-1635 state.


- Novus XVII Inferioris Germaniae (3000:2.1) with signature "Gedruckt by Willem Ianszoon.." Signature changed in 1643.


- Hollandia Comitatus (3400:2A) is the rare map of Holland only used in the 1631 edition and the French text editions of 1635-1638.


- Hollandiae pars Septentrionalis Vulgo WestVriesland en 'T Noorder Quartier, (3407:2) The rare early variant with The "Schermer" as a lake and the Heerhugowaard as a blank space without name, only used till 1642.

- Quarta Pars Brabantiae cajus caput Sylvaducis (3113:2) with in the borders five blank shields for coats of arms, only used till 1642.

- Thuringia Landgraviatus (v.d.Krogt/Koeman 2120:2.1) with dedication to Joachim a Wickevoort. Plate was changed in 1642.


- The map of the Western Hemisphere in a 3th state according to Ph.Burden. (In states 4 and 5 newly engraved sea around some of the decorative embellishments.)

- The map "Insulae Americanae in Oceano Septentrionali" (Burden, America 242) was published for the first time in Blaeu's 1635 edition of the Theatrum Orbis Terrarum.


- Novus Brasilae Typus (9850:2A.1) A decorative map with a title cartouche of two natives; in the interior is an inset of Baya de todos os Sanctos (Salvador), indigenous wild life and cannibal scenes. Originally engraved by Hondius, this is one of the plates purchased by Blaeu in 1629 to augment his own stock. Replaced in 1640 by a new map.





Willem Blaeu and the Amsterdam map production.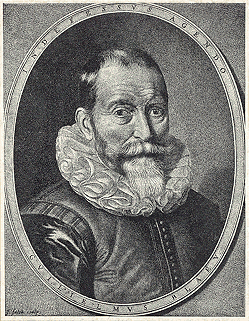 At the beginning of the seventeenth century Amsterdam was becoming one of the wealthiest trading cities in Europe, the base of the Dutch East India Company and a centre of banking and the diamond trade, its people noted for their intellectual skills and splendid craftsmanship.

At this propitious time in the history of the Northern Provinces, Willem Janszoon Blaeu, who was born at Alkmaar in 1571 and trained in astronomy and the sciences by Tycho Brahe, the celebrated Danish astronomer, founded a business in Amsterdam in 1599 as a globe and instrument maker.
It was not long before the business expanded, publishing maps, topographical works and books of sea charts as well as constructing globes.
His most notable early work are globes starting in 1598, map of Holland (1604), a fine World Map (1605-06) and Het Licht der Zeevaerdt (The Light of Navigation), a marine atlas, which went through many editions in different languages and under a variety of titles. And some inovating wall maps, among them his map Pascaarte van alle de Zécuften van EUROPA..
At the same time Blaeu was planning a major atlas intended to include the most up-to-date maps of the whole of the known world but progress on so vast a project was slow and not until he bought between 30 and 40 plates of the Mercator Atlas from Jodocus Hondius II to add to his own collection was he able to publish, in 1630, a 60-map volume with the title Atlantis Appendix.
It was another five years before the first two volumes of his planned world atlas, Atlas Novus or the Theatrum Orbis Terrarum were issued. About this time he was appointed Hydrographer to the East India Company.
It ought to be mentioned here that there is often confusion between the elder Blaeu and his rival Jan Jansson (Johannes Janssonius). Up to about 1619 Blaeu often signed his works Guilielmus Janssonius or Willems Jans Zoon but after that time he seems to have decided on Guilielmus or G. Blaeu.
In 1638 Blaeu died and the business passed into the hands of his sons, Joan and Cornelis, who continued and expanded their father's ambitious plans.
We offer the following antique maps published by the publishing house of Willem and Joan Blaeu: