Johannes Janssonius, was born in Arnhem where his father was a bookseller and publisher (Jan Janszoon the Elder). In 1612 he married the daughter of the cartographer and publisher Jodocus Hondius, and then set up in business in Amsterdam as a book publisher. In 1616 he published his first maps of France and Italy and from then onwards he produced a very large number of maps, perhaps not quite rivaling those of the Blaeu family but running a very close second in quantity and quality. From about 1630 to 1638 he was in partnership with his brother-in-law, Henricus Hondius, issuing further editions of the Mercator/Hondius atlases to which his name was added. On the death of Henricus he took over the business, expanding the atlas still further, until eventually he published an 11-volume Atlas Major on a scale similar to Blaeu's Atlas Major.
The first full edition of Jansson's English County Maps was published in 1646 but some years earlier he issued a number of British maps in the Mercator/Hondius/Jansson series of atlases (1636-44); the maps were printed from newly engraved plates and are different from the later 1646 issue and are now rarely seen (see Appendix B for further details). In general appearance Jansson's maps are very similar to those of Blaeu and, in fact, were often copied from them, but they tend to be more flamboyant and decorative.
After Jansson's death his heirs published a number of maps in an Atlas Contractus in 1666, later still many of the plates of his British maps were acquired by Pieter Schenk and Gerard Valck who published them again in 1683 as separate maps.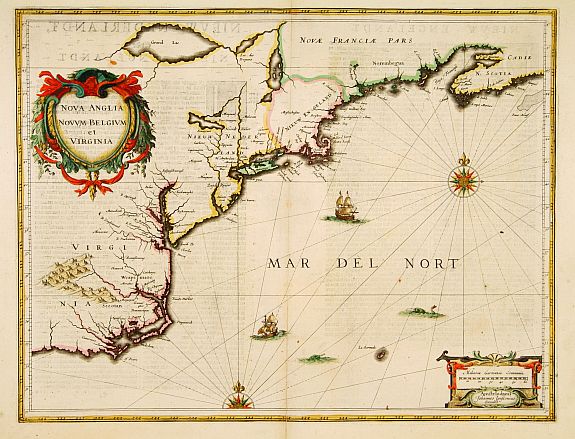 JANSSONIUS,J. - Nova Anglia Novum Belgium et Virginia.
Amsterdam 1636, In original colours.. 387x504mm. In good condition. Repair of split lower part centre fold 10cm into engraved area. Minor shinetrue of letterpress of verso, as usual.
In the 1636 edition of the Appendix , Johannes Janssonius inserted this important and influential map of the eastern seaboard from C. of Feare (Cape Look out) to Nova Scotia, based on Johannes de Laet's prototype map. De Laet was a director of the Dutch West India Company, which controlled th... (Go to Item Page)

Condition:


JANSSONIUS,J. - Nova Helvetiae Tabula.
Amsterdam 1639, In attractive original colours. 360x484mm. A good and dark impression. Paper slightly age-toned, as usual. Generally good.
A most detailed and early map of Switzerland.... (Go to Item Page)

Condition: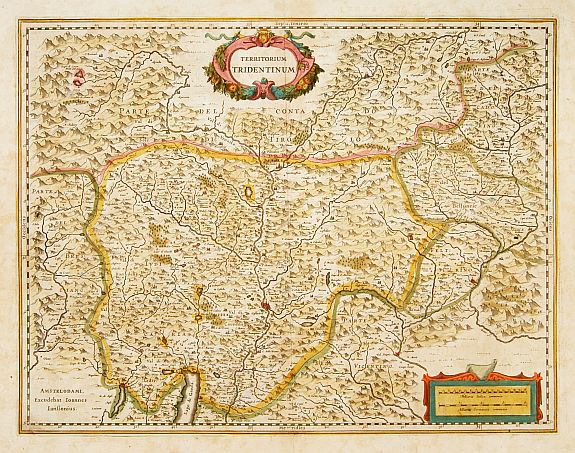 JANSSONIUS,J. - Territorium Tridentinum.
Amsterdam 1639, In attractive original colours. 374x485mm. With usual slight age-toning. In good condition. Dark impression.
Detailed map centered on Trento. Showing the Dolomites mountains, northern tip of Lake Garda, Bolzano, etc.... (Go to Item Page)

Condition: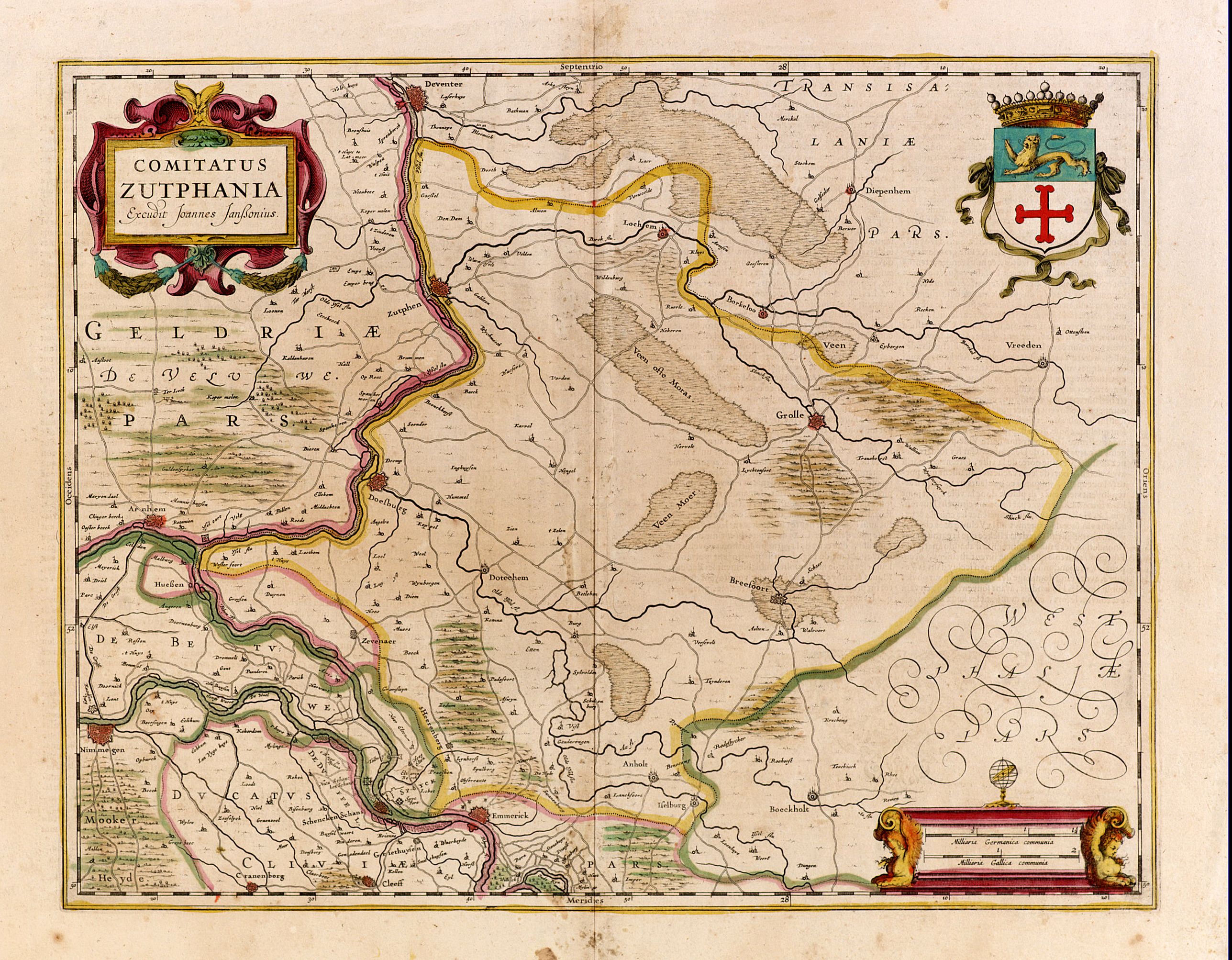 JANSSONIUS,J. - Comitatus Zutphania.
Amsterdam 1639, Original colours.. 465x564mm. Paper slightly age-toned. Altogether good condition.
A very detailed map of this area, including Arnhem, Nijmegen, Zutphen, Groenlo, etc.... (Go to Item Page)

Condition:


JANSSONIUS,J. - Polus Antarcticus.
Amsterdam 1640, Original colours.. 435x491mm. Some minor browning. Good impression. In good condition.
A circular map within a square frame showing southern parts of South America, South Africa and the South coasts of Australia. The corners are completely filled in with large vignettes of native scenes including a representation of a penguin.
A re-issue of de Wits's plate.... (Go to Item Page)

Condition: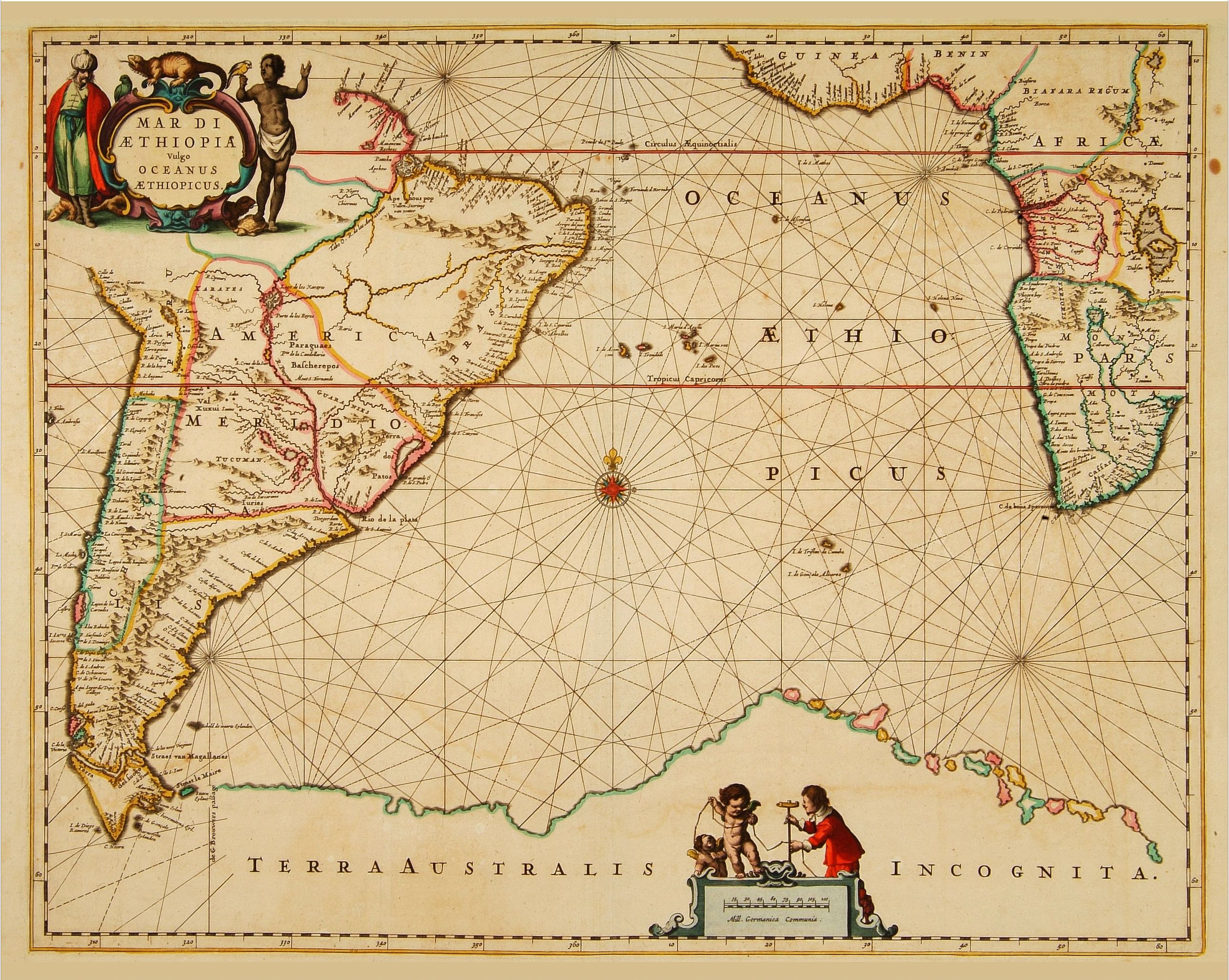 JANSSONIUS,J. - Mar di Aethiopia.
Amsterdam 1640, In original colours.. 435x558mm. A good impression with some very minor age toning as usual. Very fine. Several town spots heightened with gold.
This chart from Johannes Janssonius' sea-atlas 'De Water-Weereld' covers the area between the Cape of Good Hope and the most southern tip of South America. Giving many place names along the Brazilian coast.
Included is a large southern continent.... (Go to Item Page)

Condition:


JANSSONIUS,J. - Gouvenerment General Du Pays Orleanois.
amsterdam 1640, In original colours.. 462x591mm. In good condition. Very fine original colours.
Detailed and decorative map of the area south west of Paris. Including the towns of Paris, Oréans, Angers, Nantes, Tours, Rennes, Oléron Island, etc.
Decorative cartouche with wine grapes, putti and coat of arms.... (Go to Item Page)

Condition: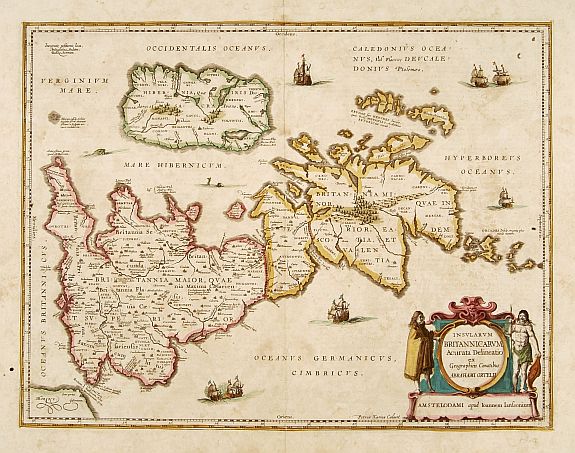 JANSSONIUS,J. - Insularum Britannicarum acurata delineatio..
Amsterdam 1642, In original colours.. 394x512mm. Paper slightly age toned and water staining in margins. Repair of split lower part center fold.
A map of the Roman Britain as seen during the third and fourth centuries. Roman place names as well as Hadrian's Wall and the Wall of Pius appear on the map, identifying the era represented.
Engraved by Petrus Kaerius. Prepared by A.Ortelius. Ortelius divides the entire island into Britannia Maio... (Go to Item Page)

Condition: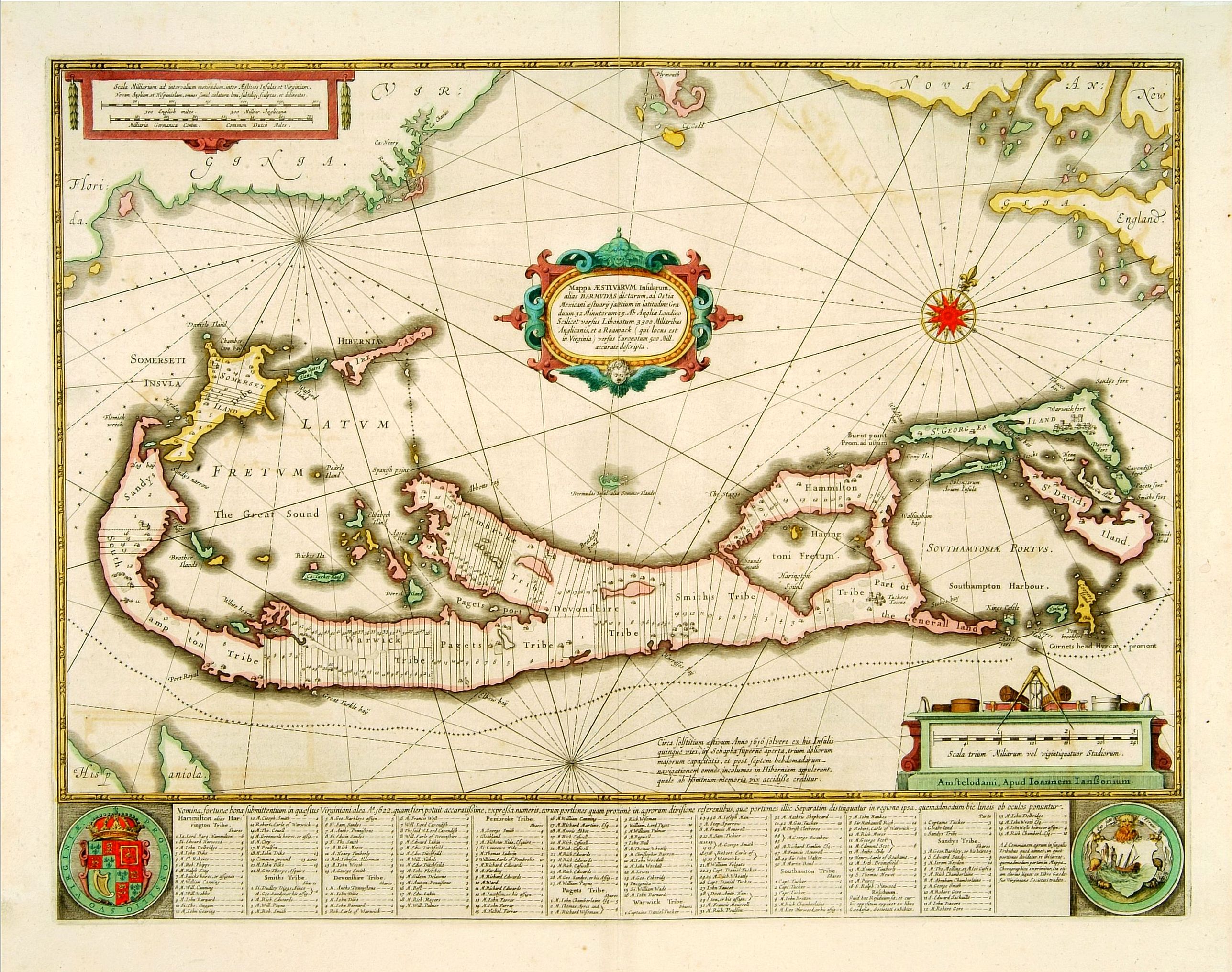 JANSSONIUS,J. - Mappa Aestivarum Insularum, alias Barmudas..
Amsterdam 1645, In original colours.. 390x513mm. In attractive colours. Repair of small split in upper part center fold, hardly affecting engraved area. Good impression.
It shows the island Bermuda divided into tribes and lots, and below the map itself appear the names of the first proprietors and the number of shares assigned each.... (Go to Item Page)

Condition: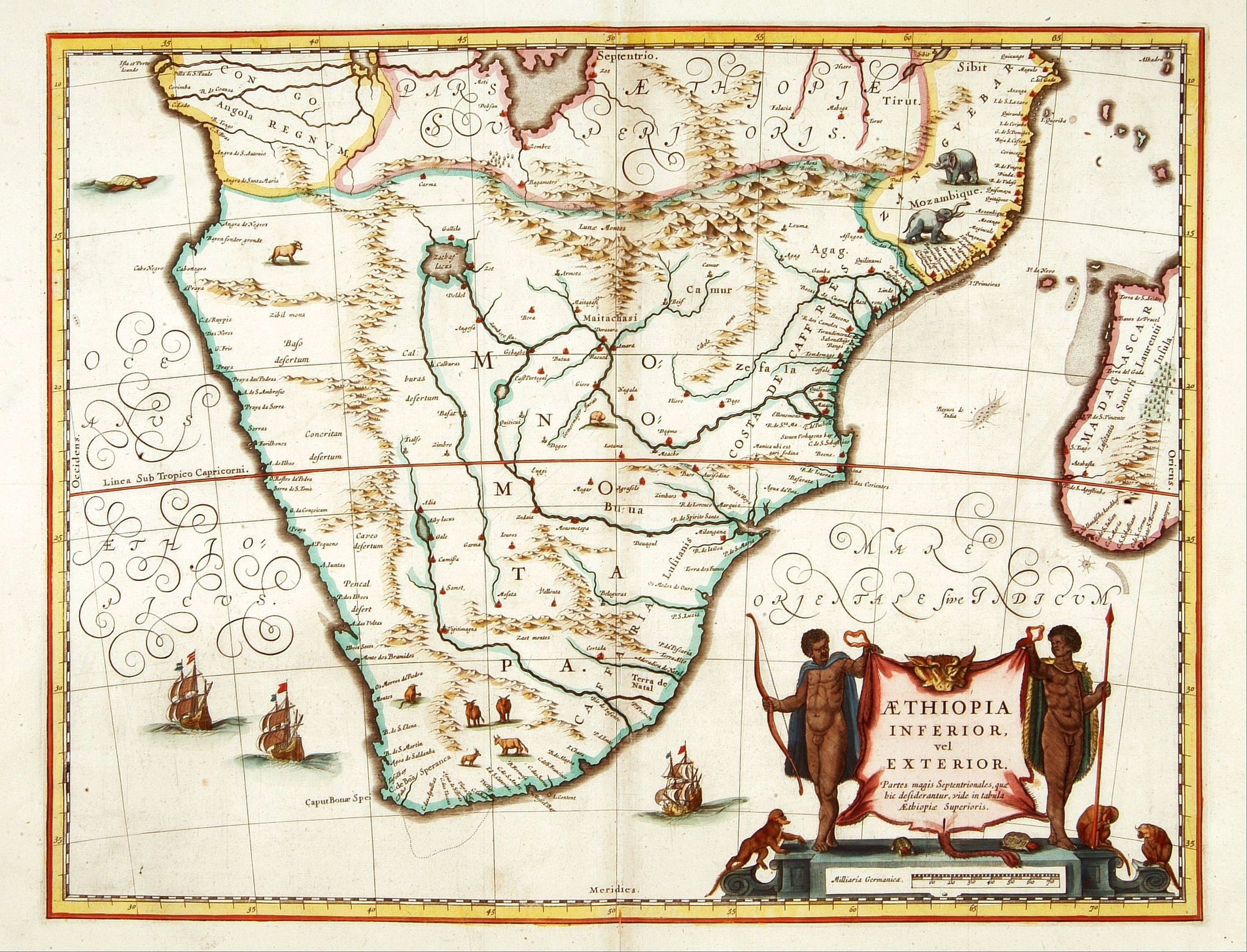 JANSSONIUS,J. - Aethiopia inferior, vel exterior.
Amsterdam 1645, Coloured.. 378x496mm. A fine copy in attractive colours. No text on verso.
The standard map of South Africa throughout the 17th century. The lake out of which the 'Zambere' -the Zambesi- flows is probably based on reports of Lake Ngami, undiscovered until 1849. Then 20 miles long, it is today only marshland.
Some minor browning outer part margin. No text on verso.... (Go to Item Page)

Condition: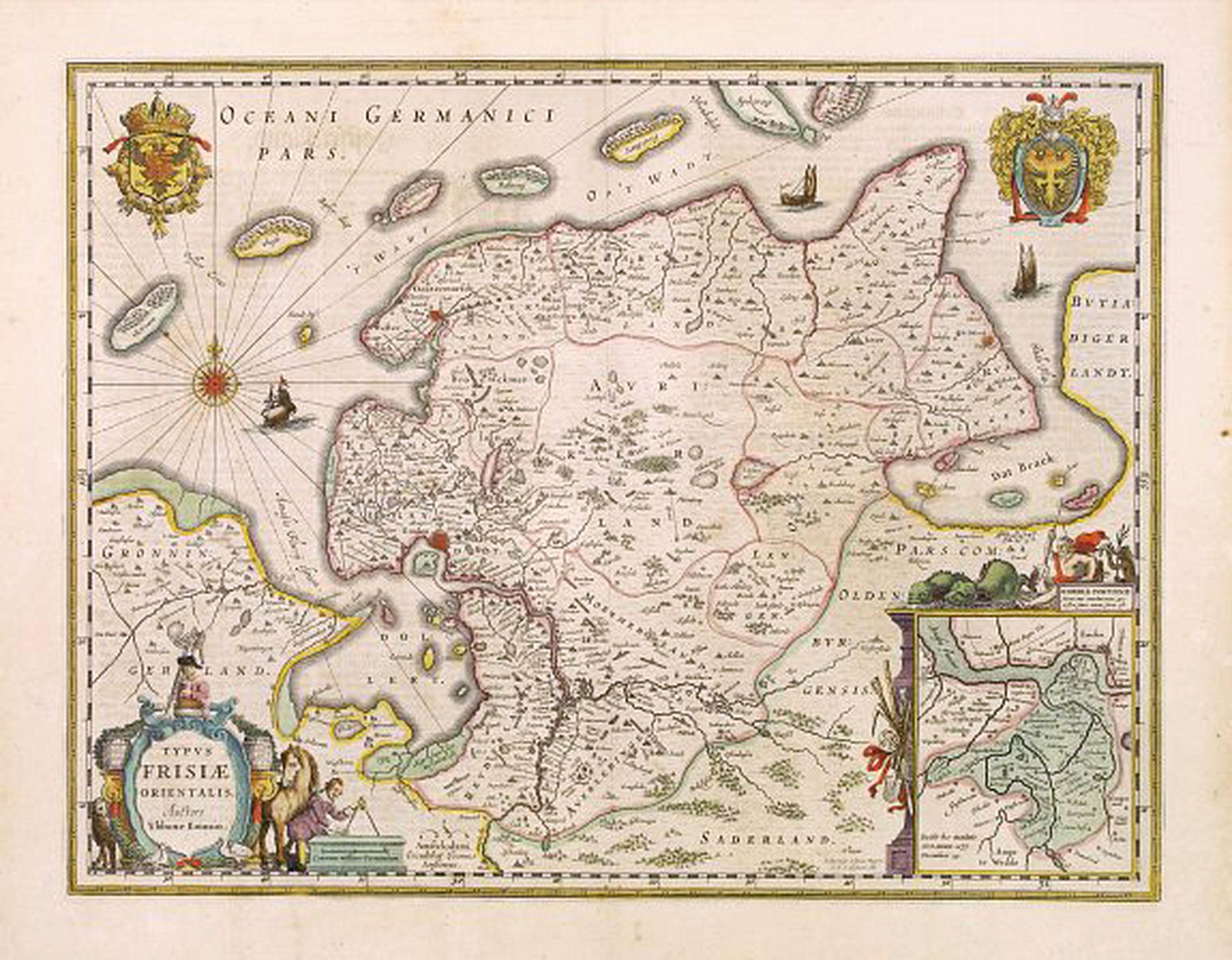 JANSSONIUS,J. - Typus Frisiae Orientalis.
Amsterdam 1650, In original colours.. 377x494mm. Paper slightly age-toned as usual.
Decorative map of east Frisia in Germany with the Watten islands. With inset map of the area south of Emden. Prepared by Ubbo Emmius (1547-1625).... (Go to Item Page)

Condition: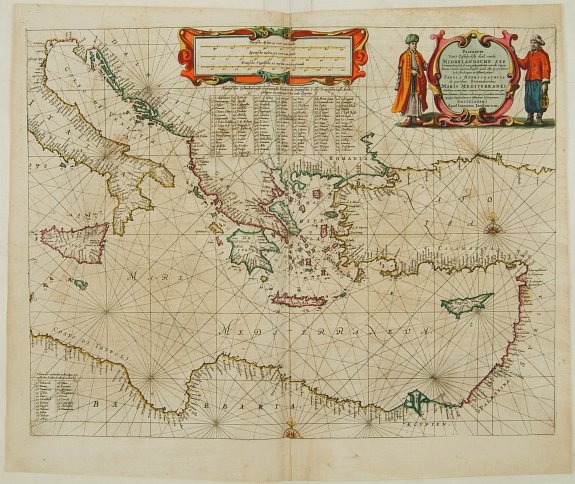 JANSSONIUS,J. - Pascaarte van't Oostelyckste .. Middelansche Zee..
Amsterdam 1650, In original colours.. 415x545mm. Paper slightly age-toned. Repair of split along center fold.
Very decorative chart of Mediterranean. Decorative title cartouche on the upper right corner.... (Go to Item Page)

Condition: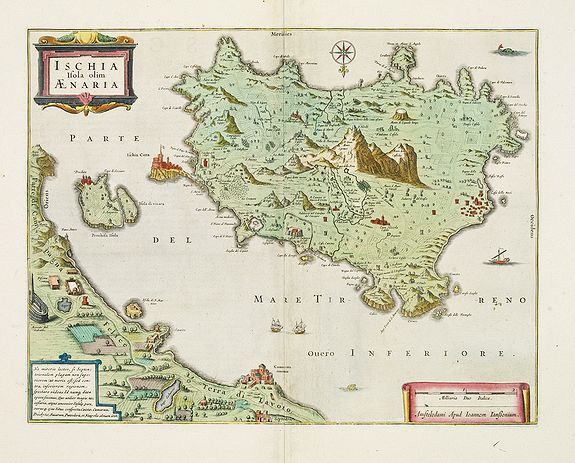 JANSSONIUS,J. - Ischia, quae olim Aenaria.
Amsterdam 1650, In attractive strong original colours.. 352x450mm. Mint condition. Wide margins.
Prepared by Giulio Iasolino (1537-1622), who wrote a book about Ischia in 1568 and its beneficial baths which included a map of the island, which Ortelius and later Janssonius and Blaeu faithfully followed. ¤... (Go to Item Page)

Condition: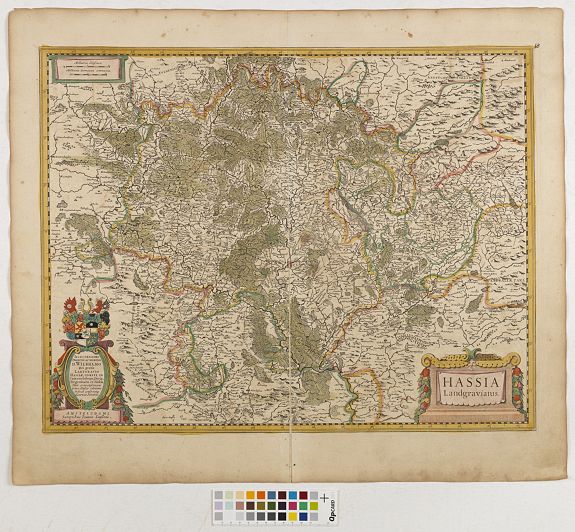 JANSSONIUS,J. - Hassia Landgraviatus.
Amsterdam 1650, Original colours.. 433x558mm. Centre fold split expertly repaired with no loss of paper.
Centered on the town of Kassel.... (Go to Item Page)

Condition: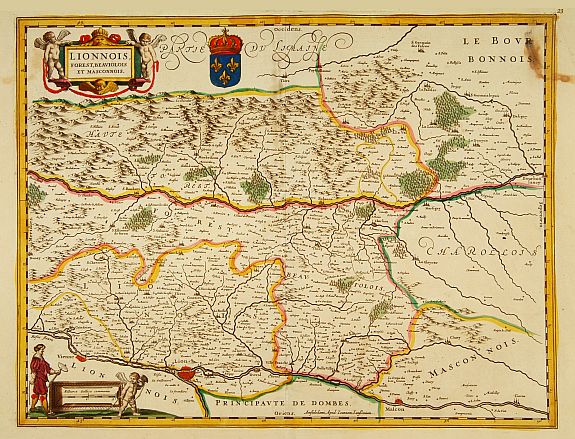 JANSSONIUS,J. - Lionnois Forest, Beauiolois et Masconnois.
Amsterdam 1650, In attractive original colours.. 372x489mm. With light brown spot in upper right hand corner. With wide margins. Very fine original colours.
Orientated with west at the top. Covering the area Rhône, Northwest of Lyon and the Loire River. Title cartouche with putti and surveyor with surveying instruments.... (Go to Item Page)

Condition:


JANSSONIUS,J. - Insulae Iavae Cum parte insularum Borneo Sumatrae..
Amsterdam 1652, Coloured.. 510x418mm. Cut inside the neat line, laid down on thick paper. A good and dark impression.
An elegant sea chart of the island of Java with parts of Sumatra, Borneo and Bali. The map includes only coastal detail and shows the Dutch capital in the East Indies at Batavia (Jakarta).
The beautiful chart is richly embellished with two fine cartouches featuring natives and merchants flanking ... (Go to Item Page)

Condition: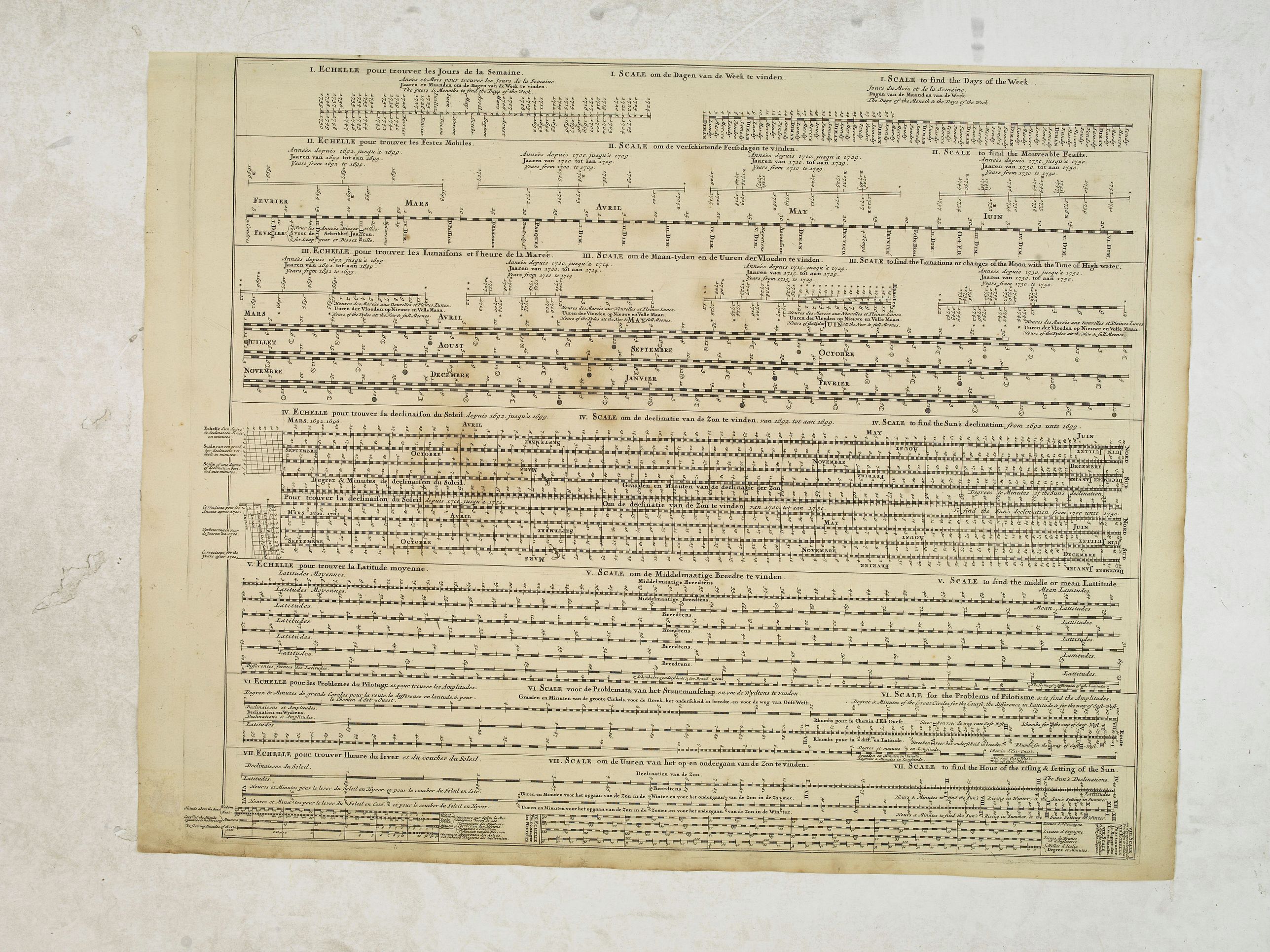 JANSSONIUS,J. - Mar di India.
Amsterdam 1657, Coloured.. 435x550mm. Repair of split lower part centre fold not affecting engraved area. Printed on heavy paper. A good and dark impression.
This chart from Johannes Janssonius' sea-atlas 'De Water-Weereld' covers the area between the Cape of Good Hope and Japan. It owes its importance to the rendering of the coastline of Australia, which bears the name 'TERRA DEL ZUR'.
Of the results of the Carstensz... (Go to Item Page)

Condition:


JANSSONIUS, J. - Nova et Accurata Poli Arctici et terrarum Circum Iacentium..
Amsterdam, 1660, Coloured.. 407x521mm. Split upper part center fold, 4 cm into the engraved area, expertly repaired. A good and dark impression.
Showing the North Polar regions, encompassing Canada, Europe and Asia, particularly Buttons Bay, Baffin Bay, Newfoundland, Iceland, Lapland and round to northern China.
The delineation of the North East Asian coastline shows, surprisingly, a generally correct outline considering the lack of the ... (Go to Item Page)

Condition:


JANSSONIUS, J. - Nova et Accurata Poli Arctici et terrarum Circum Iacentium..
Amsterdam c.1680, In attractive strong original colours.. 410x521mm. Dark impression. Overall, a very fine copy.
Showing the North Polar regions, encompassing Canada, Europe and Asia, particularly Buttons Bay, Baffin Bay, Newfoundland, Iceland, Lapland and round to northern China.
The delineation of the North East Asian coastline shows, surprisingly, a generally correct outline considering the lack of the ... (Go to Item Page)

Condition:



Total items:19
Total pages:1(50items per page shown)
Pages: 1